Watchers of the Sky, available on Netflix, traces Raphael Lemkin's quest to criminalize genocide, and the ongoing struggle for peace that continues
By MICHAEL FOX
No matter how enthusiastically a critic may commend Edet Belzberg's artful and inspiring documentary, Watchers of the Sky, the fact is many readers will lose interest as soon as they hear the word "genocide."
Raphael Lemkin would understand completely.
A Polish Jew born in 1900 on a farm near Bialystok, Lemkin was a student of history who became a victim of history and, ultimately, left his mark on history.
Lemkin trained as a lawyer and, remarkably, found his mission when he was just 21 — to change the legal framework for dealing with mass murder.
"Why is the killing of a million a lesser crime than the killing of an individual?" Lemkin asked.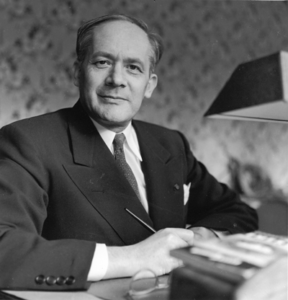 Lemkin was dismayed that the international community allowed the Turks to get away with massacring the Armenians. He was appalled by the tacit agreement among nations that a government operating within its own borders was free from outside intervention.
Through archival footage and photographs, onscreen text, animation and the narration of Samantha Power, author of A Problem From Hell and U.S. ambassador to the United Nations, Watchers of the Sky threads Lemkin's remarkable life story into a riveting narrative that encompasses contemporary standard-bearers for international justice.
A stunningly ambitious work that achieves the level of art, Watchers of the Sky is currently on Netflix following a limited theatrical release last fall.
Incredibly, Lemkin endured what he had read in history books, namely the murder of family members (at the hands of the Nazis) and exile. He landed in the United States in 1941, and the next chapter of his life provides the most revelatory, agonizing and poignant segment of Watchers of the Sky.
He labored to coin a word — "ethnocide" was one candidate — that would uniquely invoke the organized murders of a targeted group, eventually arriving at "genocide."
After the war, without resources or allies, equipped only with unimaginable perseverance and an unwavering sense of what was right, Lemkin personally lobbied dozens and dozens of members of the newly created United Nations to vote to codify genocide as a crime and to take responsibility for prosecuting future incidents.
Part of the resistance he encountered was a belief that the horrors of the Third Reich were so enormous and reviled that they would never be repeated. If anything, this detail provides even more proof that Lemkin was decades ahead of his time.
The high point of Watchers of the Sky is the U.N. vote that resulted solely from the work of one man: Raphael Lemkin.
Many years later, but as a direct consequence of Lemkin's efforts, the International Criminal Court was established.
If Watchers of the Sky concerned itself solely with resurrecting, celebrating and immortalizing Raphael Lemkin, it would stand as a valuable contribution. But the film goes much further, and by extending the past into the present it furthers Lemkin's work and itself becomes an act of conscience.
One of the central characters in the film is Luis Moreno Ocampo, the Argentine attorney who was named the first Chief Prosecutor of the ICC. Ambassador Power provides another powerful voice of conscience, along with Emmanuel Uwurukundo, a Rwandan national who is the U.N. Refugee Agency Field Director in Chad.
A somewhat forlorn figure is Ben Ferencz, a former Nuremberg prosecutor in his 80s who continues to travel and lobby for peace. Of all the righteous deeds documented in Watchers of the Sky, Ferencz's ongoing efforts seem to fall on the deafest ears.
But the nature of the good fight is that there are setbacks, and Ferenz's inclusion in Watchers of the Sky speaks to the film's embrace of reality rather than empty, platitude-draped optimism.
For even as we are invited by the film, and especially by the towering example of Raphael Lemkin, to bring mass murderers to justice and end the practice of genocide, it remains an ongoing struggle.
(American Jewish World, 5.22.15)