Two renowned singer-songwriters, Janis Ian and Tom Paxton, will share the Dakota Jazz Club stage next week
By MORDECAI SPECKTOR
Saturday Night Live recently re-broadcast its first show, from 1975. The musical guests were Billy Preston and Janis Ian.
Ian, who performed her hit song, "At Seventeen," on SNL, burst upon the music scene in 1967, when she was a teenager, with "Society's Child (Baby I've Been Thinking)," with its controversial lyrics about interracial romance.
In her sixth decade of performing and recording, Ian returns to Minnesota for two shows, March 18-19, at the Dakota Jazz Club. She will be joined onstage by legendary folksinger Tom Paxton.
During a recent phone chat with the Jewish World from her home in Nashville, Ian mentioned that she was on a bill with Paxton long, long ago, at the Village Gate in Greenwich Village.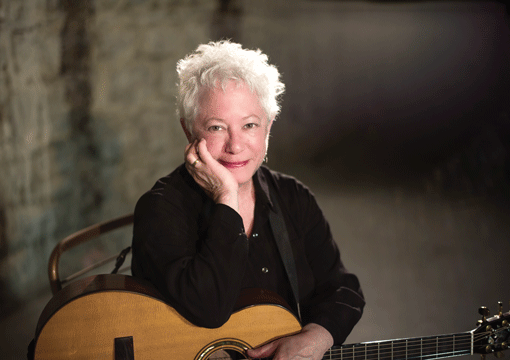 "I was 13, it was my first show in New York, ever," she recalled. "Tom was part of a group of folksingers that were on the stage…. Buffy Sainte Marie was there, and Judy Collins, Phil Ochs, Eric Anderson, Louis Gossett, Jr., Len Chandler. Yeah, it was great, it was a great night."
Stars of the folk music firmament.
"Pretty all-star — lucky me," agreed Ian, 63, who had joined the ranks of aspiring singer-songwriters hanging out in the fabled Village folk scene.
Ian said she was "fortunate enough to fall in with Rev. Gary Davis," an influential master of folk-blues, who allowed her to open for him at the Gaslight Café.
"I was spotted there by somebody who took me to Shadow Morton, the producer, who decided that 'Society's Child' would make a good record."
Ian wrote the song, which decries the racial prejudice of the day, when she was just 14, and recorded it at 16.
"It was released three times between '65 and '66," Ian noted. "In '66 or '67, Leonard Bernstein featured it in a TV documentary called Inside Pop. It started getting played after that; up until then, a lot of stations wouldn't play it because it was controversial."
"Society's Child" tells the story of a white girl whose mother rebuffs her black boyfriend: "But honey, he's not our kind." Verve Records promoted the song, which was No. 1 in a number of cities, and rose to No. 14 on the Billboard Hot 100 chart, in the summer of 1967. It also riled up many radio listeners, some of whom responded with death threats directed at Ian and Morton.
"People got crazy," Ian wrote in her autobiography, which is titled Society's Child. "A radio station in Atlanta dared to put 'Society's Child' in rotation, and someone burned the station down. Strangers walked up to me in restaurants and spit in my food."
Looking back on that time, Ian reflected on her reaction to the controversy: "I think that I treated it like any adolescent treats unpleasant things, I ignored it."
As it happened, Ian (née Janis Eddy Fink) was the proverbial "red diaper baby," the child of Jewish leftist parents, who were victimized during the McCarthy era.
"They were under FBI watch from before I was born," she said.
While many members of the famous baby boom generation took an inordinate number of years to find themselves, Ian discerned her path early on.
"I wanted to be a musician from the time I was about two, two-and-a-half," she told the AJW. "It's nice to always know what you wanted."
Her early musical influences included Edith Piaf, Billy Holiday, Odetta and Joan Baez
"There were not that many women doing what I was doing when I was 14 and started recording," Ian commented. "There was Victoria Spivey [1906-1976], who was leading jazz bands… and Nina Simone, who was leading her own band and writing her own songs. That was about it. Mostly, women sang other people's songs or they wrote songs for other people, like Ellie Greenwich and Carole King. So, it was kind of uncharted territory, and it was great that I had Shadow as my producer, because he let me have my head and do what I wanted. I was very fortunate in a lot of ways, in the people I got to work with."
For the upcoming two-night stand at the Dakota, Ian and Paxton — who's nearly a generation older than Ian, at 77 — truly will share the stage.
"We each step out for three songs in the second half; but otherwise, we sing together, we sing each other's songs, sing on each other's songs, play on each other's songs — we're a band! We have a really good time."
Ian and Paxton will be joined on the gig by multi-intrumentalist Robin Bullock, who plays mandolin and cittern (a long-necked, double-stringed lute-like instrument). "This year we started doing a lot of three-part harmonies, which has been great," Ian added.
In addition to her musical career, Ian established the Pearl Foundation (named after her mother, Pearl), a nonprofit that raises money for college scholarships for returning students.
One of the premium gifts in a recent Pearl Foundation fundraiser was Ian's new self-produced album, Strictly Solo, which includes her early hits, "Society's Child" and "At Seventeen," among the 15 tracks. There's also a new song, "I'm Still Standing," a poetic looking back at her life: "See these lines on my face / They're a map of where I've been / And the deeper they are traced / The deeper life has settled in… Another line, another year / And I'm still standing here."
Toward the end of the phone chat, I posed my traditional question for songwriters about why Jews are so prominent in American popular song.
First, Ian suggested that Jewish songwriting preeminence isn't the case anymore: "We certainly were in vaudeville, and we certainly were in the age of the great Broadway musical; but I think that's changing as the whole music business becomes an industry… and also as there are other avenues for Jews [to advance in careers apart from show business]."
Still, Ian acknowledged that many Jewish songwriters came to the fore because "there's such a respect for the arts in the Jewish culture. There's a kind of respect that you don't find in a lot of other religions, for artists and for the arts. There's a real understanding of what a song can do, especially with the diaspora, the way that music can hold a culture together."
Apropos the coming Passover holiday, Ian said, "I don't think there's a Jew on earth who hasn't sung 'Dayenu' at some point."
The Passover seder retains its popularity.
"It's an unusual thing, if you think about it," Ian replied. "It's unusual that you're sitting down for a meal, saying the same words, and talking about the same things that Jews all over the world are talking about; and singing a lot of the same songs, sometimes with different melodies."
On this last point, Ian mentioned that her grandfather was from Tashkent and her grandmother was from Kiev, "and they had very different melodies to the songs, but the intentions and the lyrics were the same. That's an extraordinary piece of glue, I think."
***
Janis Ian and Tom Paxton will play two shows 7 p.m. Wednesday, March 18, and Thursday, March 19, at the Dakota Jazz Club and Restaurant, 1010 Nicollet Ave., Minneapolis,. For tickets, call 612-332-1010, or go to: dakotacooks.com.
(American Jewish World, 3.13.15)