A new adaptation of a Holocaust cabaret, written by Jewish prisoners at Terezín, explores what laughter means to us today
By DORIS RUBENSTEIN
Living in Nazi concentration camps certainly was not a barrel of laughs for the Jews and other inmates imprisoned there. But, proving a recent survey of the American Jewish community to be accurate, one of the qualities of how Jews define themselves is by a good sense of humor; and so it was at the camp known as Terezín (also known as Theresienstadt), located a mere 40 miles northwest of Prague.
Why We Laugh, produced by Fortune's Fool Theatre, will have its North American premiere Sept. 12-27 at Open Eye Figure Theatre in Minneapolis. The play, which includes a cabaret, uses archival materials from Terezín and interviews with the camp's survivors to paint a portrait of life and survival there — and visions of what life might be after liberation.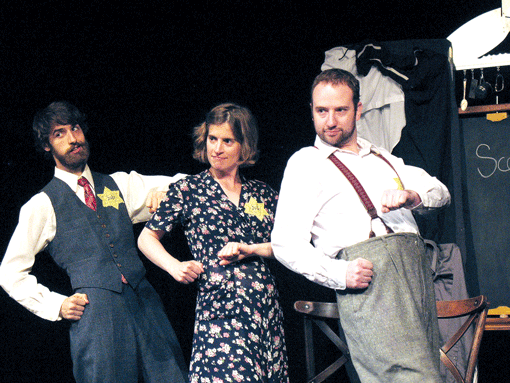 Wikipedia accurately describes Terezín as a concentration camp, where the majority of the Jews sent there were scholars, professionals, artists and musicians. Inmates were encouraged to lead creative lives, and even concerts were held.
Within the camp, parks, grassy areas and flower beds, concert venues and statues were installed to hide the truth: that most of the inmates were going to be killed.
This was all part of a Nazi plot to deceive International Red Cross inspectors into believing that Jews were being treated humanely. This façade masked the fact that of the 144,000 Jews sent there, about 33,000 died — mostly because of the appalling conditions that were hidden from humanitarian inspectors. About 88,000 were deported to Auschwitz and other extermination camps. At the end of the war, there were 17,247 survivors.
The cabaret, Laugh with Us!, originally was written and performed in 1944 at Terezín, by Felix Porges, Vítězslav Horpatzky, Pavel Weisskopf and Pavel Stránský. The cabaret, complete with its original sheet music, came to light through the efforts of a University of Minnesota Ph.D. student, Lisa Peschel, who was gathering survivor stories in Prague as a Fulbright Scholar in 2004-2005.
Peschel first learned about the Prague Ghetto and the children's poetry of the Terezín camp — already published as I Never Saw Another Butterfly — when she was teaching in the Czech Republic in 1992. Although not a Jew, Peschel feels a personal connection to many of the survivors and their stories.
"I knew from the start that this cabaret material had the makings of a great play," Peschel said.
Her familiarity with the Twin Cities arts scene led her to contact the Playwrights' Center in search of a professional playwright to turn her vision and the material into something for the stage. Enter Kira Obolensky.
Obolensky is not Jewish either, but was already a known entity for her sensitive treatment of another Holocaust story, Hiding in the Open, which was performed at the Minnesota Jewish Theatre Company in March 2010. With support from several sources, including a grant from Rimon: The Minnesota Jewish Arts Council, an initiative of the Minneapolis Jewish Federation, Obolensky was able to transform the various materials into Why We Laugh (with English translation and dramaturgy by Peschel).
"I'm a playwright in town who can adapt historically important subjects for the stage," Obolensky said, "but among my theatrical experiences, this was the most amazing."
Rimon stepped in again with funding once the play was in draft form, and with the help of Director Hayley Finn (who has directed other MJTC productions) and composer Craig Harris, a workshop presentation of the show appeared at the Music Box Theater in Minneapolis.
Why We Laugh had its world premiere, appropriately, in Theresienstadt in 2011 as part of the Rafael Schaechter Institute, organized by Maestro Murry Sidlin. It was also performed during Prague's Nine Gates Festival.
Survivors from the camp were in the audience. And among those survivors was a person who had written lyrics for some of the songs in Laugh with Us!
Enter center stage: Dan Pinkerton, Fortune's Fool Theatre artistic director, whose day job is as a faculty member at the University of Minnesota Center for Austrian Studies.
The center's bailiwick extends to all countries once part of the Austro-Hungarian Empire. That includes today's Czech Republic, so Pinkerton and Peschel got to know each other when she was a student associated with the center. All parties — Peschel, Obolensky, Finn, Harris and Pinkerton — converged and voilà: Why We Laugh makes its North American premiere where you can be in the audience, travelling through time and space to 1944 Terezín and back to the present day without leaving your seat.
The production features music by Harris. Finn is directing a cast known to all who frequent theater productions across the Twin Cities: Julie Kurtz, Elise Langer, Ryan Lindberg and Skyler Nowinski.
Is it a coincidence that very few of them are Jewish, like Obolensky, Peschel and Pinkerton?
What it tells us is that Why We Laugh is a story that overcomes the barriers of time and culture to appeal to all who care about humanity and how it expresses itself in music and laughter.
***
Fortune's Fool Theatre will present the North American premiere of Why We Laugh, by Kira Obolensky, Sept. 12-27 at Open Eye Figure Theatre, 506 E. 24th St., Minneapolis.
Following the performance on Sunday, Sept. 13, Dr. Lisa Peschel will present "Translating Terezín," the story of her search for the meaning of the text — how, with the aid of survivors, she cracked the code of the slang and inside jokes to capture the prisoners' unique, resilient sense of humor. A question and answer period will follow.
On Thursday, Sept. 24, a post-show event titled "The Road to Terezín" will feature Obolensky, Harris, Finn and the actors, who will talk about the development of Why We Laugh and their experience performing it in Terezín in 2011. A question and answer period will follow.
For tickets and information, contact Open Eye Figure Theatre at 612-874-6338 or: www.openeyetheatre.org, or: brownpapertickets.com.
(American Jewish World, 9.11.15)