Sophie Teener will turn 100 in January
By ERIN ELLIOTT BRYAN / Community News Editor
Earlier this year, the AJW marked 100 years of continuous publication. In response to our call for submissions from Jewish organizations and individuals for story ideas that corresponded to our centennial, we were notified of the upcoming 100th birthday of Sophie Teener, of Golden Valley.
Teener's name may sound familiar to many in the Twin Cities, as she and her late husband, Jerome "Jerry" Teener, were the owners of Teener's Theatrical Department Store and A-1 Costume Fabric Shop in Minneapolis. The Teeners owned the store for 51 years before it was sold in 2007. It was, as The Journal noted that year, "Downtown's Halloween headquarters."
The AJW recently spent time with Teener in the home where she has lived for 48 years.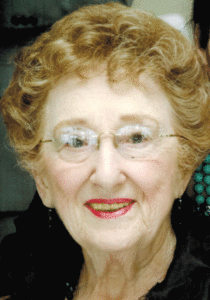 Teener's parents immigrated to the United States from Odessa, Ukraine, and she grew up on the North Side of Minneapolis, graduating from North High School in 1933. She had known Jerome Teener since junior high.
"He just wouldn't leave me alone," Teener said, smiling. "And I didn't want anything to do with him."
But she eventually gave in and the two were married in 1939; Teener recalled that her wedding gown, created by a dressmaker, cost $16.50. She worked alongside her husband every day at the store, keeping the books, answering the phone or doing "whatever had to be done."
Teener is a lifelong lover of music and her father took her on the streetcar for lessons at MacPhail Center for Music. She began singing in the Beth El choir in 1931, has a grand piano in her home and has recently written original songs for her great-granddaughters (one of whom shares her birthday).
She learned to drive at the age of 53 and was doing it up until last year. Now she keeps busy with the Sabes JCC's senior fitness program; the Minneapolis Yiddish Vinkl; Tuesday Schmoozeday, where conversational Yiddish is spoken each week; and attending services at Beth El Synagogue.
Teener says she knows of no secret to her longevity, only that "a higher power is looking after me." And she does look forward to each and every day.
"I'd hate to miss it," she said.
Teener will turn 100 on Jan. 18, 2016.
(American Jewish World, 9.11.15)


Thoughts on turning 100
By SOPHIE TEENER
(Editor's Note: In response to the AJW's request for an interview, Sophie Teener also contributed this piece, which is her story in her own words.)
The inevitable question asked of centenarians is: What is your secret?
Secret? Can there possibly be only one "secret" to living for 100 years? The word blessings makes more sense to me.
To some degree, the "good" genes inherited from parents are responsible for longevity.
For 50 years, my immigrant parents, Batyah and Julius Gerb — through their unselfish devotion and care of my young brother Louis, who was born with cerebral palsy — showed me how to live positively in the face of adversity. That lesson helped me to face the loss of my beautiful 52-year-old daughter, Susan, to cancer.
My parents knew that "man does not live by bread alone." They fortified me with Yiddish (the daily language in our home), together with many years of Hebrew at the Talmud Torah, and music lessons.
These blessings are still in my life today.
A really big blessing was my husband, Jerry Teener, who pursued me all through our school days, and showed his love for me by bringing such great joy and care to my handicapped brother. When he founded Teener's Theatrical Store, I was at his side until the business was sold after 50 years. We were blessed to be together for more than half a lifetime.
In 1931, as a student at North High School, I was invited to join a choir being organized in a new synagogue called Beth El, the first Conservative synagogue in North Minneapolis. For the next 35 years, as the soprano soloist, I was involved in a new world of annual choir concerts, Jewish composers, guest cantors and a lifetime of friends.
Together with teaching fourth grade in the religious school and membership in the Young People's League, Beth El became my "home away from home."
I eagerly look forward to mornings at the Sabes JCC, where I attend SilverSneakers (recently renamed Silver and Fit). Insurance groups have learned that "an ounce of prevention brings a pound of cure" and have created this daily exercise program for seniors, bringing together old and new friends. What a great way to start the day, it's definitely a social plus.
Tuesday brings the wonderful Tuesday Schmoozeday, where we share in a real nostalgia trip by speaking Yiddish, reading aloud from the Jewish Forward newspaper, listening and watching interviews with Jewish writers, singers and artists, and even a demonstration of Jewish cooking — all in Yiddish. What fun!
In the Yiddish Vinkl, we meet once a month to hear (and sing) Jewish music, and enjoy a variety of entertainment of a Jewish nature.
What greater blessings are there than devoted, loving, sensitive, "concerned for my welfare" children? They are involved in my life every day. And there is a bonus: The spouses they chose are just as attentive as they are.
With such parents, how can the grandchildren be anything but wonderful. They have their own ways to honor Baubie — Facebook, videos and iPhones proclaiming that Baubie is the seventh wonder of the world!
The most wondrous blessing by far can be found in the prayer of gratitude, the Shehecheyonu:
Baruch atoh Adshem, Elohenu Melech Ha-Olam, shehecheyonu,
v'kimonu, v'higionu laz'man hazeh.
Blessed are You, King of the Universe, who has kept me alive,
and brought me to this day. Amen.
(American Jewish World, 9.11.15)