By MORDECAI SPECKTOR
We Jews are commanded to drink four cups of wine during the Passover seder.
Why four?
According to The Jewish World Haggadah — edited by Shoshana Silberman, with photographs by Zion Ozeri — the answer is that the four cups of wine represent God's four promises to the people Israel (Exodus 6:6-7): "I will take you out"; "I will rescue you"; "I will redeem you"; and "I will take you to be my people."
The Jewish World Haggadah also notes that some Jewish feminists associate the four cups of wine with the four matriarchs of Israel: Sarah, Rebecca, Leah and Rachel.
In any case, you can fill four cups with some fine wines that are kosher for Passover — we are no longer limited to the heavy, sweet wines of yesteryear.
Royal Wine Corp. —founded by the Herzog family, in 1848, in Czechoslovakia, and established in the United States by the family in 1948 — sent some samples of kosher for Passover wine to the Jewish World. The wines come from Israel, California and Australia. And since the Jewish World staff was stretched to complete this large special edition, I had to rely on some expert opinions — rather than conducting an intensive tasting and ending up all wobbly.

The Barkan Classic Chardonnay 2016 is produced from grapes grown at the winery's vineyards in central Israel, according to kosherwine.com. The grapes are hand-picked in small containers and rushed to the winery to maximize freshness. The mavens at kosherwine.com say that this wine has a "rich nose of blueberries, guava, and pears. It is well structured, balanced and lingers in the mouth. Ideal with poultry and hard cheese." It sells for about $11.
The local Royal Wine rep also dropped off a bottle of Teal Lake Shiraz, which we recently enjoyed at our Kabbalat Shabbat dinner. This is an enjoyable and affordable wine from Australia, in the $10-12 range. It has a distinct citrus taste, with light berry flavors.
Among the other Royal Wine offerings are Mt. Tabor Cabernet Sauvignon 2014, with "classic aromas of plum, cassis and raspberry combined with hints of green pepper," according to those in the know; and Herzog Lineage 2016 Choreograph. The latter wine is a blend of 12 grape varieties, grown and harvested from a secluded portion of the Herzog's Prince Vineyard in Clarksburg, Calif.
The Karmei Yosef Winery produces Bravdo wines, which reflect the accumulated knowledge of two Hebrew University of Jerusalem professors: Ben Ami Bravdo and Oded Shoseyov. A bottle of Bravdo Landmark 2B Samson 2012 arrived in a fancy gift box. The Landmark 2B is a blend of Cabernet Sauvigon and Merlot grapes. In a blind tasting you can watch on YouTube, master sommelier Andreas Larsson pronounced the Landmark 2B Samson as "medium-bodied and distinctive with spicy cherry, plums, blackkberry and anise flavors, echoing nicely on a soft finish." Selling for around $40, this is a bottle for the serious wine enthusiast.
The AJW also received a bottle of Bravdo Merlot Samson 2013. Harvested from grapes that thrive in Israel's Samson wine region in the central coastal plain and the Judean Lowlands. This wine, which aged for 12 months in French oak barrels, should be at its peak now. The wine, with "gripping tannins in fine balance with hints of herbs and ripe red berries with an anise and vanilla flavor," was commended by the Decanter world wine awards 2014, according to finebarrel.com. A bottle sells for about $25.

And two fine wines arrived from the Psagot Winery, which is about a 15-minute drive north of Jerusalem. The Psagot Peak 2014 is adorned with a black label and a bas relief gold coin image — and, of course, there's a story.
During the vineyard's construction, an ancient cave from the Hasmonean Dynasty period was discovered along with coin dating back to the Great Revolt of 73–66 B.C.E. According to the winery's website: "The coin's front face is stamped with the words 'For Freedom of Zion' and adorned with a vine leaf, while the back face reads 'Year Two' (to the Revolt), alongside an image of an amphora — an ancient container used for storing wine."
The award-winning Psagot Peak is made from Syrah, Petite Syrah and Mourvèdre varietals that are adapted to the Israeli climate. The wine is said to be rich and aromatic, with black fruit, black pepper, dark chocolate, minerals, etc. A bottle will set you back about $45.
And there's also the Psagot Sinai 2014, which received a 90 score from Wine Enthusiast. This wine is a blend of Cabernet Sauvigon and Shiraz grapes. The winery touts this one as a "refreshing, fruity and balanced wine" with a "velvety texture and long finish." This bottle can be had for around $22.
Finally, for pre-gaming the Pesach seder, consider Patrón Silver tequila, which now comes with a kosher for Passover hechsher from Supervisores en Calidad Kosher. A gift box included the distinctive squat bottle with a round cork stopper, along with a container of citrus kosher sea salt (also kosher l'Pesach). The premium tequila is handcrafted from the highest-quality 100 percent Weber Blue Agave.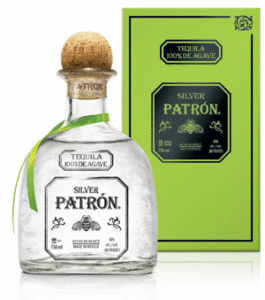 Regarding this new Passover beverage, The Nosher (myjewishlearning.com/the-nosher) suggests that if "you were planning on serving Mushroom Jalapeño Matzah Ball Soup this holiday, go with the Mexican theme altogether by mixing up a margarita or some sangria. It is a holiday, after all, and I think we can take some liberties with those four cups of wine."
Happy Passover! L'Chaim! And don't drink and drive.
(American Jewish World, 3.23.18)