AJW Staff Report
Oscar Abeles & Leopold Heymann, an uncle and nephew who opened a butcher store in Washington Heights, N.Y.. in 1954, went from humble beginnings to producing one of the best tasting kosher hot dogs. Known as Abeles & Heymann (A & H), the company is producing the same premium quality hot dogs, deli meats and sausages as it did the day it opened.
And if you're looking for kosher l'Pesach foods, A & H offers beef knockwurst, beef hot dogs, beef mini-hot dogs, beef salami and kishka.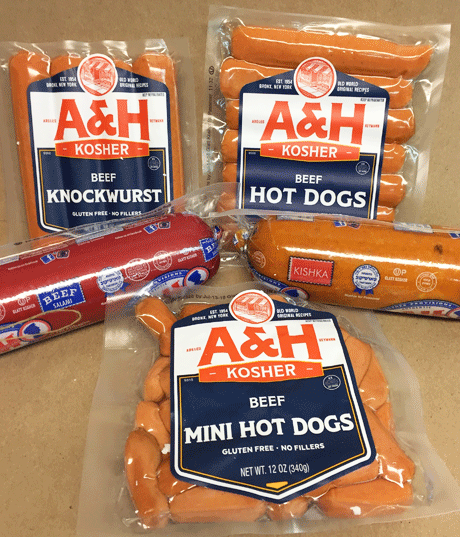 "Our recipes are still a closely guarded secret," says Seth Leavitt, 44, CEO of Abeles & Heymann, headquartered in northern New Jersey. Nineteen years ago Leavitt and his cousin, David Flamholz (an attorney by training), bought out Leopold Heymann and his wife Sophie. Heymann, the only surviving partner, stayed on for over a year to teach the two young guys how to make a hot dog among other things, in the Bronx facility.
Since then the family-run company has seen an over-tenfold increase in sales, moved to a state-of-the art facility in New Jersey, partnered with the manufacturing arm of an Israeli kibbutz, Maadany Yehiam, makers of the Hod Golan line of turkey products.
The company produces over 1,000 tons of quality glatt kosher deli a year, including hot dogs, beef fry, kishka, cervelat, no nitrate added reduced fat and sodium hot dogs, knockwurst and cocktail franks, as well as salami, chipotle franks, corned beef and pastrami.
In 2005 and then again in 2013, Abeles & Heymann kosher franks were voted top hot dog, each time beating out large conglomerate producers, Ballpark, Applegate Farms and Hebrew National, among others. In 2005, the St. Louis Post Dispatch wrote: "3 stars-medium red color, nicely chewy, well balanced flavor, not a lot of saltiness; nudged out Ballpark for top spot with bit better overall flavor."
The Forward's review in 2013 stated: "The 'top dog' is Abeles and Heymann's spectacular beef frank. It is the kosher dog of choice for both the Yankees and Mets, and upon tasting them it is clear that is no coincidence. Juicy and meaty with a crisp bite, an overt rich beef flavor, and a sweet garlic finish. Any Memorial Day with these on the grill will be a good one."
"Tis the season, so we invite you, the public, to take the Abeles & Heymann hot dog challenge. If you think we beat out the rest, follow us on Instagram and answer our weekly trivia questions for a chance to win an assortment of our award-winning hot dogs," says Leavitt. "We'll also be posting recipe ideas, photos, contests, our new packaging and more," he adds.
All Abeles & Heymann products are certified glatt kosher by the Orthodox Union (OU). For information about Abeles & Heymann, or to find their store locator, go to: www.abeles-heymann.com; and A & H is on Facebook, too: https://www.facebook.com/abeles.heymann/.