By DORIS RUBENSTEIN
Broadway's loss has been the Twin Cities' gain.
Robyn Frank grew up in the western suburbs, but from an early age her heart was on the Great White Way. It was a typical childhood, baking "thumbs cookies" with mom Barbara Frank. She attended services at Adath Jeshurun and graduated from Hopkins High School. She graduated from Indiana University because her parents insisted she get a degree.
And Frank loved the theatricality of her first job after college, driving the (definitely not kosher) Oscar Mayer Wienermobile around the country for two years. It earned her enough money to follow her dream on her own: In 2004, Frank abandoned the Midwest and headed to the Big Apple.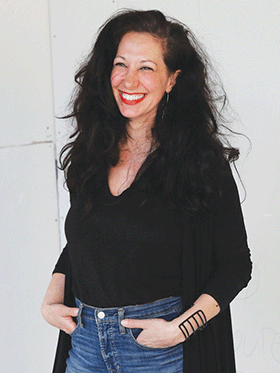 New York City is a harsh mistress. After studying acting at the venerable Neighborhood Playhouse, Frank's life was typical of most aspiring actors: waiting tables at restaurants both humble and haughty while starting her own theater company, Sweeter Theater, with two friends. Sweeter Theater didn't pull in giant audiences, but the production process taught her important lessons in entrepreneurship. The theater folded and Frank, still doing auditions for shows on- and off-Broadway, looked for new ways to stay afloat.
She started making cookies — her mom Barb's recipe for tiny thumbs cookies — in a restaurant where she worked and later transferred the operation to her apartment kitchen in Brooklyn.
By 2010, she was selling them at street fairs, holiday markets and online. The online sales brought in the kind of income an aspiring actor needs to live comfortably in New York. Thumbs cookies really took off when the restaurant of an upscale hotel decided to use Frank's thumbs cookies instead of mints on their guests' pillows as a welcome gift. Then, the hotel's coffee shop started selling them, too. What, you may ask, is a "thumbs cookie"?
Her mother's recipe for thumbs cookies, originally in only cinnamon-sugar flavor, calls for the dough to be made and pressed with the thumb. They are about the size of a child's digit. They look sort of like a light-brown Junior Mint, or a large, padded button. Frank makes them in peanut butter-sea salt, rosemary-pecan, double chocolate chip, peanut butter-chocolate chip, lemon lavender and more. That's a lot of flavor in a "thumbs"!
Still, the cost of doing this kind of business on a commercial scale was clearly beyond Frank's means. She decided to come home. The Jewish community here was key to success in her business plan.
"Michelle Horovitz at Appetite for Change (a nonprofit incubator for food-related businesses) offered me the use of their commercial kitchen at a very reasonable price," Frank said.
Her first big order was from Larry Rosen, of EMR Metal Recycling, who bought a hundred of the cube-shaped packages of thumbs as Thanksgiving gifts for his customers. The word spread through the Jewish community and beyond.
Through sales and crowdfunding, Frank expanded the operation into her own bakery, with a purple Volkswagen "Cookie Mobile" and trailer to be used as a food truck. The next step for Frank was to open a real store, but going it on her own was a daunting task. To the rescue were five friends who joined with Frank to start Six for Good in Rosedale Mall. Each of the six entrepreneur artisan partners donates a portion of their profits to different local charities. Thumbs is donating to the local chapter of Students Demand Action, which advocates for gun control. Six for Good now has a second store in Arbor Lakes Mall and will have a pop-up at the Mall of America for the holiday season. Frank has seven regular employees in the Six for Good stores (up to 15 at the year-end holiday season) and eight who work in the kitchen and in the Cookie Mobile.
Frank still spends a lot of time in the St. Paul bakery kitchen these days. And she also stays busy with planning and marketing for the business. Her biggest job is keeping track of the two children she and her husband, Ryan Elofson, are raising near Lake Nokomis.
Thumbs cookies don't have a hekhsher (kosher certification symbol) on the package; the ingredients do include dairy but contain nothing treif. You can get some at the stores mentioned in this article, at Kowalski's Markets or at thumbscookies.com.
(American Jewish World, November 2022)