By MORDECAI SPECKTOR
At the funeral for Elissa "Lisa" Heilicher at Beth El Synagogue, Rabbi Alexander Davis began his eulogy by singing the first verse of "Mi Yimalel (Who Can Retell?)."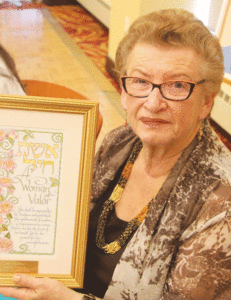 In English translation, the lyrics are: "Who can retell the things that befell us, / Who can count them? / In every age, a hero or sage / Came to our aid."
"This popular Hanuka song is a song of celebration, a song of victory," Davis noted. "It tells of the triumph of a people in the face of great danger, in dire need of a hero."
The rabbi commented that "the song of course, is speaking about Judah Maccabee," the hero of the Hanuka story.
The Dec. 4 funeral took place on the second day of Hanuka, and the rabbi said, "Even as we gather in mourning, as we look back on Lisa's life and all that she accomplished, I can't help but also think that we're gathering in celebration and in appreciation to a modern-day Maccabee, who arose to serve those in need, who brought relief to her community, and who, like her Hebrew name, 'Aliza,' ultimately brought joy to our people."
Lisa Heilicher died Dec. 1. She was 77.
The daughter of Amos and Celia Heilicher, benefactors and namesakes of the Heilicher Minneapolis Jewish Day School (HMJDS), continued her family's tradition of philanthropy in support of Jewish education and communal organizations in Minnesota.
On the school's website,HMJDS honors Heilicher as a "Ner Tamid (Eternal Light) award recipient, and a true pillar of the Minneapolis Jewish community."
As you enter HMJDS, at the Barry Family Campus in St. Louis Park, there's a large portrait of Amos and Celia Heilicher on a wall by the school office. The Heilichers donated a large sum of money to support and expand the Jewish day school, according Debra Wieberdink, Lisa Heilicher's daughter.
Regarding her mother's philanthropy benefiting HMJDS, Wieberdink mentioned that she became involved with the Jewish day school while her parents, Amos and Celia were still alive. "My mother was very involved all of her life," said Wieberdink, during a telephone interview last week. She added, "All three of my kids went there, when it was just Minneapolis Jewish Day School."
Beyond HMJDS, Lisa Heilicher "was always involved" as a Jewish communal and civic volunteer. "It just was always who she was ever since I was a little kid," commented Wieberdink, 53. "She handled the Mount Sinai [Hospital] gift shop for years, and then continued on with the auxiliary…. My mom was a professional volunteer… first and foremost she volunteered."
Beyond her Jewish communal involvements, Heilicher also volunteered with STEP, the St. Louis Park food shelf. "She got awards from them," her daughter said. "She was on the Golden Valley Human Services Board for years. She just always was involved — she thought she could; she felt that she had the time and the ability, and that's what she did… She gave of her time, as well as financially what she could do."
The newspaper obituary for Lisa Heilicher noted that "numerous organizations benefited from her amazing talents and passion for helping," and the list included B'nai B'rith, Talmud Torah of Minneapolis, Jewish Family and Children's Service, Mount Sinai Hospital Auxiliary, STEP, Herzl Camp, City of Golden Valley Human Services Board, Minneapolis Jewish Federation, Israeli Scouts, Minneapolis JCC, North High Alumni, Hillel, Chabad, JNF, Sholom Home Auxiliary and J-Pride.
I last saw Lisa at a meeting at Oak Ridge Country Club in April, when Mort Naiman, longtime fundraiser for the Minneapolis Jewish Federation, invited me to interview Michael Siegal, the new board chair of the Jewish Agency for Israel. She was devoted to Israel, donated to Israeli causes and travelled to the Jewish state numerous times."
Jamie Heilicher, 58, one of Lisa's first cousins, recalled that his late cousin was an active supporter of the Israel Scouts caravan, a troupe of singing and dancing young Israelis that visit the Twin Cities every summer.
And he also sketched some of the Heilicher family history, mentioning that Menachem Heilicher, the father of Danny, Jamie's father, and Amos, Lisa's father, "was recruited here from Palestine to teach Hebrew." The Marcus family in North Minneapolis hosted Menachem, who later married "the daughter, which would be my grandmother, Dora Marcus, who became Dora Heilicher." Menachem and Dora Heilicher's sons became successful in the music business, with recordings and the Musicland chain of record stores. And they established the Menachem Heilicher Foundation, "which exists to this day" to support Jewish education and other communal groups in the Twin Cities. Lisa was a trustee of the foundation, along with Jamie, and his brother, Matt Heilicher.
"She clearly was involved in any organization that needed someone with her tenacity," Jamie Heilicher recalled. "She was a very powerful and confident woman who was a great fundraiser and would pitch in [whenever help was needed]. She served on many boards and many committees, and was involved as anyone has ever been in this community."
Debra Wieberdink recalled that her mother was continually on the phone. And Jamie Heilicher said that the joke at the funeral, was "her email was 'Tell Lisa' — basically, if you told Lisa anything the whole community would know within minutes."
In addition to her daughter Debra, Lisa Heilicher is survived by her son, Marty Kloner, five grandchildren and other relatives.