There are a ton of talented Israeli jazz musicians, but just a few public performance venues for them

By MORDECAI SPECKTOR
Over recent years I've written a number of stories about talented Israeli jazz musicians who have made their mark in the States. In Israel last month, I saw a jazz show in Jerusalem and interviewed an acclaimed jazz saxophonist in Tel Aviv.
First the show: On June 25, the Avram Bar, a cozy music spot on Davidka Square in West Jerusalem, hosted bassist Tal Gamlieli's group. When I entered the bar, I looked around for the person minding the cash box at the door. There was a 30 shekels cover charge.
Israel Diary 2013
I started chatting with a tall young man, who I quickly realized was the bandleader. Gamlieli said that he was back in his hometown, Jerusalem, after five years in Boston. He attended "NEC," the New England Conservatory, and mentioned playing with a number of jazz luminaries including pianists Danilo Perez and Joanne Brackeen. Gamlieli, a very friendly guy, said that he was running the jazz program for high school students in Jerusalem.
A mixed crowd of Israelis, old and young, enjoyed Gamlieli's ethereal and beautiful music. His trio — 20-year-old electric guitarist Shachar Elnatan and drummer Roi Ben Yosef — was augmented that night by Ron "Shpatz" Cohen, on bansari, Indian bamboo flute. Cohen is a subtle, talented musician, who was playing for the first time with the trio.
It was a wonderful show. I talked with the musicians after the set. Outside of the Avram Bar, Gamlieli, who will be releasing his first album soon, thanked me for coming to see his group.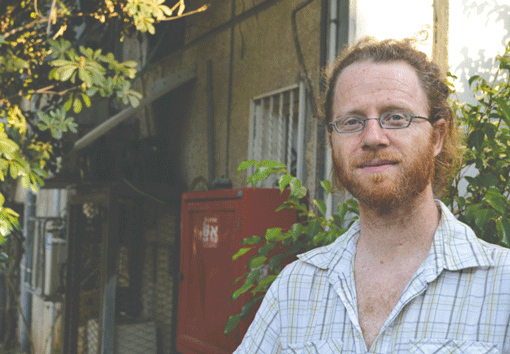 Davidka Square is a stop on Jerusalem's new light rail train, which I made use of on a daily basis. There is just one line, which I rode to its southern terminus, Mount Herzl; and I visited Israel's national cemetery for the first time. I stayed at the Dan Jerusalem Hotel on Mount Scopus. This deluxe hotel (in a former incarnation it was the Hyatt Regency) is in East Jerusalem, a bit out of the way; but it's a quick walk to the Ammunition Hill light rail stop, so getting into West Jerusalem was quite easy. The trains are new and sleek, and you can see the varied mosaic of Jerusalem's residents riding the train (Arabs and Jews, Orthodox and secular). The frequent sight of young men and women toting automatic rifles or wearing side arms reminds the visitor of the unsettled political situation in Jerusalem and environs.
I will relate some stories from my one night in Haifa in a later issue, and jump ahead to Tel Aviv. One of many highlights in Israel's go-go, 24/7 cultural capital was my meeting with Yuval Cohen, a jazz musician and composer and the eldest of the 3 Cohens, a renowned jazz ensemble that includes his sister, Anat Cohen, saxophones and clarinet, and brother, Avishai Cohen, a trumpeter.
On a busy Friday that included three interviews, I took a taxi to north Tel Aviv, to Caffe Joe. As was the case throughout my 10 days in Israel, the cab driver assured me that he knew where he was going, but he really didn't. As the cab homed in on the destination, I got Cohen on my mobile phone, which I handed off to the driver. In just a moment, the red-haired musician appeared on the street, waving us down. I came to rely on this mobile phone tracking system during my stay in Israel.
Sitting across from each other at a café table, I asked Cohen about the jazz scene in Israel, and he mentioned some of the spots that I had scoped out prior to my visit. (I contacted some other Israeli musicians about where to go for jazz, and they were helpful, as well.) This week, for example, Cohen's trio played at Beit Ha'amudim (the House of Columns), a Tel Aviv club on Rambam Street, just off of the Nachalat Binyamin pedestrian mall.
"It's a small scene," Cohen, 39, said about jazz in the Jewish state. There are many talented artists; however, there are relatively few venues for them to play.
Cohen mentioned that he travels to Jerusalem once a week to teach. When he reaches Jerusalem, he thinks about a particular cemetery, the final resting place of his mentor Arnie Lawrence (né Arnold Lawrence Finkelstein), who played in the house band for The Tonight Show Starring Johnny Carson, recorded and toured, before moving to Israel in 1997.
"Arnie was just a special guy," Cohen said. "You could really feel the essence of jazz and freedom, and the liberty of life when you were around him."
Lawrence, who had founded the New School for Jazz and Contemporary Music in New York City, brought Jewish and Palestinian musicians together in a Jerusalem workshop, the International Center for Creative Music. He also ran a club in Jerusalem for a time, Arnie's Jazz Underground.
Cohen recalled hanging out with Lawrence in New York City. "He was deeply loved by Anat and Avishai and I."
Lawrence succumbed to lung and liver cancer in 2005.
Hopefully, the 3 Cohens will schedule a date in the Twin Cities in the near future. In the meantime, one can enjoy their recorded works, including their last album, the critically acclaimed album titled Family (Anzic Records). Yuval Cohen has also recorded two albums on his own. The 2010 album Song Without Words, also on his sister Anat's Anzic label, is comprised of eight songs, duets with pianist Shai Maestro.
Cohen plays lovely soprano sax melodies and improvisations, which have a fleet and effortless quality. However, he had to adapt his playing style after suffering a medical crisis in 1997, just as he was to begin studies for a master's degree at Manhattan School of Music.
"I had a bad pain in my neck and it just got worse and worse," Cohen related, regarding what was eventually diagnosed as a cervical spinal tumor. "I stopped functioning."
He credits Dr. Fred Epstein, the late renowned pediatric neurosurgeon, with saving his life. Epstein told Cohen that they would operate on his spine — and told him not to worry about medical coverage for the procedure.
"What an amazing guy," Cohen reflected. "Who can say such things today? And he operated on me, and he saved my life."
Cohen was in a wheelchair for a month following the operation. He returned to Israel for his rehabilitation. He mentioned that his siblings, Anat and Avishai, spent much longer periods in the States — he attended Berklee College of Music in Boston, and spent three years in the U.S. On the upside, Cohen met the woman who is now his wife at Tel HaShomer Hospital near Tel Aviv.
He mentioned that his wife, Yael, is an occupational therapist and also a jeweler. She employed both skills in helping her musician husband get back his musical chops. Because the spinal tumor weakened his hands, she adapted the sax keys with rings. And Cohen said that he uses "eye compensation," watching his fingers, which have lost some natural feeling.
Again, to hear Yuval Cohen play saxophone, you wouldn't know about any of this medical history.
The Cohens have twins, Danielle and Matan, who are eight and a half.
And Cohen mentioned that his family, his parents, and his brother Avishai and his family all live near the café where we are sitting, within blocks of each other. Anat Cohen lives in Brooklyn (AJW 11-9-12).
It was really delightful to sit and talk with Yuval Cohen for an hour or so. We could have talked for several more hours, but I had to get a taxi back to the Dan Tel Aviv Hotel, and get cleaned up for a Kabbalat Shabbat dinner at the home of Fred Schlomka and Sunita Staneslow, a St. Paul area native, in the Ajame neighborhood of Jaffa.
Cohen urged me to enjoy the beach in Tel Aviv. "Go early morning, because it's going to be sunburn… The beach is just an amazing thing. Your heart opens…"
(American Jewish World, 7.19.13)

The 3 Cohens perform Duke Ellington's "The Mooche":


Tal Gamlieli, featuring Avishai Cohen, performing "Dania":