A 'garden of late bloomers,' a heartening story of human uplift on a slope of Mount Carmel
By MORDECAI SPECKTOR
Before getting to the gist of this installment in my "Israel Diary 2013" series, I'd like to mention the appetizer I had at the Dan Jerusalem Hotel.
During some busy days in Israel, I would notice that midafternoon, or late afternoon, had rolled around without my partaking of lunch. Such was the case on a Tuesday afternoon in late June. The Dan Jerusalem's expansive fourth floor lounge, two flights down from the lobby, had Wi-Fi access and a bar that offered a varied food menu. Since I planned to hit the Machane Yehuda market later for dinner, I ordered the hummus and falafel appetizer (40 shekels).
The first surprise was that the appetizer came with an appetizer: a waiter brought a basket of rolls and crackers accompanied by two small glass dishes with baba ganoush (eggplant dip) and olive tapenade.
The appetizer main course consisted of three dishes: an Israeli chopped salad of tomatoes and cucumbers; a large plate of hummus, with four oblong falafels; and a platter with pita bread, olives and pickles — and, inexplicably, another small glass dish of hummus.
Israel Diary 2013
I couldn't eat all of the appetizer. This situation reminded me again that my wife, Maj-Britt, should accompany me on an Israel junket to share the wonders of the land — and help finish all of the food set before me.
In the Aug. 16 edition of the AJW, I recounted traveling from Jerusalem to Haifa in three different taxicabs. After checking in at the Dan Carmel Hotel, I freshened up and caught a cab for Yemin Orde Youth Village, which is about 20 minutes south of Haifa.
Prior to my seventh visit to Israel in June, I solicited ideas for what to do and who to see in the Jewish state (6-7-13 AJW). Karen Sallerson, who used to live in Minnesota when she headed up the local Israel Bonds group, contacted me with a suggestion. She now serves as the executive director of Friends of Yemin Orde, in Rockville, Md. She put me in touch with Racheli Yaso, director of visitor relations and outreach programs at Yemin Orde Youth Village, and we arranged a tour for late in the afternoon on June 26.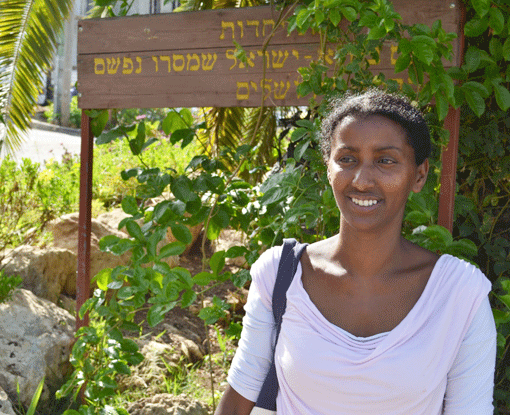 I arrived at the Yemin Orde guardhouse, and there seemed to be some confusion about who was to meet me. In Israel, I didn't really mind these interludes in strange surroundings. At Yemin Orde, the security guard, a middle-aged woman with a pistol on her hip, made a number of phone calls, left voicemail messages and assured me that someone would show me around the 77-acre campus on Mount Carmel.
Soon I was directed to walk up the road, and I was met by Yaso, a cheerful young woman of Ethiopian Jewish ancestry. Yaso came to Israel at the age of seven with her family, as part of Operation Moses, the mass aliya of Ethiopians in 1984. Yaso's father was working with the Mossad at that time, helping Jews escape from Sudan, and he joined the family in Israel in 1985, according to her bio on the Yemin Orde Web site.
Yaso's family settled in the northern town of Kiryat Motzkin, after a two-year stay at an absorption center. Yaso lived at a youth village from seventh grade through high school graduation, so she understands and identifies with the youths who live and study at Yemin Orde.
She has worked at Yemin Orde, which was founded in 1953, for the past five years. The community was established by the British Friends of Youth Aliyah — and named after British Major General Orde Charles Wingate, a supporter of the Zionist cause who helped in the formation of the Israel Defense Forces (IDF) — serves about 400 teenagers, from 14 to 19, who come from immigrant families or are orphans or classified as at-risk.
The teens at Yemin Orde come from about 20 different countries, but those from Ethiopian families predominate. Yaso showed me the Ethiopian House, a traditional dwelling on the campus that reminds the residents of their proud heritage and is a memorial to the 4,000 Ethiopian Jews who perished on the trek through Sudan on the way to Israel.
After a brief time with Yaso, I was handed off to Susan Weijel, a member of the Yemin Orde senior leadership team. The New York City native has been at Yemin Orde for the past 16 years.
She described the community as a "garden of late bloomers." The goal of Yemin Orde is to take the young residents "from survival to leadership," she explained.
"No child should live in an institution," she added, and in this regard, the staff is dedicated to creating a bond of trust with each student. Weijel allows that it is something short of a real family; but the staff members try to get their charges to a place where they feel they are worthwhile, to build their self-esteem.
As you can imagine, 400 teenagers in one village is quite the critical mass of energy — and hormones. Weijel is quite frank in discussing how the staff deals with the problems that crop up, including the romances that bloom in this garden.
Weijel points out that Dr. Chaim Peri, the emeritus director of Yemin Orde, developed an educational methodology called "The Village Way," which has guided the staff in dealing with at-risk children for the past three decades. In 2007, Peri launched Yemin Orde Educational Initiatives, an educational project aimed at rejuvenating other Israeli youth villages, based on the successful philosophy and methods developed at Yemin Orde.
Peri is "still active in helping spread the vision" of Yemin Orde, commented Weijel.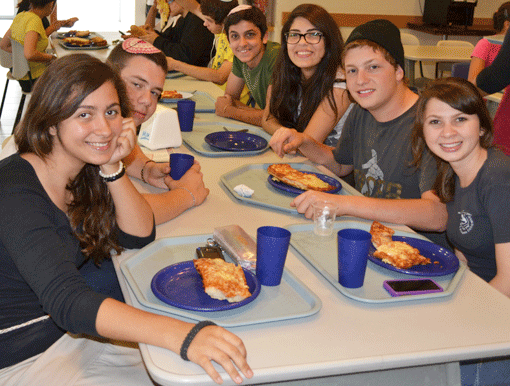 "We have to create a place of meaning, and we have to create a place of trust," she said, regarding the approach to the young villagers, many of whom come from "completely, completely dysfunctional" families, and arrive at Yemin Orde with heavy emotional baggage.
In some cases, the staff places troubled kids in a smaller, "therapeutic environment" within the village. Weijel mentioned the case of a girl from Russia who "had a complete mental breakdown, endangering herself. She went into a mental hospital for a few weeks. Now, when she came out, we put her, no longer in the bigger homes, we put her in the homes with the smaller children… in a smaller environment. The hope is to always try to find a way inside of the village; but had we not had that place, the idea might be to then find a place outside of here."
In any case, the girl from Russia would know that the Yemin Orde staffers were still there for her, said Weijel.
We strolled around the campus, and Weijel greeted groups of students heading for dinner in the dining hall. She showed me the synagogue, and pointed out the scorched hills on the mountainside, the visible remnant of the Mount Carmel fire that attacked the village on Nov. 2, 2010. Yemin Orde lost 22 buildings — one-third of their facilities.
It was a quiet day in the village, Weijel noted. Graduation ceremonies had taken place recently, so many students were gone.
Yemin Orde Youth Village is an Israeli success story for the most part. It's a place where many lives are transformed. I enjoyed talking with students and staff members during my brief visit.
***
Friends of Yemin Orde (FYO) supports the programs and activities of Yemin Orde Youth Village in Israel and Yemin Orde Educational Initiatives. FYO was founded in 1991, and raises funds for these endeavors throughout the United States. To make a donation, go to: yeminorde.org or call 202-237-0286.
(American Jewish World, 8.30.13)