Israel is a vibrant and beautiful country, with myriad vexing social and political problems. AJW editor and publisher Mordecai Specktor was in Israel for 10 days last month, in Jerusalem, Haifa and Tel Aviv, and will be sharing his experiences in a series of articles. In this edition, the seriously jet-lagged editor shares some faces from his odyssey through the Jewish state.
Shown below are (l to r): Worknesh Zeru, Moran Alem and Bosana Desse, three of the 400 immigrants, orphans and at-risk youth who live and attend school at the Yemin Orde Youth Village near Haifa.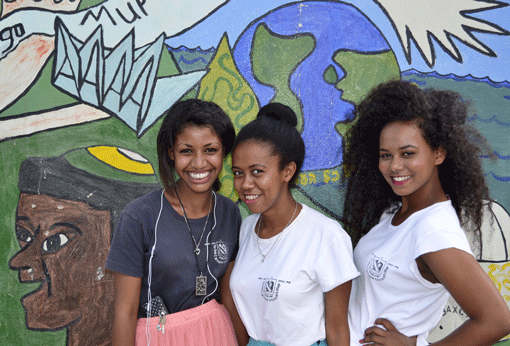 I was invited to attend the 16th annual award ceremony of the Marc and Henia, z"l, Liebhaber Prize for the Promotion of Religious Tolerance in Israel 2013 (5773), by the Schechter Institute of Jewish Studies, at the request of Rabbi Marc Liebhaber, former publisher and senior editor of the American Jewish World.
The event took place June 23 on the new Jerusalem campus of the Schechter Institute.
Enjoying a lighter moment prior to the award ceremony are (clockwise, from lower left): Rabbi Liebhaber; prize recipient Dov Elbaum, a journalist and host of the TV talk show Welcoming the Shabbat; Prof. David Golinkin, chair and president, Schechter Institute; Jacky Levy, media personality and comedian, a 2009 Liebhaber Prize recipient and the event's emcee; and prize recipient Kobi Oz, a musician, author and social activist, whose recent albums weave Jewish texts into a pop musical motif.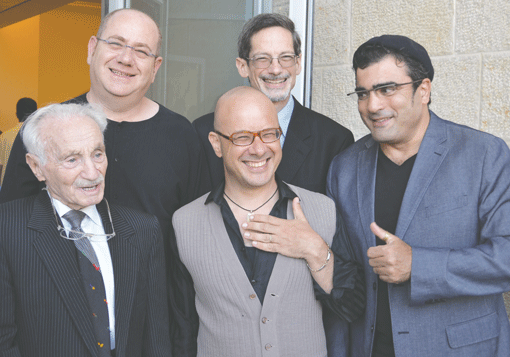 Sheikh Jarrah, an Arab neighborhood in East Jerusalem, has been the site of controversy after Arab residents were dispossessed by Orthodox Jews who claimed title to their homes.
I was led on a tour of Sheik Jarrah by Moriel Rothman, a volunteer with Just Vision, a group that supports nonviolent social change and produces films (Budrus, My Neighbourhood) to shine a light on under-documented stories. The struggle of one family, the El Kurds, was supported by Jewish and Arab Israelis who staged large demonstrations on Fridays.
Rothman (left) took me to the El Kurd home, and then Mohammed El Kurd (right), who was featured in the Web video My Neighbourhood, came by carrying bags of groceries. He was 12 in the video, and is now 15, an articulate activist who also writes poetry and enjoys a variety of popular music.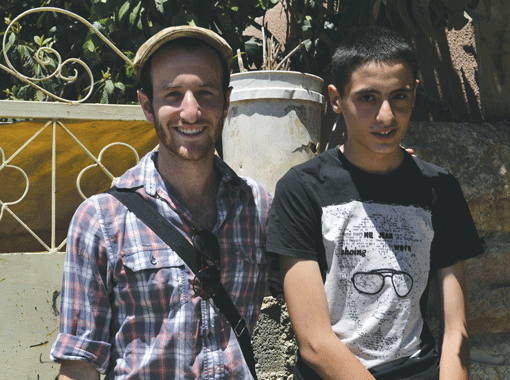 Sarit Michaeli is the spokesperson for B'Tselem – The Israeli Information Center for Human Rights in the Occupied Territories.
We met at a café in Mahane Yehuda market, and talked for two hours about the situation of Palestinians under Israeli occupation in the West Bank.
Although Prime Minister Benjamin Netanyahu talks about his desire for a two-state solution, the infrastructure of West Bank settlements and adjacent outposts becomes more entrenched, and bad blood grows between Palestinians and Jewish settlers.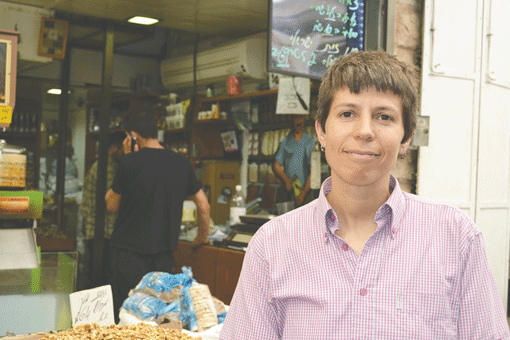 At closing time in the King David Crown Lounge at the Dan Tel Aviv Hotel, my Israeli companions — Dahlia Scheindlin and Ami Kaufman, writers for +972, a valuable source of news and opinion from Israel — pointed out a celebrity sitting near our table: Ruth Westheimer, the renowned sex therapist and media personality.
She comes to Israel every year to appear on TV shows. Regarding her visits to Israel, Dr. Ruth says, "I never talk about politics — only sex." Dahlia took this picture.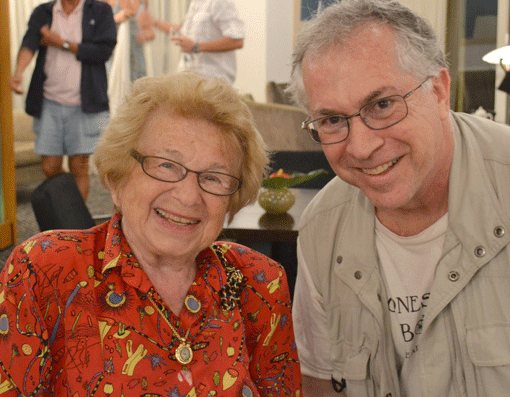 Many Jews in the Minneapolis area will recognize former shaliach (Israel emissary) Shlomo Weinish, who now lives with his family in Ramat Yishay, which is located between Haifa and Nazareth. Shlomo came by the Dan Carmel Hotel for breakfast.
Here he is enjoying the spectacular view of Haifa and Haifa Bay from the balcony of my ninth-floor room. Shlomo is probably one of the most knowledgeable and enthusiastic Minnesota Twins fans in Israel. But it's not easy to be a Twins fan — here or in Israel.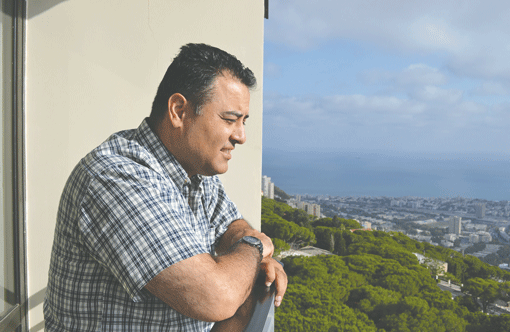 Popular AJW columnist Teddy Weinberger picked me up at the Dan Jerusalem Hotel and we briefly toured the nearby Hebrew University campus on Mount Scopus, then had lunch at one of the Burgers Bar outlets.
Teddy lives with his family in Givat Ze'ev, a settlement outside of Jerusalem. He mentioned that his daughter, Rebecca, is a professional basketball player in Israel.