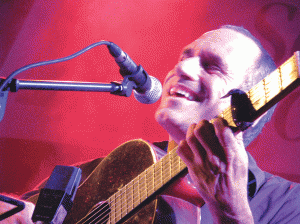 Shpatsiring in Jerusalem, a visit from Rep. Bachmann and an amiable event for Jews and Arabs 
By MORDECAI SPECKTOR
JERUSALEM — During a recent week in Israel, I mainly traveled with the Minneapolis Jewish Federation's Israel @ 60 Mission participants; but I pursued some stories apart from the group's itinerary. Upon my arrival in Jerusalem, I tried to arrange an interview with Prof. Ze'ev Sternhell, a Shoah survivor who came to Israel alone at the age of 15.
The founding member of Peace Now was the victim of a pipe bomb attack on Sept. 25 (10-3-08 AJW). Sternhell was lightly wounded by the bomb that was planted near the courtyard gate to his apartment. The perpetrators of the attack on the elderly professor are presumed to be associated with the extremist element of West Bank Jewish settlers. Sternhell has been an outspoken critic of the settler movement and their supporters within the government of Israel. "What has been created on the West Bank in the last generation is a real culture of violence," which has not been opposed by Israel's political class, Sternhell said in an interview with Americans for Peace Now.
Galia Golan, a leading Peace Now activist, put me in touch with Sternhell. After talking with the professor's wife over a couple of days, I finally reached the professor; but he suggested that we meet for an interview during the following week. Unfortunately, I had to board an El Al return flight to New York in the early hours of Nov. 16, so time wasn't on my side. You can listen to an interview with Sternhell on the Web site of Americans for Peace Now (peacenow.org).
Another interview that didn't take place involved Rep. Michele Bachmann, who was traveling in Israel early in November with a Republican delegation sponsored by the Jewish Community Relations Council (JCRC). For many years the JCRC has brought Minnesota elected officials to Israel, and to the Palestinian territories, to afford them a firsthand experience of the complex Middle East geopolitical situation.
As our newshound readers doubtless recall, Bachmann became a national news sensation after she suggested during an October appearance on MSNBC's Hardball show with Chris Matthews that Democratic presidential candidate Barack Obama may hold "anti-American" views, and that the new media should investigate which members of Congress are "pro-America" and "anti-America." Although her comments resulted in a financial windfall of contributions for her DFL opponent, El Tinklenberg, the Republican congresswoman won re-election.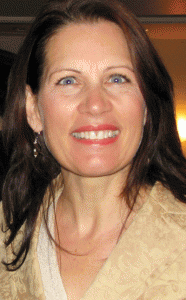 After the elections, Bachmann went on Fox News' Hannity & Colmes show and denied saying what she said to Matthews: "It's an urban legend that was created. That isn't what I said at all."
Participants in the Israel @ 60 Mission were well-behaved when Bachmann and her husband, Marcus, along with state Rep. Paul Kohls, R-Victoria; Rabbi Joshua Borenstein, of Torah Academy in St. Louis Park; and AIPAC activist and lawyer Dan Rosen showed up for a reception at the Sheraton Plaza Hotel in Jerusalem on Nov. 10.
The word had been passed that mission participants should express appreciation to Bachmann for her support of Israel. Some members of the Federation-sponsored mission decided to skip the event; others let it be known to the only press person present — me — that they didn't want to be photographed with Bachmann. Rosen announced that remarks made at the reception were "off the record." In any case, Rep. Bachmann spoke generally about her affection for Israel; she said nothing remotely inflammatory. And Bachmann declined the request from the AJW for a brief interview in Jerusalem.
The Jewish World renewed its interview request and is waiting to hear back from Bachmann's press secretary.
While in Israel I monitored my e-mail (and worked from my Jerusalem hotel room on the Nov. 14 edition). An e-mail from Washington, D.C.-based Search for Common Ground alerted me to an event taking place in Jerusalem. This newspaper has published a number of opinion articles from Common Ground News Service over the years. I contacted one of the organizers of the event, the 2008 Eliav-Sartawi Awards for Middle Eastern Journalism, which honors journalists "whose work promotes greater understanding between Arabs and Israelis."
The awards ceremony took place at the International YMCA, which is across the street from the King David Hotel. It was a congenial event that was short on speeches and long on music: Wa'alat, a great ensemble of Israeli Arab musicians from Akko (Acre), and Israeli superstar David Broza performed. Wa'alat joined Broza at the end of his set for a final tune. Barbara Sofer, one of the award winners, delivered an especially moving acceptance speech, which was published in the AJW last week ("Choose life"). In a city renowned for its holy places and its unholy strife, it was a pleasure to be part of a crowd of Jews and Arabs that embraced the notion of peaceful coexistence and enjoyed an evening of music.
The weather in Israel was quite beautiful, warm and sunny, during early November. Apparently, it was snowing and sleeting back home. (I went swimming in the sea at Tel Aviv.) I've enjoyed shpatsiring, strolling, around Jerusalem during my five previous visits to Israel. On Tuesday, when members of the Federation mission were at Masada and the Dead Sea, I had lunch with the sales manager at the new Dan Boutique Hotel in Jerusalem (more on that later). Following the meeting, I walked back through the placid Rehavia neighborhood to the Sheraton.
At one point near the hotel, I noticed that blue metal barricades blocked the street ahead. Some type of security guards, with rifles at the ready, were behind the barriers. The street was blocked to motor vehicles but pedestrians were allowed. When I approached the barricades one of the guards asked where I was going. I said, the Sheraton, which was visible a couple of blocks away. In response to my question about where I was, the guard said it was the prime minister's residence, which features a range of security measures.
The guard waved me through and said, "Don't take any pictures."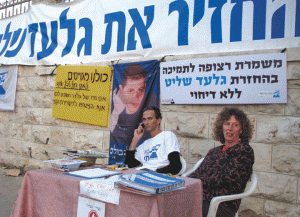 At the other end of the block, campaigners for the release of Israeli soldier Gilad Shalit, who was abducted by Hamas near the Gaza Strip on June 25, 2006, sat at a table outside of the house presently occupied by Ehud Olmert. They asked me to sign a petition urging the prime minister to negotiate with Hamas for Shalit's release. Banners and blow-up photos of the young hostage were festooned on the walls.
I signed the petition. I hope it helps gain the release of Shalit, who is being held in a cruel captivity that flouts the requirements of international law. Â 
(From the American Jewish World, Nov. 28, 2008.)