The Minneapolis Jewish Federation's "Israel @ 60 Mission" bussed over to the Old City of Jerusalem, on Sunday morning. Our guide, Yoram, took the group through the Jewish Quarter of the Old City, elucidating some of the historical and archeological highlights. There was some shopping at the Cardo, the unearthed Roman-era roadway, then we spent some time at the Kotel, the Western Wall plaza.

 I left the group as they entered the Western Wall tunnel tour, which I had experienced in 1996, on my first visit to Israel. I wandered through the Muslim Quarter, soaking up the sights and smells, and exited through the Damascus Gate.
At the Jerusalem city hall, on Safra Square, I saw a TV news crew spring into action when some men approached. It turned out the Haredi man with the white beard was Meir Porush, a Haredi (ultra-Orthodox) candidate for mayor of Jerusalem.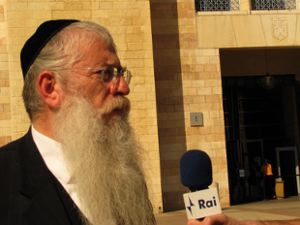 I didn't know who the bearded fellow was — obviously, he was a newsworthy somebody — so I asked a young guy for some help. Sasha, an Israeli Jew from Russia, said it was Meir Porush, a "Jewish fascist."
Sasha, who was passing out handbills and DVDs, volunteered that he was an anarchist, who was working for the Russian-Israeli billionaire mayoral candidate Arcadi Gaydamak. The young anarchist said, in halting English, that he was working for the Gaydamak campaign purely for the money; this was a difficult period in his life that he said he will try to forget. 
There is something else: While people around the world are celebrating the election of Barack Obama, there are some folks who are not so enthusiastic about this turn of events — Jews in Israel. I've been asking Israelis about the U.S. presidential election and I'll get into this topic later today, or tomorrow.
Shalom from Jerusalem.
— Mordecai Specktor