By JAMIE GELLER
(JTA) — So this is where it all comes together — all the thought, all the planning, the testing. And the tasting, the tasting and the tasting. (That's the best part.)
A simanim-inspired menu brings added challenges, but also adds a level of meaning to your Rosh Hashana meal. Simanim — literally it means "signs" or "indicators" — are meant to point the way to improved circumstances.
For the past few years, I have been using the opportunity as a Rosh Hashana conversation starter with my kids during our cooking and prep time together. My guests, my kids, my guests' kids — everybody loves identifying which simanim are on the table openly or "hidden" as an ingredient. Our discussion takes on a special yontif energy that only comes with Rosh Hashana.
High Holidays Meals
In the coming year, may all of your meals be cooked to perfection — nothing burns, nothing is soggy or falls apart. May it be a year of culinary delights and taste-bud adventures. And may you and your loved ones eat in good health, happiness, sweetness and peace.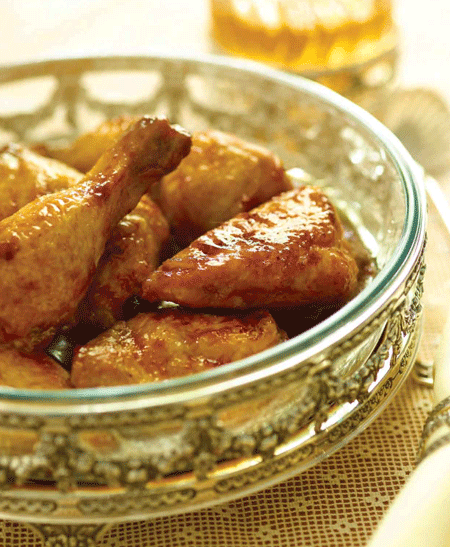 Gefilte Fish Cakes with Horseradish Sauce
Prep time: 10 minutes
Cook time: 20 minutes, plus 30 minutes chill time minimum
Ready time: 30 minutes
Servings: 8
Ingredients:
1 loaf frozen gefilte fish, defrosted (22 ounces); or 1 jar (24 ounces), drained
1/2 cup diced red bell pepper
1 small red onion, diced
2 celery stalks, diced
1-1/2 cups light mayonnaise, divided
4 tablespoons chopped dill
1/2 teaspoon kosher salt
1/4 teaspoon freshly ground black pepper
1 egg
1 cup coarsely crushed matzo
Canola oil for frying
1 lemon, juiced
4 tablespoons prepared horseradish
Preparation:
In a large bowl combine gefilte fish, peppers, onions, celery, 1/2 cup mayonnaise, dill, salt, pepper, egg and matzo, and stir well to combine. Using slightly wet hands, scoop 1/4 cup and form into patties. Place on a sheet pan and refrigerate for 30 minutes before frying.
Heat oil in a large sauté pan over medium high heat. Fry patties in batches for three to four minutes per side or until golden brown. (Can be kept warm in the oven at 250 degrees.)
In a small bowl, combine remaining 1 cup mayonnaise, lemon juice and horseradish, and stir. To serve, plate two cakes on a small plate and garnish with a tablespoon of horseradish sauce.
Brisket in Wine Sauce
Nothing compares to the rich flavor of brisket, plus this recipe couldn't be simpler to prepare; it's a guaranteed crowd-pleaser.
Prep time: 9 minutes
Cook time: 3 hours
Ready time: 3 hours, 9 minutes
Servings: 8
Ingredients:
1 (2-1/2-pound) beef brisket, thick-cut
1 tablespoon paprika
1/2 teaspoon basil
1 teaspoon salt
1 teaspoon pepper
3 medium onions, sliced
2 cloves garlic, peeled, halved
1-1/2 cups ketchup
1-1/2 cups dry red wine
1-1/2 cups water
Preparation:
Preheat oven to 325 degrees. Rinse brisket. Place in roasting pan. Rub paprika, basil, salt and pepper into meat. Scatter onions and garlic over meat.
In a medium bowl, mix ketchup, wine and water. Pour over brisket. Cover pan tightly with aluminum foil, tenting so that the foil does not touch the meat. Bake, covered, at 325 for three hours, or until a digital instant-read thermometer inserted into the center of the brisket reads 190 degrees for well done.
Let stand five to 10 minutes before slicing diagonally, against the grain. Serve warm; pass pan juices in a sauce boat.
Honey Chicken
A tasty and economical way to feed a crowd during the holidays, this chicken dish is sweet but never cloying. Despite its name, this chicken is not too sweet. The olive oil, soy sauce, garlic and pepper temper the honey perfectly.
Prep time: 5 minutes
Ready time: 5 minutes
Servings: 4
Ingredients:
1 chicken, about 3-1/2 pounds, cut into eight pieces
3/4 cup honey
1/4 cup soy sauce
1/4 cup olive oil
1 tablespoon garlic powder
1 teaspoon black pepper
Preparation:
Preheat oven to 375 degrees. Lightly grease a 9-by-13-inch pan with nonstick cooking spray. Rinse chicken, pat dry and place in prepared pan. In a small bowl, mix together honey, soy sauce, olive oil, garlic powder and pepper, and pour over chicken. Bake, uncovered, at 375 degrees for one hour until slightly browned.
Spicy Sauteed Leeks and Spinach
Prep time: 20 minutes
Cook time: 30 minutes
Ready time: 50 minutes
Servings: 10
Ingredients:
6 leeks, white and light green parts only, cut into 1/4-inch rounds, then halved
4 tablespoons olive oil
10 cloves garlic, minced
2 teaspoons crushed red pepper
1/2 cup white wine
1 bag baby spinach (20 ounces)
Preparation:
Heat oil in a large sauté pan over medium low heat. Add leaks, cover and cook for 25 minutes, stirring occasionally. Stir in garlic and red pepper flakes. Add wine and spinach and increase heat to medium. Cover and cook four minutes more, tossing occasionally, until spinach is wilted.
Carrot Apple Mini Cupcakes with Non-Dairy Cream Cheese Icing
This recipe makes 10 mini cupcakes, which makes for the perfect little sweet treat at the end of the meal. But if this is all you are serving for desert, you may want to double this recipe so each guest can enjoy two mini cupcakes.
Prep time: 12 minutes
Cook time: 18 minutes
Ready time: 30 minutes
Servings: 10
Ingredients:
1/2 cup plus 1 tablespoon all-purpose flour
1/2 teaspoon ground cinnamon
1/4 teaspoon baking soda
1/4 teaspoon kosher salt
4 tablespoons margarine
3 tablespoons brown sugar
2 tablespoons granulated sugar
1 egg
1/4 teaspoon vanilla extract
3/4 cup grated carrot
3/4 cup grated apple
Icing:
1 package non-dairy cream cheese, softened (eight-ounce package)
2 tablespoons honey
2 tablespoons confectioner's sugar
Preparation:
Preheat oven to 375 degrees. Line a mini cupcake baking sheet with 10 cupcake liners or lightly grease with baking spray.
In a small bowl, combine flour, cinnamon, baking soda and salt, and whisk to combine.
In the bowl of an electric mixer fitted with the paddle attachment, combine margarine and sugars and beat until light and fluffy. Add egg and vanilla and mix until combined. Add carrot and apple, and mix until moistened. Add flour mixture and mix just until combined.
Distribute batter evenly to make 10 mini cupcakes. Bake 15 to 18 minutes or until a toothpick inserted in the center comes out clean. Let cool 10 minutes and then remove from pan to a wire rack to cool completely.
For the icing: Whisk together non-dairy cream cheese, honey and sugar until smooth. Frost the top of each cupcake with a heaping tablespoon.
***
Jamie Geller was "the bride who knew nothing" — until she found her niche as everybody's favorite kosher cook next door. She is the author of the best-selling Quick & Kosher cookbook series, creator of the Joy of Kosher with Jamie Geller magazine, and host of the popular Quick & Kosher cooking show online at youtube.com/joyofkosher and on-air on JLTV.
The world's largest kosher food community, including 5,000 free kosher recipes, inspiring menu ideas, how-to videos and more, is available at: joyofkosher.com.