Maggie Bearmon Pistner remounts her one-woman show, which tells the story of her mother's army service during World War II
By DORIS RUBENSTEIN
Does Maggie Bearmon Pistner ever rest?
The Minnesota Jewish Theatre Company featured her in Jericho in 2015. And even before she finished performing in MJTC's most recent production, The Tale of the Allergist's Wife (2-12-16 AJW), she had to start rehearsing for the Sabes JCC's production of They Called Her Captain, which opens March 24.
There are a couple of good reasons that she can manage this. First, Pistner was instrumental in developing the material about the play's subject, who just happens to be the actor's mother.
In 1944, 22-year-old Jeanne Goldoff, a naïve girl from Brooklyn, N.Y., enlisted in the U.S. Army. By the end of World War II, she had traveled across Europe and earned the double silver bars of a captain. Jeanne Goldoff Bearmon is now 95 years old and lives in St. Louis Park.
"My mother is an amazing, gutsy woman," Pistner told the AJW. "It's an honor and a privilege to be the instrument to bring her story to the stage."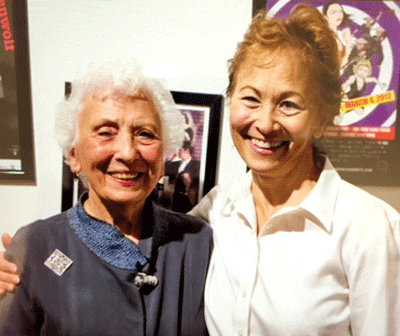 The actor knew the stories. Following a mother-daughter nostalgia tour of England and meeting some of the almost-mythical people that Jeanne had known during her time there (they even shared a Shabbat dinner with the Jewish daughter of one of those families), Pistner urged her mother to gather the stories into a formal memoir.
"When Mom wrote the memoir, she hoped that it could be adapted to a one-woman show, especially if I were playing the role of the captain," Pistner said.
To fulfill that vision, Pistner knew that she needed a different kind of expertise to mold the memoir into a cohesive script. Enter stage right: local writer, playwright and actor Dawn Brodey.
Pistner and Brodey were working together on the independent film The Lucky Ones in 2009, when Pistner shared the story of her mother's Women's Army Corps (WAC) service during the war. Brodey's natural response — as someone with a B.A. in history from the University of Minnesota — was to take the memoir and other related documents, expand upon them and make them into a play using Pistner as her star.
It was a dream come true for both mom and actor.
Jeanne Goldoff Bearmon was an active participant in the development of the play, according to Brodey.
"She made sure that people, places and chronology are true not only to her memoir, but to the development of historical events," Brodey said. "Love, war, exotic locations — and all on the backdrop of one of the most transformative moments in world history? It virtually wrote itself."
Reason number two that Pistner is not fainting from mental and physical exhaustion: Although this one-woman show requires Pistner's full range of acting skills to play the variety of characters under Captain Goldoff's command, she's performed this play before.
A somewhat abbreviated version of the production was performed at the Sabes JCC as part of the Minnesota Fringe Festival in 2013 (7-19-13 AJW). Pistner shares the credit for the enhanced production values in the current show.
"I'm thrilled with the support of both Rimon and the Sabes JCC to make this possible," Pistner said. "And I can't leave out Judith Brin [Ingber]'s personal support to pay all of the backstage artists in this production. We don't have the restrictions that were imposed on us for the Fringe Festival, and the facilities at the JCC are superior to what we had three years ago."
For those who have or want to have a closer connection with this dynamic mother-daughter team, there will be a "talk back" with the two women following each performance in the Sabes JCC's theater.
It was unusual enough for a woman to rise to the rank of captain in WWII, let alone a Jewish woman. When Jeanne Goldoff married and became Jeanne Bearmon, she made sure that her daughter followed, if not in her military career, but in her Jewish footsteps.
The family has a long connection with Adath Jeshurun Congregation; and Pistner graduated from the Beit Midrash of the Talmud Torah of Minneapolis, and, while living in New York City, taught Jewish students at Rodef Sholom Synagogue.
So, if you missed They Called Her Captain at the Fringe Festival — or even if you didn't — you now have a marvelous opportunity to see a story (and a performance) that is worth experiencing anew.
***
They Called Her Captain, a one-woman play featuring Maggie Bearmon Pistner, will be performed 7:30 p.m. Thursday, March 24 and Saturday, March 26; and 2 p.m. Sunday, March 27 in the theater at the Sabes JCC, 4330 Cedar Lake Rd. S., St. Louis Park.
Tickets are $15 for general admission; $12 for JCC members, students and seniors; and $10 for groups of eight or more. For information, visit: www.sabesjcc.org.
(American Jewish World, 3.11.16)