By ERIN ELLIOTT BRYAN / Community News Editor
Christopher Columbus was shipwrecked in Jamaica for more than a year in 1494; and Jews — mainly from Spain and Portugal, fleeing expulsion during the Spanish Inquisition — were first recruited to settle Jamaica's south coast plains as early as 1534.
In 2006, the United Congregation of Israelites in Kingston marked the 350th anniversary of continuous Jewish worship on the island.
Around the Jewish World
In commemoration of this anniversary, the congregation established the Jewish Heritage Centre of Jamaica, which includes the Sha'are Shalom synagogue, exhibitions of artifacts and Jamaican Jewish art, a video theatre and hall, the Family History Centre and Reference Library, the Jamaican Jewish Archives and the Memorial Garden with its tombstones from the 18th century.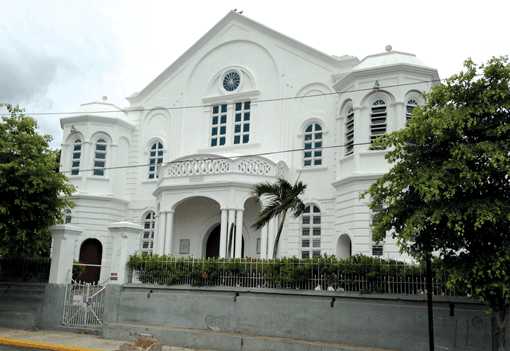 Today, the synagogue maintains about 200 members — among them Brad Klein, a realtor and filmmaker from Minneapolis.
"Most people don't even know there is a [Jewish community] there," Klein told the AJW in a recent interview. "When they think of the Diaspora and the Jewish experience, it's all about Ellis Island and everybody just came here. Well, no, people went everywhere. There are different pockets all over the world."
Klein first became interested in Jamaica when he became interested in its music, as a college freshman in the early 1980s. He and his roommate first visited the island on spring break in 1983.
"I was really hooked by the people, the culture, just the whole scene," Klein said.
Since then, Klein has visited Jamaica more than 20 times and he has immersed himself in Jamaican music. His first job after college was at a reggae record company, and he has been a reggae DJ, sound system operator and radio host.
In 2000, Klein decided to make a film about the history of Jamaican music.
"Music is the resource that everyone thinks about… when they think about Jamaica," Klein said, noting the most famous reggae artist, Bob Marley.
Most of Klein's trips to the island have been to research the history of ska and interview some of its most influential musicians. He also speaks about the preservation of Jamaican music.
"When Jamaica became an independent nation in 1962, that was the birth of ska, right then at that time. That was their own music, that was their own identity, that was their pride," Klein said. "For many people, especially the wealthy class — as they call them, the 'uptown people' in Kingston — they look down at the musicians, they look down at their own stuff, they always thought that foreign music and foreign culture was superior to their own. And there's still that difficulty for some people, even though Jamaican music is influencing so many other types of music everywhere."
Klein's 2014 film, Legends of Ska, carries the tagline, "Without ska, there is no reggae." It is based on a July 2002 concert Klein produced at the Palais Royale Ballroom in Toronto that featured a cast of ska musicians and artists, such as the Skatalites, Rico Rodriguez, Alton Ellis, Prince Buster, Derrick Morgan, Lord Creator, Stranger Cole and Patsy Todd.
Klein likened his film to the Buena Vista Social Club, the 1999 award-winning documentary that showcased the talents of aging Cuban musicians. Legends of Ska won the award for Best Documentary Film at the 2015 Jamaica Film Festival and was screened on Feb. 25 at the Parkway Theater in Minneapolis.
Last July, Klein donated more than 100 hours of the concert, rehearsal and interview footage from the 2002 Legends of Ska show to the Jamaica Music Museum at the Institute of Jamaica in downtown Kingston.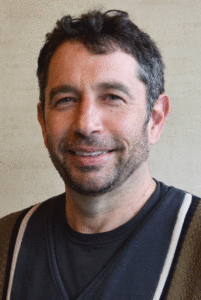 It was during one of Klein's many trips to Kingston that he "stumbled upon" the Sha'are Shalom synagogue, which is located at Duke and Charles streets in the city's old downtown area — just two blocks east of Orange Street, the music district of the 1960s and '70s.
"It's in beautiful condition," Klein said of the synagogue.
According to a magazine from the Jewish Heritage Centre, the first known synagogue in Jamaica was built in Port Royal prior to 1692; there were also shuls in Spanish Town since 1704, in Montego Bay and several in Kingston. The United Congregation of Israelites was formed in 1921, with the uniting of the Sephardi (Spanish and Portuguese) and the Ashkenazi (English and German) congregations.
Though the synagogue is located in what Klein says is a "struggling neighborhood," it offers weekly Shabbat services led by a new interim rabbi, and celebrates B'nai Mitzva and other special events.
Sha'are Shalom's interior features a unique sand floor, which prevents creaking. This is a holdover tradition from the time of the Spanish Inquisition when marranos, or crypto Jews — Jews who were forced to convert to Christianity, but practiced Judaism anyway — tried to worship in secret.
At one point, there were some 21 Jewish cemeteries on the island. The oldest, Hunt's Bay, has graves dating from the 1670s.
Presently, there are 13 cemeteries, with two in use. Ainsley Henriques, longtime leader of the Jamaican Jewish community, is directing a cemetery restoration program that will be completed this year.
"A lot of the [Jamaican Jewish community] emigrated, a lot went up to Florida or elsewhere in America, or went to different places. Some went back to Israel," Klein said. "But some stayed."
***
For information on Legends of Ska, visit: legendsofska.com. For information about the United Congregation of Israelites in Kingston, Jamaica, go to: ucija.org.
(American Jewish World, 3.11.16)