The Mill City's newest deli features a delectable variety of homemade food, excellent drinks and a neighborhood ambience
By ALEXANDER TOLCHINSKY
My visit to Rye Delicatessen and Bar, located in the Lowry Hill neighborhood of Minneapolis, was highlighted by a drink with poet and musician J. Otis Powell; a great chat about — and tasting of — whisky with the excellent bartender Jake; a "Jubano" sandwich, brisket, latke and whitefish salad.
The deli's unique Minnesota haimishe atmosphere makes you feel that everyone who works there is a sort of reincarnation of your mother — they want you to eat and be well!
A visitor finds a variety of seating options: table, patio, bar and booth. Whatever your mood or party size, Rye can accommodate. And in the evening they switch to table service, just to be sure all the bases are covered.
It is no surprise that the bathrooms are spotless. Many restaurants overlook this factor, but nothing says that a place cares for its patrons like a tidy bathroom. The local art is also an excellent touch. With that, and the large selection of local beer, Rye not only feels like the neighborhood bar or deli, but actually works towards supporting the neighborhood that provides its clientele.
I am a stickler for detail, and it seems that the owner, David Weinstein, is as well. There is simply no substitute for homemade flavor; and as good as some of the top brands of pickles, horseradish or mustard may be, the fact that what you taste can only be found at Rye makes for a memorable experience.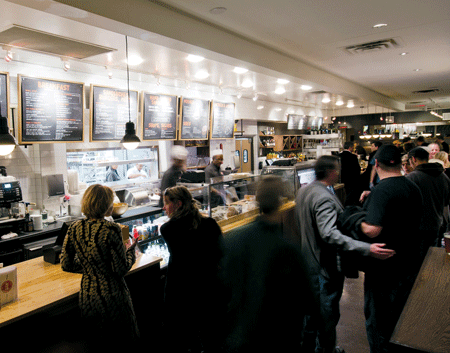 Rye is not only a deli, but also a great restaurant with an excellent bar and atmosphere at night. (Photo: Courtesy of Rye Delicatessen)
Rye doesn't make everything from scratch, or special order bread, just to say they do — they do so because what they make and order simply tastes better.
Let's start with the staple of every proper Jewish deli: the brisket, served on Jewish rye with house-made mustard, a house pickle and slaw on the side. The brisket itself is juicy and flavorful. It is not over-seasoned or oversalted, which leaves your taste buds free to enjoy the taste of the meat, as well as the bread and mustard.
Next up: the Jubano, a delicate balance of brisket, smoked beef, swiss, dill and yellow mustard on a bolillo roll.
As you eat, the sandwich keeps its shape perfectly and every bite comes off with nothing falling or ripping. The meat is juicy, but doesn't drench the bun. A bit of spice from the mustard, a bit of sour from the dill, the familiar comfort of melted cheese and a little sweetness from the bun — what a sandwich!
If there is something always missing from my day, it is a latke. At Rye, it is served big and thick, with house-made apple compote and sour cream on the side. And the whitefish salad is served with house-made bagel crisps, which originate as day-old bagels baked especially for Rye. The salad works for breakfast on a bagel, at lunch as a main course, or dinner as a snack before the main course.
I remain a firm believer that proper Jewish soups — matzo ball, chicken and borscht — must be made at home, preferably by a grandmother. Though Rye gives it an excellent go, the soups simply do not live up to the rest of their menu. However, they are no detriment to the strength and variety of Rye's menu.
And speaking of variety, Rye is not only a deli, but also a great restaurant with an excellent bar and atmosphere at night. In addition to the food, Rye offers many beverage options.
The beer is mostly local or microbrew, with some rotating and seasonal taps. The other excellent accompaniment to a hearty meat sandwich is whiskey. It doesn't matter whether you like Canadian, rye, bourbon or Scotch, Rye has an excellent selection of each.
In keeping with their tradition of doing things right and doing it themselves, Rye makes an excellent vodka infusion, favored by the bartenders and poets alike. Also, be sure to try the Manhattan Special.
Without pretension, Rye offers everything to its patrons: delicious food, an excellent selection of beer and whiskey, local art, and the kind of atmosphere you want to enjoy by day and night. It is a huge statement when the people who work there stay after their shift or come in on their days off.
Rye is an excellent place to eat, write, hang out or drink.
***
Rye Deli is located at 1930 Hennepin Ave., near Franklin. For information, call 612-871-1200 or go to: ryedeli.com.
(American Jewish World, 2.15.13)