Sandy Pappas is the first Jewish woman to serve as president of the Minnesota Senate
By MORDECAI SPECKTOR
Sen. Sandra L. Pappas, DFL-St. Paul, has a spacious office in the Capitol, just down the hall from the House and Senate chambers. She is the second Jewish president of the Minnesota Senate — the late Sen. Allen Spear represented a Minneapolis district in the Senate for 28 years, and served as president for eight years, from 1992 to 2000.
The state Senate also had a woman president, Michelle Fischbach, who served from 2011 to 2012; so, Pappas is the second woman to serve as Senate president. She is the first Jewish woman in the prestigious post, which is second in power to the Senate majority leader (currently, Sen. Tom Bakk, DFL-Cook).
And without a doubt, Pappas is the only president of a legislative body in the United States who has three daughters all living in the ultra-Orthodox Breslov community in Safed (Tsfat), Israel. Pappas and her husband, Neal Gosman, have 15 grandchildren, ranging in age from 10 months to 10 years. More on that later.
Pappas recently spoke to the AJW about her new position in the Senate, her recent travels to Israel and Morocco, and some key items on the 2013 legislative agenda.
Sworn in on Jan. 8, to represent Senate District 65, Pappas took the Senate gavel after being elected president by her colleagues. Both houses of the Minnesota Legislature flipped from Republican to DFL control after the 2012 elections.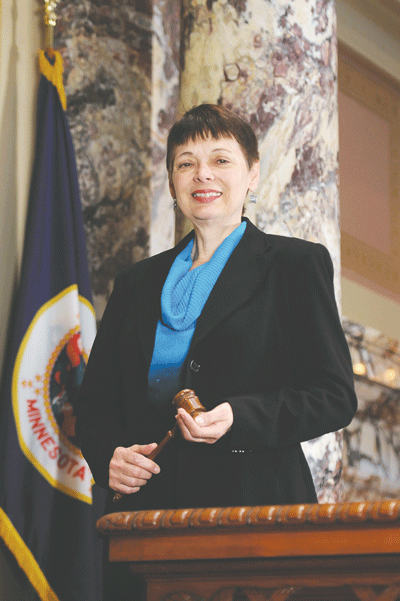 Sen. Sandy Pappas has been elected to serve as the president of the Minnesota Senate for the 2013-2014 biennium, when the DFL Party controls both houses in the Legislature and the governor's office. (Photo: Courtesy of Minnesota State Senate)
As Senate president, Pappas — who is known by her nickname, Sandy — presides over the body's floor debates and assigns bills to committees. Her position also entails "a lot of administrative jobs," such as serving as vice-chair of the Legislative Coordinating Commission, the umbrella group for legislative commissions, joint agencies and other boards.
Pappas also chairs the State and Local Government Committee, which has a broad purview over policy issues involving local, metropolitan and state government.
"I also have veterans affairs and gambling," she added, regarding her committee. "We were the first committee, yesterday, that heard and passed out the health exchange bill, under the [federal] Affordable Care Act."
As for other legislative proposals, Pappas said that legalization of same-sex marriage will get serious consideration "after we resolve the budget issues." She added that the legislators likely will look at the so-called "515 laws" that discriminate against same-sex couples. She said that legislators could consider such an incremental approach, with "domestic partner benefits for state employees," for example. "What would resolve all that, though, would be just to legalize gay marriage," she noted.
The DFL now has "unified government" — control of the governor's office and both legislative bodies — "for the first time since the '80s," when Rudy Perpich was governor, she pointed out.
"The cautionary note there is not to overreach, and to still, as much as we can, try to include the minority and respect the rights of the minority," said Pappas, who allowed that she sees part of her job as protecting the rights of the GOP Senate members.
Pappas also mentioned that she wants to focus on laws against human trafficking — an issue that the Israel Women's Network brought to her attention, in the Israeli context. "We're going to be looking at victim services, for trafficking victims," she said.
She also sees an opportunity to pass the Dream Act in Minnesota, which would allow undocumented students to get state educational grants. Passing such legislation into law was not possible under Gov. Pawlenty, she mentioned.
Pappas, who was born in Hibbing, Minn., attended the U of M and graduated from Metropolitan State University. She also earned an M.P.A. degree from the Kennedy School of Government at Harvard University.
Beyond the Minnesota Legislature, Pappas pointed out that, as Senate president, she will be involved in the local hosting of two major conferences. First, the Council of State Governments will hold its 68th annual Midwestern Legislative Conference in St. Paul, from July 14-17. This group is a regional association of legislators representing 11 Midwestern states and four Canadian provinces.
"Then, in 2014, the National Conference of State Legislators is coming to Minneapolis, and that's about 5,000 people," she said. Pappas will work with House Speaker Paul Thissen, DFL-Minneapolis, on the logistics for these conferences.
Going even further afield from the Capitol, Pappas is the founder of a nongovernmental organization called Forward Global Women, which supports "leadership training and peacemaking skills among women in the MENA region, Middle East-North Africa." The group partners with the Bloomington-based Oslo Center for Peace and Human Rights–U.S. Foundation. In the first week of August, the organization will bring "emerging women leaders" here from Israel, Jordan, Palestine, Tunisia and Morocco.
"I was in Tunisia last year, December, building relationships there," Pappas said. More recently, Pappas was in Israel for weeks, and also visited Morocco. She visited her daughters in Tsfat, and spent five days in Morocco, including three nights with Ambassador Sam Kaplan and his wife, Sylvia, the famous power couple from Minneapolis.
Pappas commented that Sylvia Kaplan arranged a luncheon with some U.S. State Department staff and local women leaders. "The State Department also helped set up meetings for me with some women's organizations in Morocco," she said.
The AJW has previously reported on Pappas' involvement with the Israel Women's Network, an organization that strives to advance the status of women in the Jewish state (9-29-06 AJW). She is still in touch with her IWN friends, and recently attended a forum the group presented ahead of the Israeli elections.
Of course, while she was in Israel, Pappas spent time with her three daughters, Leah Davida Shakar, Mina Ruth Haim and Sara Chava Eitan. They all made aliya (emigrated to Israel) and became hasidic, married Breslover men and are pursuing the biblical commandment to be fruitful and multiply — to the tune of the previously mentioned 15 grandchildren.
The family belonged to Shir Tikvah Congregation in Minneapolis, a very liberal Reform synagogue. Pappas and Gosman are of a leftist political stripe. What happened with their daughters?
"Go figure! How did this happen?" Pappas responded. "What is the psychology of this? I wish someone would analyze this and tell me."
Pappas does understand that her daughters were all "spirituality seekers"; and they were strong enough in their Jewish identity, so they weren't going to embrace another faith. "They weren't going to become Christian conservatives; they were going to become Orthodox Jews."
"It is very strange that all three of them… would choose this lifestyle, a very, very difficult lifestyle. I mean, they are just so committed to having large families, and living in poverty. The men hardly work, they make a minimal amount of money," Pappas commented.
In a very frank discussion of her children's situations, Pappas expressed concern that her grandchildren are "not being taught any marketable skills to exist in the real world." The boys study in a private cheder. Pappas and Gosman, and the Israeli in-laws, have provided financial support for their daughters. She said that their families subsist with small government stipends, charity and familial largesse.
It is a problem with which the larger Israeli society is grappling.
Did Pappas and Gosman fail somewhere in their parenting?
"We joke that it was Rabbi Stacy Offner's fault," Pappas replied, mentioning the founding rabbi of Shir Tikvah. "She made them like Judaism too much."
(American Jewish World, 2.15.13)