By DORIS RUBENSTEIN
For years after I arrived in Minnesota in 1984, I ignored A Servants' Christmas, which the History Theatre has offered 15 times since then. But, when I was researching Jewish-related theater for the Jewish Historical Society of the Upper Midwest's publication Setting the Stage, I learned that I'd been mistaken about the play's Christian focus and decided to take in its latest production.
Reason One: One of the main characters is a young Jewish woman from Chicago, arriving in St. Paul in 1899 to seek work and money to pay for her education at Macalester College. Her employer, a wealthy widowed lawyer with two children and a servant-filled house on Summit Avenue, is a xenophobe and antisemite, so our Jewish character uses an Irish name — Monica Leary — to hide her identity. So, the play is in part a Jewish story.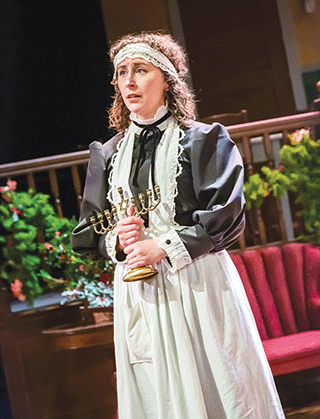 Local actor Serena Brook plays the role of Monica with courage, empathy, joy and comfort. Her career shows her versatility in acting, singing and performing as the announcer of Minnesota Public Radio's Live from Here and as part of the crew of A Prairie Home Companion. The Eagan native and current Minneapolis resident grew up at Shir Tikvah synagogue, so she didn't have to be coached when the script called for some Hebrew.
"Lighting the menora in the window is celebrating your Jewish identity.… Monica lights it in the presence of the family, when she reveals her true identity, and risking her job or worse," Brook said.
Reason Two: The music. Composer Drew Jansen wrote the score for just two instruments: a piano and a clarinet. The very first note in the overture is played by the clarinet in a minor key. My brain clicked: klezmer! All of the songs are listenable and sung by cast members who needed no special amplification for the audience to follow the lyrics, which are integral to the plot's advancement.
Reason Three: The story itself. Due to my eye misplacing an apostrophe, I expected the plot to focus only on Monica's story: A Servant's Christmas. Instead, A Servants' Christmas tells a much more complex Christmas story that allows each of the characters to reveal themselves as real people, and not just vehicles to deliver lines.
Playwright John Fenn is not Jewish, but his late first wife was. He admits that in many ways, Monica and her part of the storyline is his tribute to her. Fenn has taught writing at various educational institutions around the Twin Cities since arriving here from New York in 1969.
Reason Four: A great ensemble cast. Many of the actors have performed in one role or another of A Servants' Christmas at the History Theatre during its 16 productions there since 1980. It's clear that the actors love the story and have a deep understanding of their characters and how those characters — from the martinet Mr. Warner (one of the few truly historic personages in the play), played by Eric Morris, to the comical German cook Frieda, played by Cathleen Fuller — interact to bring the plots to resolution and climax.
Reason Five: This play is directed by Ron Peluso, History Theatre's artistic director since 1995, who is retiring at the end of this year. When you see him in the lobby, stop and thank him for the way he has enriched the Twin Cities theater community for so long.
***
A Servants' Christmas runs through Dec. 18 at History Theatre, 30 E. 10th St. in downtown St. Paul. For tickets, go to: historytheatre.com or call 651-292-4323.