In her new book, Rachael Freed offers a guide for writing legacy letters, a way to share personal values with your loved ones
By ERIN ELLIOTT BRYAN / Community News Editor
The future belongs to those who give the next generation reason for hope. — Pierre Teilhard de Chardin
Sunday is Mother's Day, which President Woodrow Wilson proclaimed on May 9, 1914, to be "a public expression of love and reverence for the mothers of our country."
For Rachael Freed, a native of Minneapolis and member of Temple Israel, Mother's Day is a perfect opportunity to celebrate not only our mothers, but all of the special people in our lives — including those who came before and those who are yet to come — by sharing legacy letters.
"This work is different than writing a memoir or a spiritual biography, both of which are very popular, and they're fine, but the value of writing legacy letters is that what we're trying to do is preserve our values for the next generation," Freed told the AJW. "The story is important, but what's more important is to extract from the story what you learned from it, and have both things in the legacy letter."
Rachael Freed talks May 10 & June 11
Freed is the author of Your Legacy Matters: Harvesting the Love and Lessons of Your Life — A Multi-Generational Guide for Writing Your Ethical Will, published by Minerva Press (12-20-13 AJW). In its introduction, the book is described as a "guide for exploring, reflecting and writing about our lives to celebrate Life itself, and to pass forward our appreciation and awe to the generations who will follow us."
Freed uses the terms "legacy letter" and "ethical will" interchangeably, but they both refer to a written document that contains a story, its lesson and a blessing that can be given to loved ones, attached to a will or advanced healthcare directive, or even offered as an apology.
The purpose is simply to communicate a person's innermost values to those around them or those who will come after them.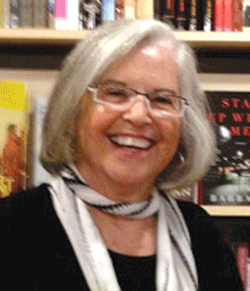 As an example, Freed was particularly inspired by My Promised Land, the recent book by Ari Shavit (1-31-14 AJW). In addition to buying a copy for each of her children, she included a letter that expressed why the book was so meaningful to her and how it reflected her own feelings about Israel.
She has also written letters to her grandchildren on the occasion of their B'nai Mitzva.
"It's anything that matters to you that you want people to know, either about you or about their history," Freed said. "And that you love them."
Freed says that legacy letters fulfill six universal needs for the writer: to belong, to be known, to be remembered, to make a difference, to bless and be blessed, and to celebrate life. As for the readers, they are left with a permanent reminder of your life experiences and the wisdom you chose to share.
Legacy letters can be written to anyone and at any stage of life. However, for those choosing to write near the end of life, the process can also help facilitate difficult conversations about dying and end-of-life care.
Freed was first introduced to ethical wills in the 1990s, when Rabbi Joseph Edelheit spoke to her women's group about their ancient context; the concept is linked to Joseph, who bestowed blessings on each of his sons as he lay dying. She further explored the idea in classes over the next several years — and found her passion.
"I'm sitting there listening to [the teacher] and I hear this voice in my head and it says, 'Turn this into a healing tool for women,'" Freed said. "I raised my hand and he called on me, and I told him what I had heard. He pointed his finger at me and said, 'Do it, it's an important niche.' And that was the transformation in my life."
As a social worker for 30 years, a former English teacher, and a licensed marriage and family therapist, Freed felt she had all of the necessary tools to create a curriculum and offer workshops to local women. (Currently, she is a senior fellow at the University of Minnesota's Center for Spirituality and Healing.)
In 2003, she wrote a book titled Women's Lives, Women's Legacies. She eventually founded Life Legacies and began working as a legacy consultant.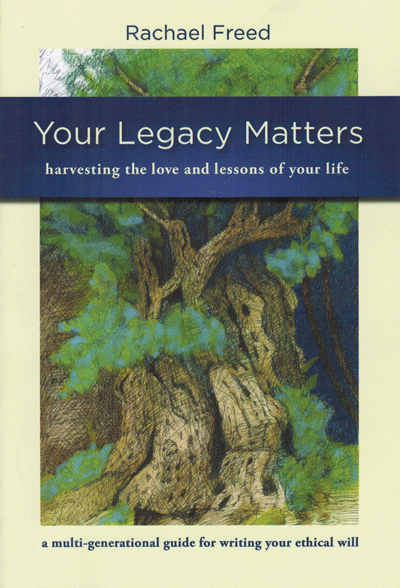 Freed later offered her expertise to those serving life sentences at the Shakopee Women's Prison, giving them an opportunity to share their legacies with the grandchildren they were not going to meet.
She shared the story of an inmate who decided to write one sentence each day to her granddaughter, "so that someday she would know that I thought about her."
"It was a holy thing that I did, I thought," Freed said of her time with the inmates. "I felt so purposeful, so high, so glad and grateful that I had this thing that I could do that makes a difference for them."
Freed eventually realized that she needed to write another book that spoke not just to women, but also to men and families. It became Your Legacy Matters. She said the book is spiritual, but not religious, and draws content from a variety of sources.
And Freed offers many different types of templates, as well as examples from real letters written by legacy writers who have given Freed permission to share their words. Some people choose to write one letter, while others write many; Freed stressed that there is no right way to do it.
"It's made me more compassionate and more sure that writing is healing," Freed said. "This work is transformative, it's magical in the very best way. I feel like I'm doing an important thing. I thought I was doing important things before, but this feels deeper and helps people connect with the things that mean the most to them in their lives."
***
Rachael Freed will offer a legacy program honoring mothers and grandmothers 2 p.m. Saturday, May 10 at Wild Rumpus Books, 2720 W. 43rd St., Minneapolis; and a legacy program for dads and granddads 7 p.m. Wednesday, June 11 at SubText: A Bookstore, 165 Western Ave., St. Paul.
For information, and to sign up for a monthly e-mail of legacy tips and tools, visit: www.life-legacies.com.
(American Jewish World, 5.9.14)