By MORDECAI SPECKTOR
Musicologists say that the banjo had its origins in West Africa. A number of banjo-type instruments have been played for ages by musicians from Senegal, Mali, Guinea and Côte d'Ivoire. Ravid Kahalani, the Israeli frontman for Yemen Blues (which performed at the Ordway last October), plays the gimbri, a proto-banjo instrument from sub-Saharan Africa that features a rectangular wooden resonator and a neck spiked into the body.
The banjo crossed the ocean and was exclusively identified with African-American music, from the late 17th century until the 19th century. The present-day five-string banjo was popularized in the 1840s, when minstrel shows featuring white performers in blackface performed in music halls. This racist entertainment became a national art form, until it was displaced by vaudeville in the 20th century.
Noam Pikelny and Stuart Duncan play the Dakota on May 21
Today we tend to think of the banjo as a bluegrass instrument. And Noam Pikelny, a 33-year-old native of Skokie, Ill., has emerged as one of the most popular and critically acclaimed banjo players on the current scene.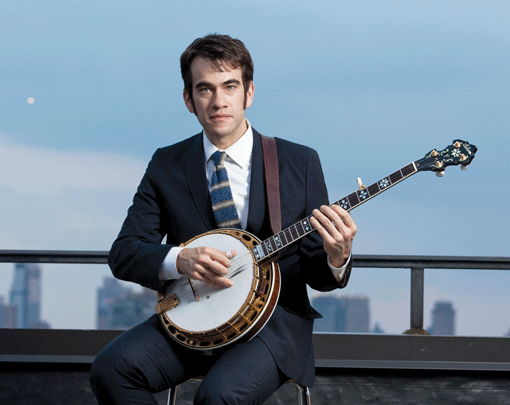 Pikelny talked to the AJW this week, via phone from his home in Los Angeles, about his upcoming appearance at the Dakota Jazz Club; playing with the string band Punch Brothers for the past several years; and his most recent album.
At the start of our phone chat, Pikelny mentioned that he's living now in Los Angeles. He and Gabe Witcher, the fiddle player from Punch Brothers, played a sold-out show on Wednesday night at Largo, a club that has become a "hub for comedy" and the "nucleus of the music scene," in L.A., according to Pikelny.
For the May 21 date at the Dakota, Pikelny will play with fiddler extraordinaire Stuart Duncan. "We've gotten to play music a handful of times in the past, but almost always in the studio," he explains. "This will be the tour launching this duo project."
The banjo and fiddle duo will play dates in the southeastern United States, then come up to the Midwest for shows in Eau Claire (May 20), Minneapolis and Chicago.
"I'm excited to get to play in a listening room situation in Minneapolis," says Pikelny, regarding the intimate Dakota.
As for Duncan, who's played with everyone from Béla Fleck to Barbra Streisand, Pikelny comments, "I can't say enough good things about him. To me, he's the gold standard, as far as an instrumentalist finding a way to reinvent his instrument," without loosing his "connection to the tradition. Because of his deep knowledge of all the various fiddle traditions, he's able to play his instrument with a sense of authority, and to forge new ground on the fiddle in a way that's breathtaking."
Pikelny expresses his great admiration for Duncan, who will also play clawhammer banjo and sing some songs. Duncan played on Pikelny's most recent album, Noam Pikelny Plays Kenny Baker Plays Bill Monroe (Compass Records), which adapted the fiddle parts of Baker, who played with bluegrass legend Bill Monroe, for banjo.
At the Dakota, Pikelny and Duncan will play songs from the 2013 album. "Those tunes work very nicely with just fiddle and banjo," comments Pikelny. He allows that the Bill Monroe tunes "are some of the most overplayed songs within the bluegrass genre, but I feel justified in showcasing them because of the way we approached them."
He explains that the recent album provides a context for the songs he'll perform with Duncan. "It's a nice way to showcase that material. If there wasn't this record and we were playing these songs as if we just kind of ran into each other at a festival, then it would really just be jamming."
The duo also will play songs from Pikelny's earlier albums — Beat the Devil and Carry a Rail and In the Maze — as well as other tunes from the deep well of Americana.
Pikelny took up the banjo when he was just eight. His older brother started playing mandolin after a bluegrass band played at their school.
"I think the band was called Buck Stove and Range Company," Pikelny said, in an interview for No Depression (nodepression.com). "My mom and I would drive my brother to his weekly mandolin lessons in Evanston. While he was in the lesson, we'd play catch in the park. Eventually, I got jealous of his hobby and wanted to learn an instrument of my own. My mom suggested the banjo, thinking that my brother and I would be able to play music together. I wasn't that familiar with the banjo or bluegrass and old time music. I thought, 'Why not?' and we rented a banjo for my eighth birthday and I started taking lessons at the Old Town School of Folk Music in Chicago."
Over the years, Pikelny grew to love traditional bluegrass music. From 2002 to 2004, he played with Leftover Salmon; and then was a member of the John Cowan Band for two years. Mandolinist Chris Thile, of Nickel Creek, decided to form a string quintet, and began recruiting musicians. This group eventually became Punch Brothers, a neo-bluegrass super group, and released its first album in 2008.
Punch Brothers is on "a bit of a hiatus for the last year," says Pikelny. The band will come together to record their next album in June.
"It's still alive and well," he remarks about Punch Brothers. "We've just been trying to take a break from the constant touring, which consumed most of 2011 and 2012 — we were gone almost nonstop, and at the end of that we wanted a break."
And an unexpected honor came in September 2010, when Pikelny became the first-ever recipient of the Steve Martin Prize for Excellence in Banjo and Bluegrass. The award came with a check for $50,000.
"It's a huge honor, totally unexpected," say Pikelny. "I think the world of Steve," he adds. "He's an amazing musician and a brilliant artist in so many regards. To get this vote of confidence from him and all the banjo players who were part of the selecting board is just so sweet."
There was some publicity attending the music award, notably, an appearance on the Late Show with David Letterman. Steve Martin and Pikelny did some "Dueling Banjos" shtick for Letterman, then Martin joined the Punch Brothers for a rendition of "Rye Whiskey."
Pikelny is serious about the importance of musical lineage in bluegrass. He met Earl Scruggs and Bill Monroe. And he knows that the older generation of players is rapidly disappearing.
"I've gotten to actually play with guys like Del McCoury and David Grisman, who really kind of changed the map of this music," he comments, about the two elder players. "That's something I tried not to take for granted.… There are still these profound forces within the music, who are still around and still playing. It's a really special experience to get to make music with these guys and hear them tell stories… of what inspired them to do this and how they created their lives around music."
I happened to find a YouTube video of Pikelny playing with Andy Statman's trio. The improvisation on the tune "Soldier's Joy" goes into an ethereal realm, with Statman soloing on mandolin and following his inspiration. Pikelny seems intent on staying with the music as it goes on its way.
"The first few times I sat in with him, I couldn't tell — well, I just didn't really have my bearings," Pikelny admits, about his experience playing with Statman. "I didn't know what the scope of Andy's improvisations could possibly be during his live show. A few of those early ones, I was just holding on for dear life, hoping that we were just around the corner from kind of bringing it back home; in actuality, he was just beginning his odyssey."
Statman, a maestro on bluegrass mandolin and equally adept on clarinet, is "one of the most free-spirited musicians I've ever encountered," says Pikelny. "Nobody else like him. His music is un-transcribable — it's incredible stream-of-consciousness playing. Nobody else approaches playing a string instrument with such beautiful abandon as Andy."
So, I wondered how Statman views the younger banjo player. I called him up this week at his home in Flatbush, Brooklyn.
"He was great," says Statman. He recalls Pikelny stopping by for a rehearsal prior to his first gig with the trio. "He was very gracious with his time… We're very spontaneous and very loose, and he was just fantastic in that situation. He played incredibly."
Asked how Pikelny compares with other banjo players, Statman replies. "It's like apples and oranges. I've played with Béla [Fleck] a bunch; I've played with Tony Trischka for many years, as well as [other banjo players]. Noam is one of the greats — he's an absolutely fantastic banjo player… He's just a fabulous musician, incredibly inventive and a lot of fun to play with."
That's good enough for me. I'll be at the show.
Further cementing the deal, Pikelny assures me that he and Duncan will play "Lonesome Moonlight Waltz," a melancholy and beautiful Bill Monroe standard.
"That's one of the staples of our set," he says. "I just love that song. I really love the opportunity to play that song."
***
Noam Pikelny and Stuart Duncan will perform 7 p.m. Wednesday, May 21 at the Dakota Jazz Club and Restaurant, 1010 Nicollet Ave., Minneapolis. For tickets, call 612-332-1010, or go to: dakotacooks.com.
(American Jewish World, 5.9.14)
Noam Pikelny and Stuart Duncan talk about their upcoming tour: