German director Christian Petzold's film is a riveting drama that neatly raises profound existential questions in the guise of a small-bore thriller
By MICHAEL FOX
Battered by the camps, the female protagonist of German director Christian Petzold's Phoenix returns to Berlin after the war like a ghost back from the dead.
I'm speaking metaphorically, of course, but the film purposely depicts Nelly (played by the filmmaker's regular muse, Nina Hoss) as a specter not entirely of this world. She's ephemeral and almost invisible, her presence sensed and acknowledged only by a blind street musician.
Even her (non-Jewish) husband Johnny fails to recognize her, a jarring confirmation of Nelly's non-existence that punctures her dubious and frankly delusional hopes of returning to the life she had.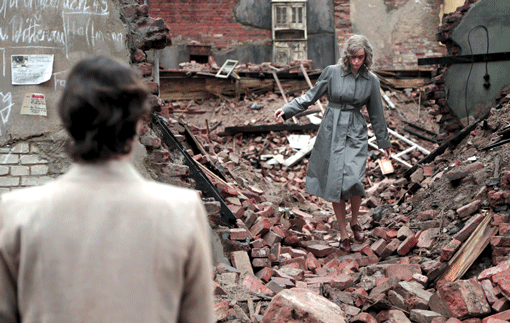 With economy and understatement, Petzold has evoked the absence of the thousands of Jews snatched from German cities, never to return. He expresses another hard truth with those same few brush strokes: Living Jews have no place in Berlin, either.
A riveting drama that neatly raises profound existential questions in the guise of a small-bore thriller, Phoenix is now playing in an exclusive engagement at the Landmark Edina Cinema.
Phoenix is both redeemed and transformed by the best ending of any movie this year, which sweeps away the viewer's skepticism about the plot's contrivances and engenders a discussion about — among many other things — how life can go on following a genocide.
Nelly's face is shattered as the film begins, and she is kindly provided with reconstructive surgery. What an opportunity for reinvention, except she wants to look exactly as she did before. The surgeon doesn't nail it a hundred percent, which provides a semi-plausible explanation as to why Nelly's husband doesn't recognize her.
For his part, Johnny (played by Ronald Zehrfeld with a veneer of violence and sleaze) denies his previous identity and now wants to be called Johannes. The ashamed Germans dearly want to obscure their involvement in the recent past, and hope a coat of paint will do the trick.
So what will happen when the weak, wounded Nelly gets together with the brutal, calculating Johnny?
Two crucial developments propel Phoenix from flat schematic concept into the realm of action and suspense. A friend discovers, and informs Nelly, that Johnny clandestinely divorced her just before she was arrested in 1944. It's also suggested, though not proven, that he tipped the SS off to Nelly's hiding place.
We can believe that Johnny had to be a conniver of some kind to survive the war, and the appearance of this desperate woman who resembles his late wife launches a new scheme. He'll teach her to impersonate Nelly in order to collect her assets (now substantial, because they include those of her murdered family members, but out of Johnny's reach because he divorced her).
Talk about adding insult to injury, and multiplying the levels of irony. In any event, we now have a cat-and-mouse game (no reference to Maus intended) in which Nelly and Johannes each have a secret.
Brooding and claustrophobic, Phoenix is a beautifully etched examination of the powerful hold of memory and the tenuous nature of identity. The fun is the degree to which the film tests the viewer's belief in memory and identity as driving forces in a person's life.
Ultimately, Phoenix doesn't seek to impress us with its cleverness but to lure us, through its unexpected scenario, into thinking about the Germans and the Jews in a fresh way.
Consequently, Phoenix is a movie that expects its audience to know history. Even better, it trusts us to care about the ways in which the past colors the world today.
***
Phoenix is playing in an exclusive engagement at the Landmark Edina Cinema, 3911 W. 50th St. The film is in German with English subtitles, 98 minutes, unrated.