The Web site, created by the Minnesota Historical Society, offers more than 400 historical articles
By PHIL ROBIN
The Minnesota Historical Society (MNHS) has put Minnesota Jewish History under your fingertips with MNopedia.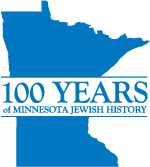 MNopedia is an online encyclopedia of history in Minnesota (MNopedia.org). The site has been a work in progress since 2011, and has been constructed in part with information from MNHS archives and funding from the state's Arts and Cultural Heritage Fund.
The easy to navigate site offers hundreds of articles by a variety of writers. It covers a wide variety of topics, and its historical entries recall some of the earliest settlers in Minnesota. At the bottom of each article's page, there is a comment section. This is intended to spark conversation or allow readers to put in their own experiences or stories.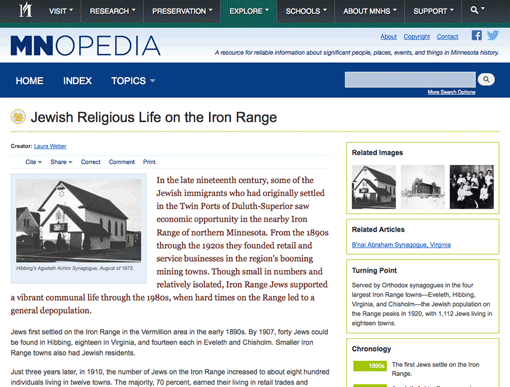 Information for entries about Jewish history, organizations and synagogues was taken from the Jewish Historical Society of the Upper Midwest (JHSUM) and the Nathan and Theresa Berman Upper Midwest Jewish Archives, which are now housed at the Elmer L. Anderson Library on the University of Minnesota's West Bank campus.
Katherine Tane, former executive director of JHSUM, applied for legacy grants from the Arts and Cultural Heritage Fund (funded through Minnesota's Legacy amendment) to begin the process of building the Jewish entries on MNopedia. That support allowed MNHS to fund research and compensate their experienced writers.
"Minnesota Jews are to date the only group to have such comprehensive representation," Laura Weber, communicator and historian for MNHS, told the AJW.
Weber has done all of the writing on Jewish topics in the religion and belief section of MNopedia. She has written 15 articles about Minnesota synagogues, 16 about Jewish organizations, and a yet-to-be published 3,000-word overview of Minnesota Jewry. It is, Weber said, "a comprehensive look at the Jewish history of the state."
"It would be [for] younger members of the Jewish community, to learn about the pre-suburban world of their parents and grandparents, and for the elders of the community to see their history," Weber added.
As extensive as MNopedia seems, program manager Linda Cameron believes that "there is still a long way to go."
"We've got over 400 articles, and it seems like there's an awful lot left to cover," she said. "And, of course, history keeps happening; it just doesn't slow down."
For information, visit: www.mnopedia.org.
***
Phil Robin is an editorial intern at the American Jewish World.
(American Jewish World 7.31.15)