By MICHAEL A. APPLEMAN
The Appleman family has vacationed in Grand Cayman (an hour from Miami) since 1982. We found our Shangri-La in the pristine white sandy beaches and world class scuba diving — but no shul to celebrate Jewish holidays.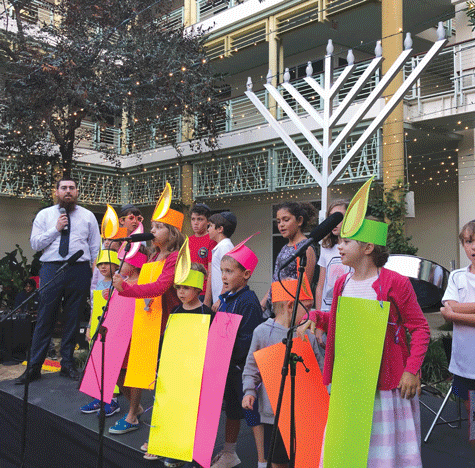 Thanks to Chabad Cayman, however, and Rabbi Berel Pewzner, our Judaism practice has its home away from home (Beth El in St. Louis Park).
While waiting in the Atlanta airport for my Cayman connecting flight, four years ago, I saw a man davening and putting on tefillin. I said to him, jokingly, "L'haniach tefillin," the first blessing on the tefillin.
Little did I know that Rabbi Berel Pewzner was the Chabad rabbi for Cayman, who ultimately became my rabbi, my teacher and friend.
Immediately before Hanuka, I interviewed Rabbi Pewzner at the Chabad House. For, in the last four years, I noticed and observed an exponential growth of Cayman Jewry on the island. Haunka was rapidly approaching, but Rabbi Berel graciously found time to sit down with me.
Appleman: What is the history of the Jews in Grand Cayman?
Pewzner: Cayman was discovered by Christopher Columbus, sailing from Spain, on his fourth voyage, while blown off course in 1503. So impressed with all the turtles, he called the island "Las Tortugas." The British, ultimately, after defeating the Spanish, took control of Jamaica as well as Cayman.
A: Were there many Jews in Jamaica or Cayman?
P: Judaism in Jamaica has a long and rich history: some of the early Caymanian settlers were of Jewish ancestry, from the Spanish-Portuguese Jews of Jamaica; but being that the islands were dominated by the Protestant Christian faith, there was little, if any, practice of Judaism in Cayman until the mid-20th century.
A: Who were the first practicing Caymanian Jews?
P: Harvey and Ruth de Souza, originally from Jamaica, moved to Cayman in the '70s. They started hosting Friday night services in their home.
A: How did Chabad get started in Cayman?
P: I visited the island back in 2011 as a young Chabad roving rabbi, and took note of the growth of the local Jewish population. A wonderful lay-led community was emerging. We were invited back to settle in Cayman, in 2013. We humbly accepted the offer to lead this wonderful community.
A: What were some of your first tasks?
P: We started with Shabbat dinners and services and the Cayman Hebrew School. We soon held a Purim party and later a communal Passover seder with dozens of participants.
A: What is your mission, your motto?
P: We are motivated by the call of the Lubavitcher Rebbe, of blessed memory: "To serve every Jew with unconditional love regardless of their background, level of observance and knowledge." We strive to develop a haimish (friendly or homey) and welcoming atmosphere, allowing for every person to explore the richness of Torah, mitzvot and his or her Jewish heritage.
A: What are some of the challenges that you have encountered in Cayman?
P: We are tasked with quickly building up the Jewish infrastructure including a shul, the Early Education Center; a mikva; and a cemetery on the island, with the high cost of operating and the restrictions of "island time".
A: What is unique about the Cayman Jewish community?
P: The diversity of Cayman Jewry is captivating: Jews from the U.S., Canada, UK, Europe, Latin America and Israel — Sephardic and Ashkenazi — with various levels of observance all coming together to share in their common Jewish Heritage.
A: How has the Jewish community expanded?
P: Thank God, we are experiencing rapid growth. In 2013, there were 300 local Jewish residents; now, in 2018, there are some 600 local Jews participating in Jewish communal life. This past year we saw 10 children born in the community!
A: Why the increase?
P: The strong local economy, rooted in tourism and financial services, draws professionals to live and work in the world's sixth largest financial center. Many are attracted to the safe and relaxed tropical lifestyle, world-class scuba diving, and the sophisticated infrastructure.
We have also experienced an influx of Jews from other countries, such as Belgium, France, the UK, South Africa, driven by the increase in anti-Semitism, as well as the instability in their home countries.
A: Have you experienced any anti-Semitism on the island?
P: Thank God, none at all! The local population is extremely respectful of Judaism. Cayman has always has been an island of diversity and tolerance. Families can raise their children as proud Jews, without discrimination.
A: What religious programming and projects are available here?
P: We have an active shul for Shabbat services; a thriving afternoon Hebrew school for ages 5-13; Mommy and Me Tots program; daily adult classes; speakers program, such as the recent visit of Mrs. Eva Schloss (stepsister of Anne Frank) to the island; and Bar Mitzva lessons.
A: What is on the horizon for Cayman Jewish life?
P: We are in the process of setting up a New Jewish Educational center at Seven Mile Shops, a gorgeous new mikva, a Jewish cemetery, continued celebration of Jewish holidays and welcoming the many Jewish visitors who will be visiting us this tourist season.
The interview with Rabbi Pewzner had to end, because of his responsibilities for Hanuka. He was laboriously planning the eight nights at the Chabad Center, as well as at the local hotels and Camana Bay (state of the art venue for restaurants, shopping ,residences, and offices).
Over four years of a close, warm collegial, friendship, I have observed that Rabbi Pewzner works tirelessly, but nevertheless, finds time to welcome my wife, Mickey, and me for holiday dinners as well allowing me to put on tefillin. Rabbi Pewzner and his wife, Rikel, the school and program director, are both instrumental and committed to making Cayman a Jewish tropical haven.
***
For information on Chabad Cayman, email: rabbi@jewishcayman.com or call 345-516-4474.
Michael Appleman, Ph.D., is CEO and founder of CubanoGallery.com, which supports humanitarian work in Cuba.