by MAX SPARBER
Community News Editor
The Jewish Historical Society of the Upper Midwest, along with editor Susan Weinberg, has produced a lovely and lavishly illustrated book titled We Spoke Jewish: A Legacy in Stories.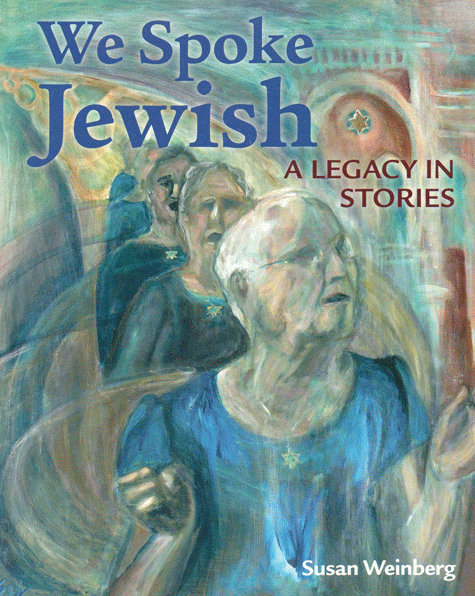 The book combines interviews with Jewish Minnesotans, largely first-generation immigrants, with illustrations by Weinberg, in order to explore the experience of Jewish immigration.
There are three generations of immigration represented here, starting with Jews who largely came from Eastern Europe at the turn of the 20th century, followed by Jews who came to the United States after the Holocaust, and ending with Jews who moved here from the former Soviet Union.
Each generation left behind entrenched and frequently murderous anti-Semitism, but, as the book details, they also left a rich Jewish world. The book uses the idea of "speaking Jewish," first literally — Yiddish translates to "Jewish" in English — but also metaphorically. "The Jewish of remembrance," as Weinberg calls it, describing it as "the memory of once-thriving Jewish communities and the people who populated them."
The book's many anecdotes tell of this lost world, and the way it was partially recreated in America. Interviewee Shirley Sussman, as an example, recalls "The Lyndale Shul," presumably Kenesseth Israel, which built a synagogue on Lyndale Avenue North in 1910.
In Sussman's telling, the shul recreated the Old World traditions she had left behind, including separation of genders ("Of course, the women sat upstairs") and the way the service would stop, and congregants would begin to talk to each other, until the synagogue leaders would strike a gavel and quiet them in Yiddish: "Lozn sha."
These oldest remembrances, from an early wave of Eastern European Jews, are tinged with nostalgia — additionally, because most of the interview subjects were children when they came over, focus on the experience of being new Americans. The next wave of immigrants, those fleeing the Nazis, are filled with terror.
Interviewee Hanna Lyon, as an example, speaks of her experience as part of the Kindertransport, a rescue effort taking place in the months before the outbreak of World War II that took 10,000 children from Germany, Austria, Czechoslovakia, Poland and the Free City of Danzig, most of them Jewish.
Lyon describes receiving letters from her parents, who were still in Germany. "They were still alive at the time, but how much longer nobody knows," Lyon says.
"I had those Red Cross letters. I still have them," Lyon adds, and then a chilling coda: "… then everything stopped."
While the Nazis engaged in active, brutal genocide, the Soviet Union pursued their own policies designed to extinguish the Jews — or, more properly, Jewishness. While Jews were sometimes targeted with violence, they were, to a large extent, allowed to participate in Soviet society, albeit always identified as Jewish, even on the passports.
But the Soviet's official policy of atheism and their unofficial, longstanding anti-Semitism conspired to prevent Jews from engaging in religious practices, or even from developing a cultural identity as a Jew. As a result, many Soviet Jews who immigrated to the United States came here without the same sense that they were leaving a Jewish world behind, unlike previous generations of immigrants.
Interviewee Liana, an immigrant from Kiev, describes her son being teased for being Jewish. When she put him in a professional school that had a number of Jewish students, the director of the school told her unambiguously that he would not find work after he graduated. "Because you are Jewish," he told her. "Do you understand?"
The book refers to its interview subjects, and the larger community of Jewish immigrants, as "a living archive," and seeks to understand their legacy. We Spoke Jewish explores an older generation of Jewish immigrants who wrestle with the modern Jewish community — one story is of an older man who briefly rejected his daughter when she intermarried. In the meanwhile, Soviet Jews discussed their delight that their children and grandchildren were discovering a Jewish identity in America that was impossible for them in the former Soviet Union.
In the end, the books settles on Yiddishkeit as a concept that could unify the older and younger generations, and, again, the book is not referring to the Yiddish language, but now to Jewish ethical traditions and religious practices that have been maintained, and can create a bond between the Old World and the new.