Sheldon Masnek, of St. Louis Park, hosted a party for family and friends — including some of his kindergarten classmates — in honor of his 85th birthday
By ERIN ELLIOTT BRYAN / Community News Editor
To celebrate his 85th birthday on Sept. 5, Sheldon Masnek planned a party for his friends and family. But he also reached out to 19 of his former kindergarten classmates from Grant School in North Minneapolis — some of whom he hadn't been in touch with for many years.
"I wanted to see all of these people… I thought this would be kind of unique and different," Masnek told the AJW. "My invitations read, 'Congratulations kindergarten class of 1932' and that aroused everybody's [curiosity]. I got phone calls and almost all of the people I sent invitations to contacted me."
Masnek's party took place at Park Tavern in St. Louis Park and the private room was decorated with balloons, signs and family photos. All of the guests were treated to lunch, which was a gift from Masnek's sister, Evelyn Kelman, who was visiting from Great Falls, Mont.
Masnek organized games for everyone and some lucky guests took home cash prizes and gift cards. And when the talking and catching up got a bit loud, Masnek got their attention with a whistle.
"We got some pretty nice people here, and then we got some rowdies," he said, pointing to his classmates.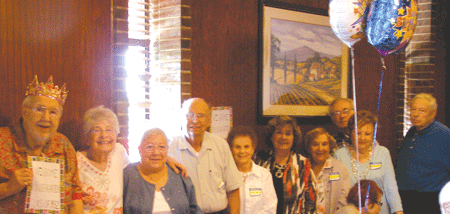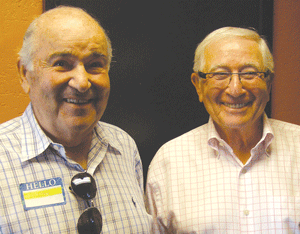 Sheldon Masnek (top, far left) recently reunited with some of his kindergarten classmates from 1932. Pictured above are (top, l to r): Masnek, Lucille Pius, Rivian Miller, Paul Swerdlick, Clara Beers, Mary Chanen, Lillian Lifson, Florence Milstein, Herman Markowitz and Ray Paskoff, and (bottom, l to r): Les Goldblatt and Max Rutman. Not pictured: Marvin Aaron, Reuben Vodovoz, Meyer Bolnick and Milton Krelitz. (Photos: Erin Elliott Bryan)
Masnek even invited a "mystery guest," who turned out to be Jim Wardlow, general manager of Hodroff-Epstein Memorial Chapels. Masnek and Wardlow first met several years ago to discuss prearranging funerals and they've remained friends.
"He's my personal undertaker," Masnek said. "He's just a great guy… You think of a funeral guy as being kind of stiff and unfriendly and cold, but he's just one of the guys."
Wardlow has warm feelings for Masnek as well, and said he was "privileged" to be invited to the party.
"We just kind of clicked," Wardlow said.
Wardlow also brought coasters from Hodroff-Epstein, which were given out as gifts to the kindergarten classmates.
Among the classmates that didn't make it to the party was Meyer Bolnick, with whom Masnek had a memorable encounter on his first day in Miss O'Merril's class.
"He chased me around the room on the first day of school and I ran into a table and split my head open," Masnek said. "We saw each other from time to time, and he would always shake my hand and look at my forehead to see how the scar was doing."
Masnek went on to graduate from North High School in 1945. He left the Twin Cities in 1976, when he and his wife, Sally, joined his sister in Great Falls. He went into business with his brother-in-law, Zollie Kelman, who was also from North Minneapolis. For 10 years, they operated Worldwide Press, a pull-tab manufacturing business, before Masnek sold his portion of the company and went into his "first retirement."
The Masneks later moved to Omaha, Neb., where Masnek worked for International Gamco for 22 years. He retired from that job at age 80.
The Masneks then moved back to Minneapolis and now live at Knollwood Place in St. Louis Park. There, Masnek leads services two or three times per month and runs a blackjack tournament. He also sings in the Chai-Light Chorus.
"I've got a fair voice and people put up with me," Masnek said.
Masnek and his wife have been married for 58 years. They have three children, seven grandchildren and two great-grandchildren.
And Masnek is already making plans to celebrate his 90th birthday on Sept. 5, 2017. As he announced at his party, those who bring back the name tags he made for his 85th will receive $25 at his 90th.
Until then, Wardlow has a special wish for his friend.
"That he always has good hands in his card games," he said, "and a good, healthy life."
(American Jewish World, 9.14.12)