By PHIL ROBIN
"If you look under 'vital aging' in the dictionary," wrote Bob Ramsey, "I'm pretty sure you'll find a picture of Elliott Royce."
In a letter in the St. Louis Park Sun Sailor, local author Ramsey fondly remembered Royce and his contributions to the community.
"Elliott was a community treasure," Ramsey continued. "He taught us how to age proudly and productively, with grit and spunk. His longevity testified to the power of curiosity. He made us marvel. He made us smile. He even made us better."
Remembrance
Royce, a livewire character, became locally renowned in recent years for teaching seniors how to fall properly. The project reflected his concern about his peers falling and getting injured. To that end, Royce conducted workshops for seniors on how to fall without seriously injuring oneself (11-23-12 AJW).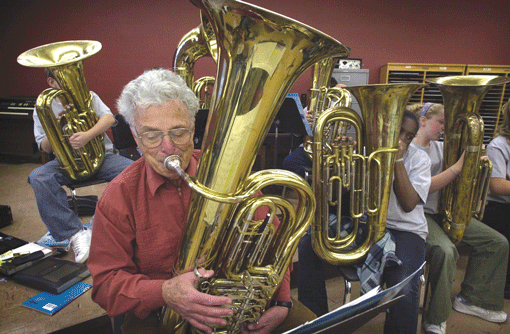 "As long as seniors are gonna fall — I'm gonna fall — why shouldn't I learn how to fall?" Royce told the Star Tribune at a falling seminar in March at the Sabes JCC.
An advocate of a vigorous lifestyle, Royce completed a five-mile bike ride earlier this year. Unfortunately the ride resulted in a case of pneumonia; he died July 17 from complications of the disease, at the age of 96.
Royce was born in 1919, at Eitel Hospital in Minneapolis, the youngest of three boys. He graduated from Minneapolis West High School in the 1930s, and went on to study pharmacology at the University of Minnesota — following in the footsteps of his parents, Lily and Sam Royce, who owned pharmacies.
Royce joined the Navy during World War II. In the time just prior to the war, he became a pilot and went on to teach others to fly. After returning from military service, Royce returned to the family's pharmacy business.
Royce later created his own commercial and industrial real estate business. Success in business allowed Royce to support his wife and five children, and to practice philanthropy.
From his younger years and into his 90s, Royce could be spotted riding his bike from place to place, doing a combination of jogging and juggling that he called "joggling," and falling several times a day — on purpose. He also attended a trampoline class three times a week.
"He loved to move through space," daughter Sandie Kaster told the AJW "He didn't walk, he jogged."
He devoted significant amounts of time to community service work, including helping immigrant families adapt to America, and he loved to study new things and meet new people.
Royce also loved music. In 2002, the Star Tribune reported on Royce's time as a volunteer with a junior high school band, serving as both mentor and occasional tuba player.
Out of his desire to have a connection with Israel, Royce decided that musical instruments would be the best way to contribute. He purchased various used instruments and had them delivered to two men he knew in Israel who would repair them and give them away.
"There are people all over the world that play instruments at very high levels now because of my dad's initiative," Kaster said.
Another Royce activity was volunteering at the Park Nicollet clinic in St. Louis Park. He spent time there pushing around the hospitality cart to give patients beverages and a bit of comfort. He did it not only with a smile on his face, but with a red-and-white striped hat on his head — à la Dr. Seuss' Cat in the Hat.
A mother who visited the clinic with her children posted on Twitter, in 2010: "Guy dressed up as Dr. Seuss pouring hot chocolate for my kids and doing magic tricks. I don't want to leave."
Royce was also a member of the St. Louis Park Rotary Club, and participated in Minnehaha Creek cleanups, planting trees and building structures, such as a children's rock wall and fishing dock. He met and became friends with Steve Koering, the St. Louis Park fire chief, who spoke at his funeral.
"My father said, 'My purpose in life is to live it fully and help people… and to have a great time,'" Kaster said.
More than 400 people attended Royce's funeral on July 19 at Temple Israel. Attendees included friends and family, members of the community, and individuals he had helped or influenced over his lifetime.
Royce was preceded in death by his parents, Lily and Sam; and son, Garry. He is survived by children, Judy Petel (Patz), Jeff (Nancy), Sandie Kaster (Mark) and Cindy (Michael Bender); daughter-in-law, Mai Phuong; 10 grandchildren; and five great-grandchildren.
***
Phil Robin is an editorial intern at the American Jewish World.
(American Jewish World 8.14.15)