Ben Sidran returns to the Dakota Jazz Club, where he and his son, Leo, will play with local luminaries Billy and Ricky Peterson
By MORDECAI SPECKTOR
The Jewish World published a mini-review, in 2013, for Ben Sidran's album, Don't Cry for No Hipster. On that record — as musical albums, now mainly issued in CD and digital formats, were once called — the Madison-based composer, pianist and raconteur ruminated on the hipster, "a semi-mythical figure in American pop culture."
In the pre-hippie beatnik era, "young cats in small hats" were digging jazz and poetry, Sidran wrote in the liner notes.
Ben Sidran plays the
Dakota Aug. 26-27
"Jazz and poetry, black threads and berets, might have been outward manifestations of the phenomenon during the beatnik craze of the 50s, but they were no more the essence of the thing than the uniform is to the ball player," Sidran noted.
In his recently released album, Blue Camus (Nardis Music), Sidran, 72, further explores the hip experience. Many of the song lyrics are inspired by writers: Albert Camus, Federico Garcia Lorca, Lewis Carroll and George Orwell.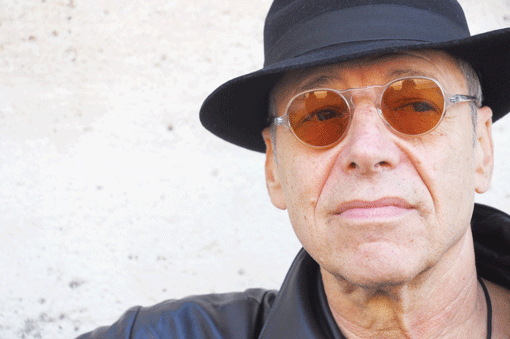 During a phone interview with the AJW last week from his home in Madison, Wisc., Sidran talked about the "hipster thing," the making of Blue Camus and his decades-long association with local musicians Billy and Ricky Peterson.
Sidran, his son, Leo, a drummer, and the Petersons will take the stage at the Dakota Jazz Club and Restaurant for two nights, Aug. 26-27. The group recorded the songs on Blue Camus, along with special guests Bob Rockwell, saxophone, and Trixie Waterbed, background vocals.
As AJW readers might recall, Sidran is a man of many parts. He interviewed dozens of jazz greats for a National Public Radio program called Sidran on Record. A portion of the five-year run of the show is available as the Talking Jazz box set, which includes 60 interviews — on 24 CDs — along with an 80-page booklet. (You can listen to many of the interviews on Sidran's Web site, bensidran.com.)
He doesn't make a big deal about his status as "doctor," but Sidran does have a Ph.D. in American studies from Sussex University, in Brighton, England. His dissertation on black music and culture was published in book form, Black Talk, in 1971. He wrote an entertaining memoir, A Life in the Music, which includes a selection of his tunes on CD.
And three years ago, Sidran published There Was a Fire: Jews, Music and the American Dream (Nardis Books), an authoritative history of the outsize role of Jews in American popular music — from Irving Berlin to the Beastie Boys. That volume came out of a course Sidran taught at the University of Wisconsin in Madison, when he was the university's artist-in-residence.
In the course of his varied musical career, Sidran has collaborated on and produced albums for a host of music world legends (Diana Ross, Mose Allison, Rickie Lee Jones, Van Morrison, et al.). And he co-wrote the song "Space Cowboy," with Steve Miller.
Getting back to what is hip, Sidran said that Blue Camus explores "some of the literary themes that formed what we thought of as the hipster mentality, you know, existentialism, a kind of political consciousness that is in [the song] 'Wake Me When It's Over.' The idea was to shine a light on the fact that jazz musicians traditionally have been just as interested in all these other things as they were in music. When you meet jazz musicians, they don't always talk about music; as a matter of fact, they don't often talk about music. A lot of times they want to talk about literature or politics or films or food."
In other words, "the jazz life" is multi-faceted and its purveyors are deep thinkers.
"In a world that appears to be swallowing itself whole, jazz and literature, combined here as Blue Camus, provide a starting point to ask some questions about where we are and resolve them in swing," Sidran wrote, regarding the eight tunes on the album.
The previously mentioned "Wake Me When It's Over," according to the liner notes, was inspired by Lewis Carroll's Alice's Adventures in Wonderland "and its uncanny foreshadowing of the American Tea Party."
Sidran mentions that a video for the song features Wisconsin Gov. Scott Walker "and a bunch of people. So, you'll get the subtext there," he comments. (The video for the song is included below.)
The Sidrans and the Petersons all get songwriting credits on seven of the eight Blue Camus tracks. Sidran said that the plan was to go into the studio and record "spontaneous grooves, and then I was going to write spoken word stuff on top of it later. That was the original idea. So we went into the studio and just invented grooves — the reason we're all four listed as writers, because those tracks just came out of absolute improvisations… Leo brought in some rhythm ideas, but harmonically, we just came up with it in the studio."
Sidran reconsidered the spoken word idea, and found that the musical tracks "suggested themselves more as a combination of spoken word and song form… all the lyrical things are basically in song form, having choruses and verses."
The song "Dee's Dilemma," the final track on Blue Camus, is credited to the late jazz pianist and composer Mal Waldron, and dedicated to the late alto saxophonist Jackie McLean.
"There's also a video of that on YouTube, which is actually a video of us recording it," comments Sidran. "'Dee's Dilemma' is just a great tune that I remembered from the '60s, from a Jackie McLean record. There are these songs that have stayed with me, and that I've wanted to find a way to record. Leo came up with this rhythm pattern, he was playing it out in the studio. When I heard it, I thought, that would work perfectly for 'Dee's Dilemma,' and I ran out there and organized everybody, and within a half hour we had done it."
Speaking of Leo, Sidran's son also has an enchanting new album out. It's titled Mucho Leo, and Leo wrote all the songs, along with recording, arranging and playing all the instruments on the 10 tracks. It's a mellow, swinging album that showcases Leo's unique vocal and lyrical approach.
Leo Sidran, in addition to running Nardis Music, from his base in Brooklyn, also hosts The Third Story podcast, which is available on iTunes. One recent podcast focuses on the Copenhagen Jazz Festival, and Leo's performance with the Ben Sidran Quartet.
And the Sidrans recently attended the legendary Newport Jazz Festival, where they interviewed musicians for WBGO radio in Newark, N.J. You can hear the interviews at: wbgo.org.
The Aug. 26-27 dates at the Dakota are being billed as "2 Families – 1 Groove," in reference to the collaboration between the Sidrans and the Petersons. Billy Peterson is a talented jazz bassist who usually backs up Ben Sidran at his Dakota shows. His brother, Ricky Peterson, will work out on the Hammond B3 organ, and perhaps sing a song, too.
Reeling back through the years, Sidran recalls asking Dave Rifkin, a friend "from L.A. in the '70s," where he could find musicians adept at playing both bebop and funk. Rifkin, a Minneapolis native, put Sidran in touch with a jazz band called Natural Life, which was the house band at the Longhorn Bar in downtown Minneapolis.
"I went [to Minneapolis] and we did a session at Sound 80. And it was funny because David Rifkin was doing a session with Prince, he was doing Prince's demo — he wasn't David Z at that time, and Prince was just cutting his demos for Warners. But that was the first day I met Billy [Peterson], and that was '78."
After that, Sidran put a band together with Peterson, drummer Gordy Knudtson, and either Bob Malach or Bob Rockwell on saxophone. "We traveled a lot in the '80s; we traveled all over the world, right up until '92 or '93… We made a bunch of albums together."
In 1990, Sidran produced a Steve Miller album titled Born 2 B Blue, and used his band on the sessions, along with Ricky Peterson. "Subsequently, Steve hired everybody; and Gordy's still with Steve, which is 25 years later."
After decades in the music business, Ben Sidran continues to be a fount of creativity.
"It's great to be able to come and play with the same guys who are on the record," concludes Sidran, regarding the upcoming gig at the Dakota and the Blue Camus album. "That's really wonderful, you can't always do that."
He mentions that he's been coming to Minneapolis to play for 40 years. "I used to do the live concerts from Lake Harriet, and before that I played everywhere else. It's a ritual that I look forward to every summer — and it's usually in August."
***
Ben Sidran — with Leo Sidran, Billy Peterson and Ricky Peterson — will play shows 7 p.m. Wednesday, Aug. 26 and Thursday, Aug. 27 at the Dakota Jazz Club and Restaurant, 1010 Nicollet Ave., Minneapolis. For tickets, call 612-332-1010, or go to: dakotacooks.com.
(American Jewish World 8.14.15)
Here is Ben Sidran's video for "Wake Me When It's Over":