My wife, Maj-Britt, and I boarded a flight for Amsterdam on Oct. 5. We set off to visit our expat son Max, who has been living in Copenhagen for the past five years. He's completing a master's degree at the Technical University of Denmark, after earning an undergraduate degree at the same school.
Max and his girlfriend have moved to a new apartment in Nørrebro, which has been branded as "the coolest neighborhood in the world." (Numerous YouTube videos attest to Nørrebro's high hip-quotient.)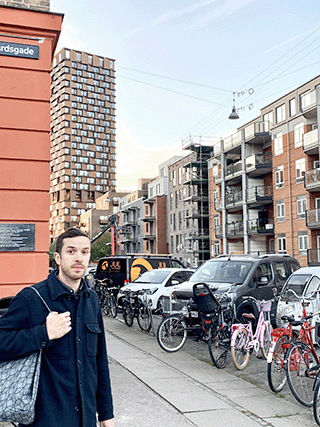 On our second day in the Danish capital, the cable TV newscasts suddenly were full of gory footage from Israel, after hundreds of Hamas fighters broke through the security fence around Gaza and slaughtered more than 1,400 Israelis, mainly civilians, including women, children and the elderly, and kidnapped some 230 Israelis.
After two nights in Copenhagen, we took the brief train trip across the Øresund Bridge to Lund, Sweden. We were met at the train station by Maj-Britt's older brother and his wife. After lunch at an Asian fusion joint, we drove out to the in-laws' house in Västra Hoby, in the lush countryside north of Lund. A church next to their house dates to the late 13th century. Watching horses gambol on the nearby hills, I reflected on the horrors of war taking place far away in the Middle East.
Actually, as my brother-in-law's wife pointed out, this area in Skåne (Scania), a southerly province, was the site of pitched battles in wars between Sweden and Denmark, with various other European kingdoms and mercenary forces joining the conflicts.
The War in Scania, for example, which started on Oct. 24, 1676, saw the Swedish king, Charles XI, march back into Scania with an army of 12,000, which put the Danes on the defensive, as per Wikipedia. "After a number of skirmishes, the Danish army was badly beaten in the Battle of Lund on December 4. Despite gains by [Governor-general of Norway Ulrik Frederik] Gyldenløve in the north, the Swedish offensive of Charles XI tipped the scale. After failing to take Malmö and the defeat at the Battle of Landskrona, the Danish Army in Scania was still not beaten, but the morale was definitely broken."
Apparently, the Scanian War, 1675-1679, resulted in a stalemate, with Sweden ceding some Pomeranian land to Brandenburg-Prussia. There were several other wars in the area, until Sweden finally gave up on war about 200 years ago. Sweden was neutral during World War II. However, since Russia invaded Ukraine last year, Sweden, along with Finland, is poised to join the NATO alliance.
On our second day in the Swedish countryside, Max and his girlfriend showed up in a rental car, a Citröen C5 Aircross, and we began driving across Sweden. The first stop was a small town near Norrköping, the home of Maj-Britt's younger brother, his wife and teenage son. Two of our nieces joined the reunion, and we were a party of 10 for dinner on our second night there.
I'll just mention that the boyfriend of one of the Swedish nieces visited, and he was very enthusiastic about Australia, where he had lived and worked for two years. He also seemed fascinated by my stories about reporting from Indian Country, from exotic locales like Montana and Arizona. When talk turned to the war between Israel and Hamas, and my work at the Jewish World, he had some questions about Judaism. "Do Jews believe in Jesus?" he asked. No, Jews do not accept the divinity of Jesus, I explained. "What about the holy cross?" he inquired. No, there's no cross in Judaism; no cross and no Jesus. He seemed puzzled by that. Perhaps, he'd never met a Jew before. Not that many Jews in Sweden.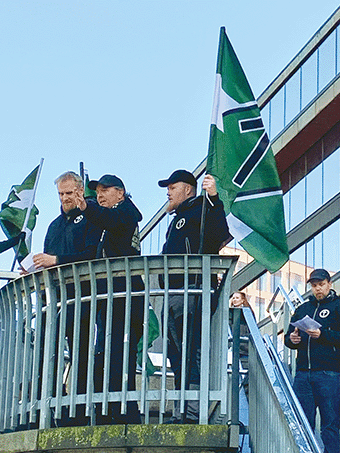 After the pleasant family gathering, we set off for Stockholm, a beautiful city that I hadn't visited in about 20 years. We had two nights in an Airbnb rental in the Swedish capital, which is a bustling city of one million residents.
While out and about one day, I noticed a group of around 20 young men passing through the Gamla Stan subway station. They were uniformly dressed and carried wrapped flags; on the back of their jackets was the name "Nordic Resistance Movement" — Swedish neo-Nazis. Later that afternoon, on Oct. 14, we saw them again in Sergels Torg, a central plaza in the city. They stood apart from a large pro-Palestinian demonstration, holding their flags and a large banner that read KROSSA SIONISMEN! (Crush Zionism). Stockholm cops and security guards monitored the proceedings.
Apart from the neo-Nazis and alarming TV reports on the Israel-Hamas war, we had a nice time in Scandinavia. I left Max's apartment in Copenhagen at 3:30 a.m. on Oct. 17; a taxi arrived and we said goodbye to each other in the street. I caught a 6 a.m. flight to Amsterdam. I'll try to avoid such an early flight in the future.
At Schiphol Amsterdam, I scanned the electronic signs for my departure to Minneapolis and noticed a flight to Tel Aviv, with the notation "IZ." I later learned that this was Arkia, Israel's second largest airline, which was still flying routes to Europe, while other major airlines had cancelled their flights to Israel. In the airport, I bought a round of gouda cheese with garlic and herbs and waited for my flight to board.
Arriving home in the early afternoon after 18 hours of travel, I showered, took a brief nap and then headed downtown for the friendly game between the Minnesota Timberwolves and Maccabi Ra'anana, a team in the Israeli National League that was touring some NBA arenas. The Israelis had three games in the U.S., in Brooklyn, Cleveland and Minneapolis. I thought that the game would be a sort of pro-Israel rally in Target Center, but it was a very sparse crowd. There were a couple of Israeli flags waving in the stands.
There were press conferences before the game with the head coaches, Chris Finch of the Timberwolves and Yehu Orland of Maccabi Ra'anana. Most of the questions from reporters concerned the war raging in the Middle East.
"Obviously, the situation in Israel is not good," Orland commented. "Desperation and sadness, those are the feelings all the people in Israel feel right now. For us, as a team … it's hard to be here. Our hearts and our minds are in Israel, our bodies are here."
Orland emphasized that he didn't want to get into the politics of the situation back in Israel, but he discussed losing his best friend, Eli Ginsberg, a retired IDF soldier who set off for the Gaza front and was killed in the fighting. Ginsberg leaves behind a wife and four kids, according to Orland.
The war dominated both press conferences with the head coaches. At one point, Orland asked facetiously, "Doesn't anyone have a question about my game plan?"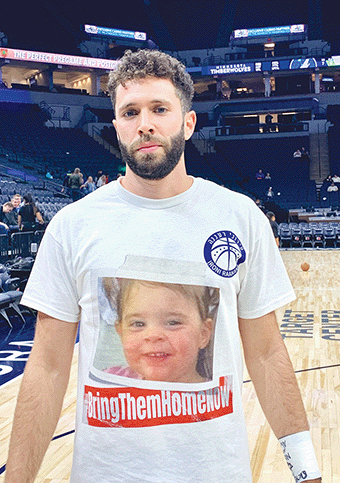 In the visiting team locker room, I talked with Ori Hai, who plays the guard position for Maccabi Ra'anana. Hai is a Jerusalem native. Asked about the mood of the Israeli players on the squad, Hai replied, "We're going through a difficult time now — everybody knows that…. We're thinking about our family, our friends, home. Most of my friends are at war now."
Echoing the words of the head coach, Hai added, "Physically we're here, but our hearts and minds are back there in Israel."
Hai was on his first visit to the U.S., and it was his first time competing against teams in basketball's premier league. I asked if playing the games here provided a diversion from the horrible situation back home.
"Not really," he said. "It's always on our minds." And he sent his prayers to everyone in Israel.
Before the game, there was a moment of silence for those killed in Israel. Then Cantor Joshua Fineblum of Temple of Aaron Synagogue sang "Hatikva," the Israeli national anthem.
Although Maccabi Ra'anana took a 10-point lead early in the game, the Timberwolves, with the team's top 10 players benched, dominated the Israeli team. The final score was 138-111.
***
I've written a number of editorials about Israel's wars in Gaza over the years. You can go to the Jewish World website (AJWNEWS.com) and search for "Gaza," if you'd like to read what I wrote in 2009, 2010, 2014, 2020, 2021, etc.
As in the past, Israel unleashed its military might against the Hamas perpetrators of the atrocities of Oct. 7, pulverizing the Gaza Strip with bombs and artillery shells. Residents of the northern part of Gaza were warned to move south, as Israeli shut off electricity and water to the coastal enclave. Human rights groups have declared that Israel is precipitating a humanitarian catastrophe in Gaza. As the Jewish World went to press at the end of October, the Hamas-run health ministry in Gaza put the death toll at 8,500, including more than 3,500 children killed. Whatever the actual death toll, news consumers in the West have been seeing footage of children being pulled out of the rubble of destroyed buildings in Gaza, some alive and some dead. Sympathies have shifted against Israel, as has happened in the past.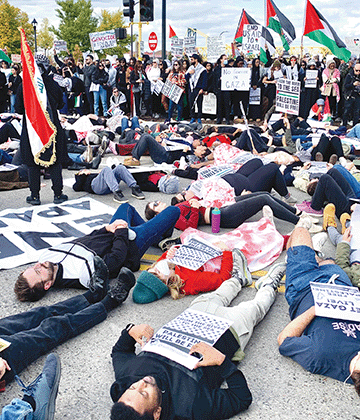 On Oct. 22, some 3,000 pro-Palestinian demonstrators blocked Lyndale Avenue by the Walker Art Center for several hours. The crowd of Palestinian and Arab Americans, Muslims, members of the BIPOC community and white leftists chanted "Free, Free Palestine," while speakers denounced the "racist, colonial settler state of Israel." There were calls for a ceasefire — the same call heard at Jewish-led protests in New York City and other locales.
At the Minneapolis protest, a leaflet from the Freedom Road Socialist Organization was distributed. The parochial Marxist-Leninist line in the document is void of any criticism of Hamas atrocities on Oct. 7: "Israel, the U.S. government and much of the media promotes the idea that the Palestinian resistance is somehow 'terrorist.' Nothing could be further from the truth. The Islamic Resistance Movement (HAMAS) … and so many others represent the aspirations of a free people, Palestinians who insist on the end to occupation…. We are proud to stand with the resistance."
Other Palestinians and human rights groups have decried the slaughter of 1,400 Israelis, including children and the elderly, and the kidnapping of 230 people on Oct. 7. The depredations on that day saw Hamas terrorists invade the "Supernova Sukkot Gathering," a dance party near kibbutz Re'im, and massacre 270 civilians.
We don't know how Israel's plan to destroy Hamas will unfold. According to press reports, a full-scale ground invasion of Gaza is in the offing. There are concerns that Hezbollah, the Lebanon-based Islamist faction backed by Iran, could enter the fray. Israel has evacuated some communities near the border with Lebanon. On Oct. 26, the U.S. sent F-15 and F-16 fighter jets to bomb targets in eastern Syria, in response to attacks on U.S. bases by Iran-backed militias, according to CNN. Things could get much worse in the Middle East.
The Israel-Hamas war also has led to a spike in attacks on Jews and Jewish institutions around the world — from Porto, Portugal, to Berlin to Skokie and Dagestan, Russia. A deranged landlord allegedly stabbed to death six-year-old Palestinian-American Wadea Al Fayoume. The boy was stabbed 26 times, and his mother also was stabbed but survived.
"This incident cannot help but further raise the fears of Muslim, Arab and Palestinian communities in our country with regard to hate-fueled violence," U.S. Attorney General Merrick Garland said in a statement about the fatal stabbing.
The American Jewish World will continue to report on events in Israel and Gaza. We encourage readers to contribute their views to a civil and respectful debate about the war. We hope that the violence abates and that humane voices promoting reconciliation come to the fore both here and in Israel and Palestine. These are perilous and frightening times.
Mordecai Specktor / editor [at] ajwnews [dot] com
(American Jewish World, November 2023)