By ELANA WARREN / Assistant Editor
"Growing up I knew that she was not at all like my friends' grandmothers," Rachael Joseph said of her "gram," Geri Joseph. Rachael was born the year Geri was sworn in as U.S. ambassador to the Netherlands. And that was after an award-winning journalism career and a high-profile role in U.S. politics.
Geri M. Joseph was born June 19, 1923, and died at age 100 on Oct. 16, 2023.
Remembrance
Joseph was born in St. Paul and graduated from the University of Minnesota in 1946, where as managing editor she was one of the first woman editors at the Minnesota Daily.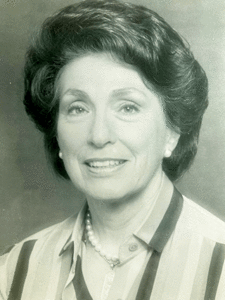 A Minneapolis Morning Tribune editor reached out to Joseph and offered her a reporting job covering education, health and welfare. She won five or six American Newspaper Guild awards and, in 1952, won the Sigma Delta Chi Award for Distinguished Service in Journalism for her investigative series exposing the inhumane treatment of people living in residential mental hospitals. The journalism fraternity chose Joseph thinking she was a man but honored its decision anyway.
"That was my first experience of being the first, and only, woman in a room full of men," Joseph once shared with Jewish Women's Archive. "But it prepared me for many of the other 'firsts' and 'only' times that I would experience."
Joseph was a speechwriter for Hubert Humphrey's mayoral campaign and was elected vice chair of Minnesota's Democratic-Farmer-Labor (DFL) party in 1959 — vice chair was the highest position a woman could have at the time. At the 1964 Democratic National Convention where Humphrey was selected to run for vice president, she and then-Attorney General Walter Mondale voted to accept a delegation from Mississippi that included Black party members.
Joseph later headed the women's committee for Humphrey's presidential campaign, in 1968. She was then elected as vice chair of the Democratic National Committee, where she worked with a Republican counterpart to urge more women to run for public office.
Finally, she was U.S. ambassador to the Netherlands from 1978 to 1981, during the Carter administration. Throughout much of her time in politics and after, she continued freelance writing, returning to the Tribune for a time, too.
Outside of government, Joseph served as president of the National Association for Mental Health, inspired by the success her mental hospital series had in effecting change. She served on local business and civic boards, including co-chairing the Minnesota Attorney General's Task Force on Child Abuse. She closed out her career as a senior fellow at the University of Minnesota's Humphrey Institute of Public Affairs and directed the Mondale Policy Forum.
Joseph held three honorary degrees and various awards. Israeli Prime Minister Golda Meir presented Joseph and her husband, Burton Joseph, a Service to Israel award.
Geri and Burton Joseph had three children, four grandchildren and six great-grandchildren. Their daughter, Shelley Joseph-Kordell, was shot to death by a cousin in the Hennepin County Government Center on Sept. 29, 2003.
Rachael Joseph, Joseph-Kordell's niece, became a gun reform advocate, founding Survivors Lead.
"My grandmother and I became very close and bonded over these lifesaving policy issues. She was always incredibly supportive of my work and had great ideas about how to appeal to people who were not personally impacted by gun violence. She was so proud when I spoke about gun control at the state DFL convention in 2018 and she was thrilled when we finally passed background checks and extreme risk protective orders earlier this year," Rachael Joseph wrote in an email to AJW. "Gram helped me understand how to work with people who I don't always agree with to achieve a common goal. She showed me that women can make a difference in the world on issues that we care about, as long as we are determined, with lots of heart in the fight."
Rachael Joseph added, "Gram was so strong, determined and thoughtful. She was the kind of person who could grab everyone's attention without even trying, she had that kind of presence. She had a great sense of humor and appreciated a good laugh."
According to Rachael, Geri was also a "fantastic singer," and she always carried chocolates in her purse for her grandchildren.
"I think she would want to be remembered for making positive changes in the lives of women," Rachael Joseph said. "Her tremendous impact in human rights, women's rights, and mental health will be felt for a long time."
(American Jewish World, November 2023)