By ERIN ELLIOTT BRYAN / Community News Editor
Almost a year ago, in November 2012, a small group of cancer researchers from the Mayo Clinic in Rochester traveled to Israel to meet with their colleagues at Tel Aviv University. The three-day meeting was known as the Tel Aviv University–Mayo Clinic Cancer Center Alliance Symposium.
The vision of the project was to share ideas and establish collaborations between Mayo Clinic Cancer Center and Tel Aviv University scientists to accelerate the pace of both basic and applied cancer research.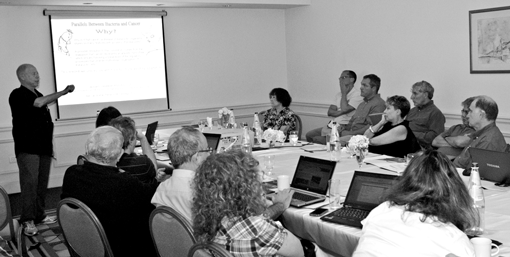 "The goal was to find common places where they can complement each other and work together," said Alex Lupu, a board member of the American Israel Chamber of Commerce and Industry of Minnesota, which provides services to companies in Minnesota and Israel who want to do business together. "The idea that we had, with the Chamber, is to try to get a donation to jumpstart the collaboration."
The first phase of the project requires about $40,000, which will be used mainly for travel to bring the scientists together again.
"The technology that the Israelis have is good, the technology that Mayo has is good, there are some things that exist in Israel that Mayo doesn't have and vice versa… There are many possibilities," Lupu said. "You cannot be inventive through Skype. We went there, so now we need to bring [the Israelis] here to Mayo to see the facilities."
Lupu's wife, Ruth Lupu, Ph.D., a professor of laboratory medicine and pathology at Mayo, organized last year's symposium with Nadir Arber, M.D., director of the Integrated Cancer Prevention Center at Tel Aviv Sourasky Medical Center. Dr. Lupu, a graduate of Tel Aviv University, admits she had an emotional and personal interest in the collaboration, but that fact did not diminish the level of talent available to both institutions.
"I have several collaborations with scientists at Tel Aviv University and I have had collaborations throughout the years. I value tremendously the talent of the Israeli scientists and I appreciate significantly what they can provide. How can we benefit from their talent?" she said. "Mayo is not a university and that's where we are lacking here."
Dr. Lupu, who researches breast cancer, said the symposium focused more on areas of common interest, as opposed to specific projects. Among the topics discussed were those associated with signaling pathways, genetics, tumor microenvironment and clinical interventions, including the development of new clinical trials.
She said there are many different types of cancer and the goal of the collaboration is to identify the projects that have the most potential.
"The immediate necessity is to get together again," Dr. Lupu said. "This is a joint effort to get an answer faster… to understand really what is going on and how we can solve many questions. Hopefully we will be able to manage cancer better than it is managed today."
Dr. Lupu believes that joining efforts with a university is "immense," allowing Mayo scientists access to additional facilities as well as different patient populations.
"If we want to do studies of Ashkenazi Jews or Sephardic Jews, [Israel] is the perfect place," she said.
Mark A. McNiven, Ph.D., a professor in the Department of Biochemistry and Molecular Biology and the GI Cancer Program director at the Mayo Cancer Center, was a co-organizer of the symposium. His research is focused on pancreatic cancer cells and how they migrate into peripheral tissues.
While in Israel, McNiven established a personal relationship with Marcelo Ehrlich, Ph.D., a Brazilian native who is now a scientist at Tel Aviv University. The two had already been familiar with one another's work and were able to talk about their shared interests.
"Between my cell biological interests and his mathematical biophysical interests, we can combine our strengths and our mindsets to make some good progress," McNiven said.
He noted that there are several Mayo scientists who would like to travel back and forth, including David Katzmann, Ph.D., a yeast geneticist who had already established a previous working relationship with a colleague in Tel Aviv. While they continue to keep in touch, McNiven said "there's nothing really supporting the interaction."
Noting that the National Cancer Institute is only funding 7 percent of its grant requests, McNiven believes the Mayo Clinic–Tel Aviv University project would support creative exchanges between both groups of scientists.
"It would be good, on a scientific basis, to have this union, this alliance between two top-notch [facilities] in two countries that care about each other," McNiven said. "It would be symbolic as well as practical, something that I find very attractive about it."
But Alex Lupu says the project can only flourish when the seed money becomes available.
"There's a lot of things that can happen as a result, but we need to start," he said. "We're looking for a donor who wants to dedicate some money to cancer research and also do something good for Minnesota and Israel."
***
For information on the project, contact Alex Lupu at 507-206-4744 or: alupu@aol.com.
(American Jewish World, 9.27.13)