By MORDECAI SPECKTOR
The piano trio is a venerated configuration in the world of jazz. Jazz pianists have told me that the trio format allows for enhanced interplay and room for improvisation.
In the world of jazz trios, you really can't do better than opening your ears to the Bill Charlap Trio, which features Charlap on piano, Peter Washington on bass and Kenny Washington on drums. (The Washingtons are not related.)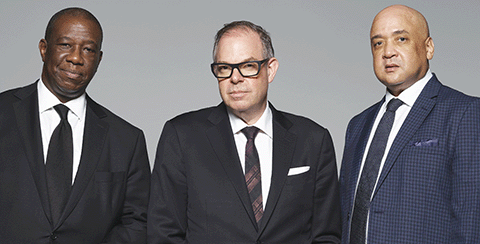 The trio returns to the Dakota in downtown Minneapolis for two shows on Tuesday, Feb. 21.
In late January, Charlap spoke by phone with the Jewish World from his home in West Orange, New Jersey. We last talked in 2016, following on the release of his album Notes from New York (Impulse), and ahead of a previous date that year at the Dakota.
Publicity for the Bill Charlap Trio notes that the group formed in 1997, so last year marked the ensemble's 25th anniversary. I asked if the stellar musicians marked the milestone with a champagne toast.
Charlap laughed and said, "We just continued to play as best as we can together. And we continued to have a great time together making music."
The Jewish pianist and educator, 56, added that the trio's music "continues to be a challenge, in the best way," and remains "fresh and spontaneous — even more spontaneous than ever. The celebration is that we're going on to 26 years."
I've been impressed to see that musicians and other creative artists continued to work and innovate during the COVID-19 pandemic. In the case of performing musicians, they all lost their jobs for a year or 18 months, when venues were shuttered to stem the spread of the potentially deadly virus.
Charlap first said, vis-à-vis the pandemic shutdown, that he was "very lucky" to be with his wife, Renee Rosnes, a fabulous jazz composer and pianist. And then Charlap mentioned that he is director of jazz studies at William Paterson University, in Wayne, N.J., "and throughout the pandemic I usually coached six ensembles." Rather than meeting twice a week, the groups met once a week. "And we didn't meet on Zoom; we met live."
The groups would gather on campus in a large concert hall. "I was about 20 rows back," Charlap recalled. The student musicians were socially distanced on the stage and partitions were put up. The horn and woodwind players faced out toward the seats, "and we played … we had our classes." Charlap added that a union house team was there to disinfect the drums, piano, etc.
"I was lucky to have that human connection," commented Charlap, regarding the live classes in 2020. "Of course, it was a risk for everybody. But we took the risk. We shut down a few times when there were scares or somebody got sick; but nobody got ill [from COVID-19]."
Charlap also did some virtual performances, from New York City clubs, including Village Vanguard and the Blue Note, and in concert halls. He performed with his trio, with singer Dee Dee Bridgewater and with trumpeter Wynton Marsalis. He likened the gigs to "playing a 1950s television show, without the audience — we were playing to a camera. That was a bit of a spooky feeling: Instead of playing the Village Vanguard, we were playing the Village Vanguard museum … since there was no one there but us."
Continuing on about the pandemic time, Charlap said that he got to witness his wife (he refers to her as "Reenie") "composing all kinds of great music. And I even got to witness a record date that she did with [saxophonist] Chris Potter, [bassist] Christian McBride, [percussionist] Rogério Boccato and [drummer] Carl Allen, where they interpreted that music that I had watched her create."
Charlap was referring to his wife's 2021 album titled Kinds of Love (Smoke Sessions Records). Over the years, Charlap has recorded and performed together with Rosnes. During our 2016 interview, Charlap recalled performing at the Dakota, when the club was located in Bandana Square in St. Paul, both with his trio and with his wife.
At this point, there should be some mention of Charlap's musical yichus (lineage). His father was Morris "Moose" Charlap, a Broadway composer who was best known for composing songs for Peter Pan, the 1954 show that opened with Mary Martin in the title role. And Charlap's mother is Sandy Stewart (née Sandra Galitz), a singer whose career began as a teenager. Stewart, who had a Billboard Top 40 hit in 1963 with a song called "My Coloring Book," also has performed and recorded with Charlap.
Another highlight of Charlap's illustrious musical career was the 2015 recording The Silver Lining: The Songs of Jerome Kern. He shared top billing on the record with legendary singer Tony Bennett. His wife, along with his trio's rhythm section, Washington and Washington, played on the album, which garnered a Grammy Award.
The most recent album from the Bill Charlap Trio is Street of Dreams (Blue Note), which was released in 2021. Charlap is acclaimed for his interpretations of tunes from the Great American Songbook — a field in which Jews historically predominate, from Irving Berlin to Bob Dylan. Street of Dreams is a beautiful, ethereal song collection that shows the trio at its most sublime heights of expression.
Charlap recounted how he and his bandmates decided on the songs, with him nominating tunes and then putting each number up for a vote, as they were driving to a gig at the Keystone Korner in Baltimore. "You know, we've been playing together so long that we have a very vast repertoire of things to choose from. And we chose that rather like we would play a set of music: start with a nice flow that features everybody, and features different moods, different feelings, different periods, songs that are jazz compositions, songs … with lyrics. It was very organic; the record was made in a couple of days … and [the album's song sequence is] pretty much in the order that we recorded it," Charlap said.
I mentioned the song "What Are You Doing the Rest of Your Life," by Alan and Marilyn Bergman and Michel Legrand. I recalled that the Bergmans were longtime family friends of Charlap.
"They're two of my best friends — they have been my whole life," he said of the Bergmans, celebrated composers who wrote "The Way We Were," "The Windmills of Your Mind," and music for musicals and films.
"Marilyn is gone now, but Alan is still here and very vital," he commented. Charlap added that he learned a lot from the Bergmans about "what a great lyric is all about." He added that he and his wife have been inspired by the Bergmans, as far as the "life of real deep devotion those two people had with each other. It's something to look toward for me and Reenie."
Regarding the role of lyrics in performing instrumental music, I wondered if Charlap had lyrics in mind when he plays. (I've had this discussion with Herb Alpert and pianist Fred Hersch.)
"It will tell you how to phrase," Charlap replied. "Sometimes you might be paraphrasing. That's okay, too. The words and the story should drip off the note, just as much as the note should drip off the words. So, that's what it is for me."
The Bill Charlap Trio is on the road again, and we're fortunate that Minneapolis is a stop on its 2023 tour. For some moments, listeners at the Dakota can put their mundane worries aside and be transported by the music produced by these three great artists.
***
The Bill Charlap Trio plays sets at 6:30 and 8:30 p.m. Tuesday, Feb. 21, at the Dakota, 1010 Nicollet Mall, Minneapolis. For tickets, go to dakotacooks.com or call 612-332-5299.
(American Jewish World, February 2023)