It's good to change your routine and surroundings on occasion. I hadn't taken a winter vacation in many years; but Maj-Britt, my wife, and I, ahead of our 39th wedding anniversary, flew down to Mérida, the capital of Yucatán, in early January. It was my first trip to Estados Unidos Mexicanos, the United Mexican States, in 50 years. And some things have changed.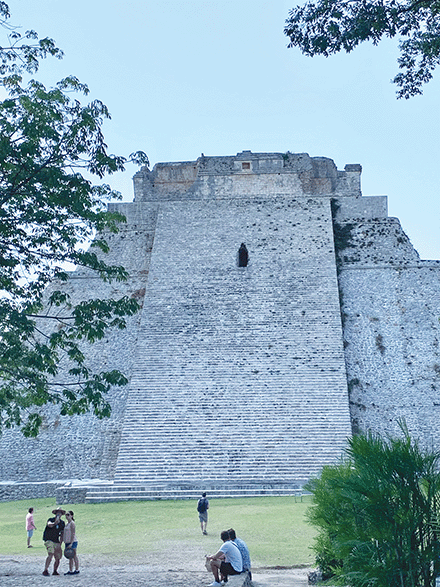 Our old friends Bruce and Maren, from Minneapolis, have been living in Mérida for the past two years, so we stayed in their roomy rented house. Their abode in the Itzimná neighborhood is a stone's throw from the iconic Monumento a la Patria (Monument to the Homeland), a massive historical marker that incorporates design motifs from the Mayan civilization. It's located on one end of the Pasejo de Montejo, a broad boulevard named after Francisco de Montejo, the Spanish conquistador who founded the city in 1542.
The Pasejo is famous for its ornate, colonial houses and buildings, many of which have been repurposed as hotels and shops. Mérida, with a million residents, is built on the ancient Maya city of T'ho, and carved Maya stones were used to build the main cathedral and other buildings in the center. And I should mention that it was 24 degrees when we left Minneapolis, and 84 degrees when we walked out of the Mérida airport.
Apart from our time in the capital city, we spent three nights in an Airbnb rental on the beach in Celestún, a fishing village on the Gulf of Mexico. Again, the weather was perfect, in the 80s most days, and it was wonderful to have a beautiful beach right out the back door. Having lived my life mainly in the Upper Midwest, I always enjoy being in proximity to the sea. The palm trees and tropical wildlife add to enjoyment. While there are some amenities for tourists, Celestún has not succumbed to a huge influx of tourists, so let's keep the news about this lovely town among ourselves.
Adding to the fun of our Yucatán idyll, my son Max and Silvia, his Italian girlfriend, traveled from Copenhagen to join us. They flew into Cancun, the popular tourist destination on the northwest corner of the Yucatán peninsula, in the state of Quintana Roo. After a night in Cancun, Max and Silvia rented a car and drove across to Mérida.
While in Celestún, Max found an environmental group, Guardianes de los Manglares De Dzinintún (Guardians of the Mangroves of Celestún), that offered boat tours of the Ria Celestún estuary, where hundreds of flamingos gather for mating. The flamingos are a big draw for visitors, among the other birds, including egrets, herons, white pelicans, spoonbills and ibises. And there's also the occasional crocodile getting some sun.
After some days in Celestún, we headed southwest to Uxmal, the famous ruins of the Late Classical Maya city. At Uxmal, which dates back 1,500 years, as per the Maya chronicles, Gregorio, our friendly tour guide, began with a Mayan language lesson, pointing out that lengthening vowel sounds changes the meaning of words.
A visitor to Uxmal first encounters the towering Pyramid of the Magician, which rises more than 130 feet above ground level. Gregorio had a binder of photos showing how the ruins looked nearly 100 years ago, prior to the clearing and reconstruction of edifices. We later visited the Maya World Museum in Mérida, and the displays corroborated much of what Gregorio had shown us about Mayan advances in architecture, language (many Mayan words have entered the Spanish spoken today in Mexico), mathematics (a numbering system that included zero), etc.
Gregorio was quick to point out that there is no evidence of human sacrifice at Uxmal. There were rituals presided over by a high priest, in which animals were sacrificed to the gods.
I have long been fascinated by the Maya, both the ancient civilization and the more recent struggles in the face of deadly repression, especially the dirty and criminal actions of dictatorial regimes in Guatemala. An estimated 200,000 civilians, mainly Maya villagers, were killed in Guatemala during the 36-year civil war, 1960-1996.
In the 1980s, I met Mayan activists from Guatemala through American Indian Movement conferences and wrote about the resistance to massacres and other depredations. I recall meeting a young Mayan man in Minneapolis who survived the Jan. 31, 1980, siege of the Spanish Embassy in Guatemala. Government forces burned the building, resulting in the deaths of 37 Maya who had occupied the premises in protest of the military repression of their communities. The violence escalated during the regime of General Efrain Rios Montt, who came to power in a 1982 military coup. In the 1980s, both the Reagan administration and Israel supported the blood-soaked Rios Montt regime, which perpetrated many atrocities in the Maya highlands.
Israeli-Guatemalan military cooperation dates back more than 50 years. Shortly after Jimmy Carter became president, in 1977, the State Department issued a report condemning human rights violations in Guatemala. At Carter's request, Congress suspended military transfers to Guatemala, and the country was put on a list of "gross and consistent violators of human rights." Israel, a major global arms exporter, quickly stepped into the breach. In addition to weapons, Israel provided military trainers for Rios Montt's "rural pacification" program, which was something along the lines of the "strategic hamlet" program fostered by the U.S. during the Vietnam War.
I vaguely recall an interview with an Israeli official many years ago, when I brought up Israel's role in the horrific repression under Guatemalan military juntas. My interview subject more or less told me to shut up, that Israel would export arms as it saw fit, and didn't need outsiders to chime in.
Latin American observers have pointed out that Israel, under then Prime Minister Begin and his defense minister Ariel Sharon, could enhance its reputation with Pres. Reagan by providing military aid to third countries. Further, Reagan was obsessed with the Nicaraguan Sandinista regime that came to power in 1979, and did what he could to beat back insurgencies in Guatemala and El Salvador — observance of human rights in those countries was not on the agenda.
It has been reported that in January 1983, at the height of Rios Montt's depredations against the Maya, the Guatemalan chief of staff, Gen. Hector Lopez Fuentes, stated, "Israel is our principal supplier of arms and the number one friend of Guatemala in the world."
On May 10, 2013, General Rios Montt was convicted in a Guatemalan court on charges of genocide and crimes against humanity, and sentenced to a prison term of 80 years. However, on May 20, 2013, the Constitutional Court of Guatemala overturned the convictions on the basis that Rios Montt had not been allowed an effective defense during the trial.
Apart from Israel's role in the repression of the Maya in Guatemala, there's another Jewish angle to this sad story. The University of Southern California's Shoah Foundation, which is funded by director Steven Spielberg, is interviewing survivors of the genocidal Guatemalan civil war. Like its archive of interviews of Shoah survivors, this project will provide scholars with insights into the repression perpetrated years ago in Guatemala.
I can't make any definitive statements about the conditions of the Maya people of Yucatán, where 30 percent of residents speak the Mayan language. I only spent a week in the Mexican state — and I tried not to work. However, Minority Rights Group International finds that the situation of the Maya in Guatemala remains grim: "In reality, apart from the few remedial policies of recent years and the gradual emergence of a slightly more tolerant climate, little that is concrete has occurred to improve the lot of the indigenous population following the end of the 36-year civil war."
— Mordecai Specktor / editor@ajwnews.com
(American Jewish World, February 2023)