By MORDECAI SPECKTOR
Fred Schlomka is in the travel business. If you're visiting Israel, he can provide a licensed tour guide to show you the major attractions.
And he also can provide an English-speaking Palestinian guide to escort you around the West Bank — Bethlehem, Nablus, Jenin, Jericho and Hebron. Schlomka's Green Olive Tours specializes in tours of the Palestinian territories — from day trips to the 10-day Palestine Immersion, which includes being "embedded" in a village.
A native of Edinburgh, Schlomka has operated Green Olive Tours for the past five years. Schlomka and his wife, Sunita Staneslow, an accomplished harpist, lived in the Twin Cities from 1990-2000, prior to making aliya.
During a recent visit to the AJW offices, Schlomka talked about his tourism business, Green Olive Tours, and the conversation inevitably touched on the complicated Israeli-Palestinian conflict.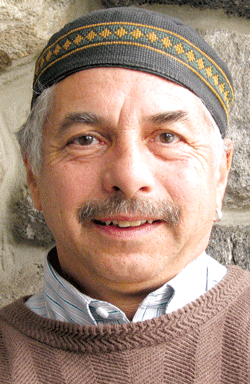 For most American Jews who have participated in a federation-sponsored mission to Israel, or visited the Jewish state as a tourist, the idea of crossing the Green Line — venturing into the Palestinian territories — likely provokes some anxious thoughts.
An American Jew might imagine that a trip to the West Bank would culminate in a robbery or murder.
"I would just refer them to the American urban crime statistics, and compare that with any city in Palestine or Israel," Schlomka responds. "Because we have a very low incidence of violent crime in the streets — it almost doesn't exist. And that's true anywhere in the West Bank or Israel."
Schlomka adds, "Tourists are valued. They bring money, and they are kind of a window to the outside world for people living in remote areas. Tourists have generally always been safe, even at the height of the Intifada. You have to be really unlucky to be in the wrong place at the wrong time. But tourists are never targeted."
In any case, Schlomka monitors the security situation on a daily basis. He said that only one tour was canceled; Jewish settlers were rioting in Hebron, so a trip to the area did not seem prudent.
Schlomka and Green Olive Tours have received some prominent press coverage recently. The Forward published a feature story about Schlomka in the Dec. 23 edition. And Green Olive Tours hosted an Al Jazeera TV news crew during an early January tour to Bethlehem and Hebron.
Schlomka told the Al Jazeera reporter what he told me about the importance of tourism, and mentioned that "Palestinians generally are more than happy to sit down with tourists, tell them their stories and have a good time with them."
The Al Jazeera report also featured comments by Amy Cohen, obviously an American Jew, who was traveling with Schlomka's group. "Most of the tours you do, as a Jew, are only one side," commented Cohen, who was standing with her daughter near the 25-foot security wall separating Bethlehem from Israel. "I did that one when I was 13, a very Zionist tour; and I think it's very important to see both sides."
The Forward story delved into Schlomka's biography. His father, a Communist activist in Germany, was tortured by the Nazis, and fled to Palestine in 1936. Fearing for his family's safety in the unsettled Middle East, the Schlomkas moved to Scotland in 1948. Apparently suffering from post-traumatic stress disorder, he died when Schlomka was three. Schlomka's mother suffered a nervous breakdown and was put in an asylum. Young Schlomka and his two elder siblings were put in the care of a series of housekeepers, some of whom seriously abused the children.
Returning home from school when he was eight years old, Schlomka was told that his brother had died. He and his sister were not allowed to attend the funeral, and eventually learned that their brother had committed suicide, according to the Forward.
Schlomka was packed off to a boarding school for problem kids in the Scottish Highlands. He and a teenage friend left the country and ended up in the south of Spain, where they hit on a moneymaking scheme, selling handmade macramé jewelry. Their creations became popular, allowing the young Scots to stay in hotels.
"Schlomka has been an entrepreneur ever since," the Forward noted.
In the early 1980s, Schlomka began visiting Israel and seeking out his mother's family in Tel Aviv. During one of these trips he met Sunita Staneslow, who was playing harp with an Israeli orchestra. Within three months of meeting they were married. The couple have two children, a daughter who is doing a one-year stint of volunteer national service in Israel, and a son attending Brandeis University in Waltham, Mass. The family lives in Kfar Saba, north of Tel Aviv.
The tourism industry in Israel has been booming in recent years, and Schlomka apparently has developed a profitable and personally rewarding niche business. He has built relationships with Palestinians "layer upon layer throughout the years."
He mentioned that his contacts in the West Bank started with his political contacts — "the work I do for peace and justice." Schlomka was operations manager of the Israeli Committee Against House Demolitions for two years. The group's co-founder and director, Jeff Halper, is a native of Hibbing; Schlomka commented that Halper is his "oldest friend in Israel."
Schlomka said Green Olive Tours has become well known in the West Bank, so now "Palestinian tour guides looking for work" and families eager to open their homes to tourists contact him.
The tours — which also include Jerusalem's Old City, Masada and the Dead Sea, and Jewish settlements in the West Bank — are reasonably priced, according to Schlomka, who said that Christians outnumber Jews as his customers.
Perhaps Minnesota Jews would like to experience Palestinian reality at ground level — to see the other side.
"It's important to hear the message of the other side, whether one agrees or not," Schlomka replies. "And we do get a lot of people on our tours who are Zionists, who are very pro-Israel, but they are willing to come and listen, even if they don't agree. That's always the first step to any kind of understanding… That's the main thing that an American Jew can get out of [visiting the West Bank] — just to come, to listen, to see. And then to take the experience and process it, because it's usually quite an intense experience for most people who've never been out there before."
And Schlomka adds, "Our guides are very friendly, and the people you'll meet will be most welcoming, and there's never any question about the safety."
(American Jewish World, 2.3.12)