By SIX DEGREES (NO BACON) STAFF
NEW YORK (6nobacon.com) — Adam Lambert seems to have quite the Twitter following. His fans recently started a "twitition" calling for Lambert to sing the National Anthem at the Super Bowl next month.
Their reasons? He is from Indianapolis, the site of the game. Also, they believe it's "clear" that his vocal skills are "globally unparalleled" and that "he is a consummate perfectionist & his musical flawlessness will captivate millions of hearts."
Was this written by a 13-year-old girl in English class or a misguided copywriter? Do twititions have any legal standing? If so, why has no one started a twitition for the Maccabeats to sing at the Super Bowl?
Lea Michele not horsing around
Lea Michele has been lobbying to keep horse-drawn carriages off the Big Apple's streets, and it seems like she is getting real serious about her demands.
First the Glee star appeared in a PETA commercial showing footage of horses enduring uncomfortable living quarters. Then she began tweeting Mayor Michael Bloomberg: "please listen to the thousands of people who are saying that they no longer want horse & carriage rides in this city," she begged. The plea failed to shake up the mayor, so Michele took to Twitter with some threats: "New York, u know how much I love you. But if I see another horse & carriage struggling in this winter weather I may not be able 2 be here."
Whaaaaat?? Does this mean that Rachel Berry will refrain from visiting her Broadway Mecca? Is this really the last we will see of Lea Michele in New York?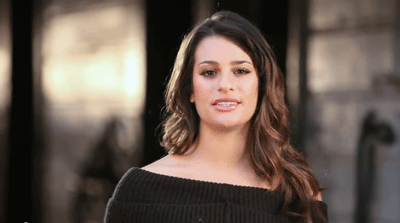 Jonah Hill dating Dustin Hoffman's daughter
According to Contact Music, Jonah Hill is officially dating Ali Hoffman, daughter of Mr. Magorium himself. Apparently the two have been friends for years and actually grew up together. In fact, a source told the New York Post that Dustin Hoffman "discovered" Hill when he was just a chubby high school nerd, a la Superbad status.
Since then the boy slimmed down, sexied up and now is an official chick magnet. Hill, 29, reportedly spent the holidays in Hawaii with the Hoffman clan, cozying up to his new love on the sandy beaches, although he is said to be apartment searching in New York City. Mazal tov to the happy couple.
Adam Levine fuels The Voice vs. Idol fire
Although there was some mutual trash talking in the past between partisans of The Voice and American Idol, this weekend the gloves finally came off.
It started with "American Idol" judge Randy "you ma' dawg, dawg!" Jackson, who said, "I think that Idol is still the best TV show of its kind, anywhere. We're the original."
It only took a few days for Maroon 5 singer and The Voice judge Adam Levine to respond. Levine, who is known to be unafraid of expressing his opinions, told Zap2it: "People try out for whatever shows they want to try out for, it's not like Publishers Clearing House shows up at your house and says, 'Congratulations! You've won the chance to be on this show.' That's bulls—, and everyone knows that."
Levine added that "any sort of personal attack, to me, is just a form of vulnerability and insecurity."
"To poke fun is one thing, and we've fired back and forth at each other, but there's never been any malicious intent," he said. "Naturally, a competition does exist because the shows are similar … but it's American Idol. It's not going anywhere. It's the biggest show on Planet Earth. We're just interested in doing our thing."
Jason Segel dates fan
Here's yet another tale in the annals of celebrities going on dates with fans who petition them through YouTube.
The story goes as follows: Chelsea Gill, an intimidatingly funny girl with a guitar, recorded an ode to Jason Segel and put it on YouTube. Segel saw it, thought she was cool, and brought her and her twin sister to the Chicago Film Critics Association Awards and afterward for drinks.
Yes, this may sound like an oft-told story these days, but the difference here is that this girl isn't a soldier or sick. She's just awesome. Apparently, the pair (plus twin) had a fantastic evening, since Jason tweeted the next day about it: "I am honoured to get comedian of the year and screenwriter. Nick Stoller shares this with me. My partner in crime since Sarah Marshall. Chelsea Gill who wrote the awesome song and her twin sister came to the awards tonight. They were the coolest!!"
Isaac Mizrahi says 'I do'
Isaac Mizrahi is officially a married man. The volatile fashion designer confirmed his new non-bachelor status on The Wendy Williams Show, jokingly flaunting his ringed finger until the host questioned him about it.
"We were terrified and decided to just elope at City Hall," Mizrahi explained, adding that he and Arnold Germer, his boyfriend of six years, never planned on marrying until New York State permitted gay marriage last July.
"We didn't think we wanted to get married until they said we could in New York, and then it was like 'We're getting married!'" Mizrahi exclaimed.
Wahoo for the happy couple! May you both live happily ever after, basking in the nostalgic glimmer of mid-'90s high fashion and Target couture.