World Without Genocide will host a lecture on March 18 about sexual violence during the Holocaust and other genocides of the 20th and 21st centuries
(Editor's note: The following article discusses rape and sexual violence. It may not be suitable for younger readers.)
By ERIN ELLIOTT BRYAN / Community News Editor
At a 2006 workshop for teachers at Yad Vashem in Jerusalem, Holocaust scholars Sonja M. Hedgepeth and Rochelle G. Saidel raised the subject of sexual violence during the Shoah. Saidel is the author of The Jewish Women of Ravensbrück Concentration Camp and when she mentioned rape there, another leading scholar interrupted her.
"He, in essence, said, 'Jewish women were not raped during the Holocaust,'" Hedgepeth told the AJW. "To my mind, it's simply a stand that he has taken, he has dug his heels in. He had conducted many, many interviews with Holocaust survivors, with women, and he said that there weren't any women who talked about that. They talked about issues that were much more serious… and his line of thinking was that if they were willing to speak with him about something that horrific in their lives, they certainly would have mentioned rape."
But Hedgepeth and Saidel didn't agree with their colleague — whom they have agreed not to name — and knew they wanted to write a book on the subject, particularly since they had been hearing of research by younger, newer scholars who were also addressing the issue.
Hedgepeth and Saidel are co-editors of Sexual Violence Against Jewish Women During the Holocaust, an anthology of 16 scholarly essays about the many ways Jewish women were assaulted during the Shoah. It is believed to be the first book in English to focus exclusively on this subject.
Hedgepeth will speak about her book 7 p.m. Monday, March 18 at Mount Zion Temple, 1300 St. Paul Ave., St. Paul. The event will be hosted by World Without Genocide, at William Mitchell College of Law, and co-sponsored by Mount Zion, Temple Israel and Shir Tikvah Congregation.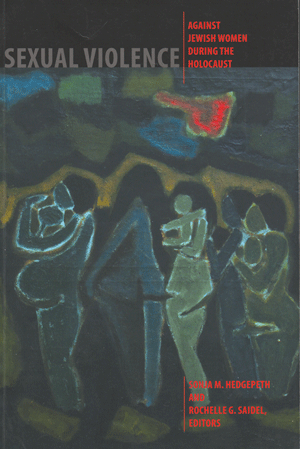 "We've been doing a lot of programming on sex trafficking, from the global to the local," said Dr. Ellen J. Kennedy, executive director of World Without Genocide. "Sonja's talk is part of this initiative that we have to raise awareness, so she'll be talking about the historical context. This topic of sexual violence against Jewish women during the Holocaust is something that has been silenced or muted for a couple of generations now. So the work that she and her co-editor Rochelle have done is really path breaking."
Kennedy said that Hedgepeth's talk will serve as a basis for a discussion that will also explore gender-based violence in Bosnia, Rwanda and all major genocides that have taken place in the 20th and 21st centuries, as well as gender-based violence that is currently taking place in Minnesota.
"We know that there are horrific statistics about the numbers of women, and some men, who are brutalized in domestic situations. And we know that there are women and men who are sex trafficked here in Minnesota, both people who are brought in from other parts of the country or parts of the world, but also people who are Minnesotans and who are being trafficked in Minnesota or the surrounding region," Kennedy said. "If we don't tolerate these crimes locally, then we also will stand up against these crimes globally. When we tolerate rape and domestic abuse and domestic violence here, then we certainly turn a blind eye to it elsewhere."
A response to Hedgepeth and Saidel's book in part prompted feminist activist, journalist and Women's Media Center co-founder Gloria Steinem to launch Women Under Siege, an initiative to document sexual violence as a tool of war and genocide.
"Why had it taken 65 years to reveal these facts?" Steinem asked in an interview on the Women's Media Center blog. "Why were they ignored at Nuremberg? If we'd known, might it have helped prevent rape camps in the former Yugoslavia? Or rape as a weapon of genocide in the Congo?"
The USC Shoah Foundation Institute for Visual History and Education houses about 52,000 video testimonies from Holocaust survivors in 32 languages and from 56 countries. According to a 2011 CNN.com story by Jessica Ravitz, more than 1,700 of those testimonies refer to sexual assaults, an umbrella term that includes sexual harassment, abuse, molestation and rape.
The essays in Hedgepeth and Saidel's book address many types of sexual violence during the Holocaust, including rape, humiliation, forced sterilization and abortion, prostitution, exploitation or even consensual sex in exchange for food. The Nazis and their collaborators perpetrated most of the violence, but some also took place at the hands of other Jews and even rescuers.
The volume also explores psychological trauma, gender identity issues and depictions of violence in literature and film.
Hedgepeth, who is Jewish, is a professor of foreign languages and literature at Middle Tennessee State University. She said she wants her talk in St. Paul to bring this and other related topics into the conversation about Holocaust studies, as well as serve as an invitation to survivors who experienced sexual violence to come forward.
"Our take on it is that we don't want to continue to shame women, but that we hope that, through more knowledge and conversation, we can encourage women to open up discussion and, that way, discuss what is happening now," Hedgepeth said. "We hope that our approach is one of love and understanding, and we hope to look at this with compassion for the women it happened to. We have to remember that most of the women who were raped by Nazis and their collaborators did not live to tell their story; it was quite all right to murder them. They have been silenced."
But Hedgepeth and Saidel's book has been met with a fair amount of criticism. Like the leading Holocaust scholar who challenged their comments at the 2006 Yad Vashem conference, others have pointed to Rassenschande — translated as "racial shame," "racial defilement" or "racial pollution" — the Nazi law forbidding sexual relations between Aryans and Jews.
"That is an extreme view that has been held for a long time. One would think that a law would prevent rape, but we know today we have laws against rape… and we see stories about rape all the time," Hedgepeth said. "Also, the Rassenschande laws were meant for sexual consent and did not really address rape, per se. That is something that is embedded in that [law] if one looks at it very closely."
Other critics of the book fear that by focusing on gender-specific experiences, it takes away from the overall human and Jewish experience of the Holocaust. Others feel that the book gives the impression that sexual violence was common. And others believe it's wrong to bring further shame to survivors and their families.
But Hedgepeth believes the time is right to bring this subject to the forefront, especially as younger generations are more open to discussions about sexuality.
"Can knowledge of the past prevent what is going on now?" Hedgepeth asked. "Obviously, one can't really say that it could prevent something that's going on now, but it surely can't hurt for us to discuss it, and it certainly is time to expose this topic."
According to Kennedy, rape and gender-based violence has "largely been assumed to just be something that happens during war and other conflict." But during the International Criminal Tribunal for the former Yugoslavia (ICTY), rape was prosecuted for the first time under the heading of crimes against humanity. And with the International Criminal Tribunal for Rwanda (ICTR), the trial of Jean-Paul Akayesu established precedent that rape is a crime of genocide.
"From time immemorial, rape has been regarded as spoils of war," ICTR presiding judge Navanethem Pillay said in a statement after the verdict. "Now it will be considered a war crime. We want to send out a strong message that rape is no longer a trophy of war."
Kennedy said more women are coming forward to testify about their experiences of sexual violence, most at great danger to themselves or their families, and more female prosecutors and judges are willing to listen — around the world and in Minnesota.
"The opportunity then to really acknowledge the severity of what rape does, not just to the individual victim, but also to the entire community, is happening because women are coming forward in all of these different ways," Kennedy said. "We really hope that to raise these issues publicly will help women and girls, and men and boys, to have courage to speak the truth. And then we also hope that this event will encourage people to perhaps participate a little further, to come to some of these other events where they will learn more hands-on steps that they themselves can take so that the young boys and girls they know don't become victims of the predators in our state, so that they will know what they can do to advocate at a national or global level to end gender violence."
***
Author Sonja M. Hedgepeth will speak about her book Sexual Violence Against Jewish Women During the Holocaust 7 p.m. Monday, March 18 at Mount Zion Temple, 1300 Summit Ave., St. Paul. Cost is $10 for the general public, $5 for seniors and free for students.
For information, e-mail: admin@worldwithoutgenocide.org or call 651-695-7621.
(American Jewish World, 3.1.13)