Arab Israeli author Sayed Kashua is riding a wave of popularity, with a hit TV sitcom and three well-received novels
By MORDECAI SPECKTOR
"I'm scared of cars, of dogs, of snakes; I'm scared of airplanes, helicopters, tanks and soldiers. I'm scared of terrorist attacks. I'm scared of Jews, I'm scared of Arabs, I'm scared that some day, they'll put us in refugee camps." — Sayed Kashua, Haaretz (2002)
When I called Israeli author Sayed Kashua last week, he politely asked if I could call back in 45 minutes, as he was finishing his column for Haaretz. So, when Kashua picked up the phone again in his Jerusalem home, I was curious about his topic. He said the column is about social workers, "about the very bad situation when it comes to salaries. I'm married to one. It's how life looks like with a frustrated social worker."
Kashua, 37, has worked as a reporter for Israeli newspapers; but his fame in recent years comes from his three well-received novels, and the wildly popular sitcom on Keshet Channel 2, Avoda Aravit (Arab Labor), which he co-created and writes. The show's title comes from the Israeli slang term for shoddy workmanship.
Israeli author Sayed Kashua
March 7 at the Sabes JCC
The everyman protagonist of Arab Labor is Amjad Alian, an Arab Israeli journalist who lives with his wife and child in a Jewish neighborhood of Jerusalem — just like Kashua. Amjad, Kashua's alter ego of sorts, has been called the "Palestinian Seinfeld," but the comparison does not do justice to the rich vein of humor mined by Kashua from his mundane exploits as a member of Israel's Arab minority — which comprises about 20 percent of the nation's population.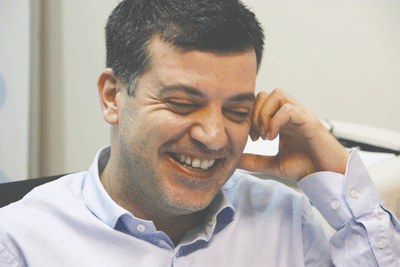 The show delves into the emotionally fraught politics of the Middle East — there is no escaping the long-running, maddening Israeli-Palestinian conflict — but the human fears and foibles of both the Jewish and Arab characters provoke laughs. Arab Labor traffics in an outsider brand of humor that is familiar to Jews in the Diaspora.
Two episodes of Arab Labor, with English subtitles, will be shown on the evening of March 7 at the Sabes JCC, when Kashua appears as part of the Minneapolis Jewish Film Festival and the Culture Blvd – Israeli Author Series.
The fourth season of Arab Labor is now in the works, according to Kashua. "We finished shooting a month ago, and we're in the editing room… hopefully, in a few months it will be ready for broadcasting."
I've only seen complete episodes from the first season of Arab Labor, but snippets from the first three seasons can be found on the Web. In Season 3, Amjad goes on the Israeli version of the reality show Big Brother, and becomes a national celebrity in Israel, "in a very neurotic, funny, pathetic way," comments Kashua. "He becomes, as he says, the most-known Arab in Israel — probably just like myself, unfortunately."
Kashua quickly corrects himself.
"No, it's not true, actually. I'm not the most known [Arab in Israel]; maybe, when it comes to writing." He says that Arab Israeli "Knesset members and politicians and football players are much more famous than me."
Kashua adds that the Israelis who recognize him on the street "are Haaretz readers and they don't really bother. Haaretz readers are a unique group."
Arab Labor has become such a phenomenon in Israel that mainstream politicians are getting into the act. In Season 3, Jerusalem mayor Nir Barkat has a cameo role. "He agreed to be part of it," Kashua remarks, regarding the mayor's appearance in the episode titled "Foreign Correspondence."
"In the fourth season, we were very happy also, because we wrote an episode with [Isaac] 'Buji' Herzog, he's a politician, used to be the minister of tourism. So, he agreed and he appears in the second episode of the fourth season." (Herzog is also the son of former Israeli President Chaim Herzog and Aura Herzog.)
Although American Jews likely will miss some of the Israeli-centric references in Arab Labor, many of the hilarious culture clashes between Jews and Arabs are accessible to a wide audience. In the third season episode titled "The Ultra-orthodox Homecoming," Amjad seems to be somewhat dizzy from his fame, and declares, "Through Judaism and Kabala, we'll bring peace to the Middle East." An Orthodox yeshiva invites him to Shabbat services — and to read from the Torah, no less.
"By mistake, of course," Kashua comments on this particular mishap. "He was invited as if he was Jewish. Actually, I love that episode very much."
Kashua explains that the Jerusalem yeshiva depicted in the episode is the center for ultra-Orthodox Jews — "a militant group of people" — who try to break up mixed Arab-Jewish couples. They confuse Amjad with his Jewish photographer, Meir, who is married to Amal, a lovely, politicized Arab-Israeli lawyer. Amal is played by Mira Awad, a rather famous singer in Israel.
The ultra-Orthodox Jews finally figure out that Amjad, who delves into the Torah and becomes "deeply in love" with Judaism, "is not Meir, and he's kicked out from the synagogue," adds Kashua.
One of my high school teachers used to say that the essence of comedy is in showing people to be worse than they actually are. I suggested that the character of Amjad is an exaggerated version of Kashua, as far as hyping the writer's negative qualities to an absurd degree.
"I really don't know," Kashua responds. "Maybe it started like that — the first season, a little bit. Of course, I am taking from things that I experience in my daily life; but then Amjad got his own life, so I'm writing for Amjad… [in the show's fourth season] he gets his own private life that I have to invent."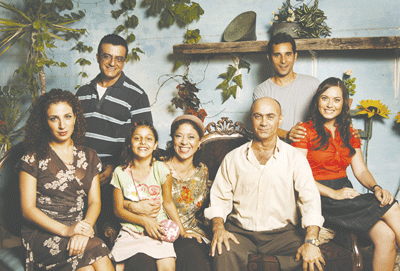 Kashua does not shy from the topical issues roiling Israeli society. He knows the lay of the land since he has worked continually as a journalist for local newspapers, in Tel Aviv and Jerusalem, over the past 16 years. Kashua explains that he always pursued both journalism and fiction writing, although early on he published "a few short stories in anthologies."
This mix of writing continues, as he is "trying to write novels, trying to work for TV, trying to work for Haaretz."
If you are interested in getting a sense of Kashua's take on current affairs, his Haaretz columns, in English translation, are archived on the Web. A recent column is titled "What exactly is this thing the Jews call 'Arab mentality'?" Kashua reflects on the grim news out of Syria, and notes:
Sometimes when I am reading about or watching what is happening between the Sunnis and the Shi'ites and the Alawites and the other groups, I am reminded of the battles between tribes and the wars that occasionally broke out within the Islamic empire.
All those stories we learned in history class that seemed semi-fictional, illogical and at times even ridiculous — here it was, happening again, practically under the wings of those same slogans, with practically the same motivations, plots and intrigues.
The writer then reflects on how the so-called Arab spring will impact his Arab Israeli compatriots, "because of the understanding that nothing is going to change in the [Israeli] state's attitude toward me if the Arab world isn't going to change. For me, too, because of the formula imposed by Israel, according to which we have to be thankful that we are not in Syria and not in Cairo. True, the average Israeli will admit: You are not equal, but you still don't have anything to worry about. The fact is you're not being slaughtered in the streets."
It should be mentioned that Kashua's honest portrayals of Arab Israeli characters are not beloved by all of his fellow Arabs, or Palestinians. Kashua writes in Hebrew, has become a celebrity in Israel, and some Arabs think that his lampooning of certain features of Arab family life crosses the line of decorum at times.
In any case, Kashua is unbowed and is working on his fourth novel. His first two novels, Dancing Arabs and Let It Be Morning, have been translated into Arabic. And he mentions that his latest novel, Second Person Singular, has not yet become available in an Arabic version — but the volume has sold 80,000 copies and is a "huge success."
With Second Person Singular, Kashua has risen to the top rank of Israeli novelists. Apart from his keen insights into the peculiar lives of Arab Israelis residing in the Jewish states, he is a felicitous and compelling prose stylist. I'm reading Let It Be Morning now, and Kashua's portrayals of Arab village life in northern Israel bring to mind the characters in Yoknapatawpha County, as sketched by the great American writer William Faulkner.
When I talked with Kashua last year, he was in Boston as part of a publicity junket for Second Person Singular (6-8-12 AJW). We talked of his reputation as the "only Jewish writer in Israel," in reference to his particular style of humor, which bears the stamp of Diasporic Jewish comedy. Kashua is a great fan of Jewish writers in America and elsewhere, but finds that something is missing from the Jewish Israeli funny bone, since 1948.
When Etgar Keret appeared here last November, I had the chance to chat with the popular story writer. Kashua's name came up, and Keret claimed the copyright on the previously cited line about Kashua being the only Jewish writer in Israel.
But Kashua counters, "I always say that Etgar Keret and Aharon Appelfeld are the only Jewish writers in Israel."
Kashua explains that Keret's writing still really reflects a "Diaspora, minority" sensibility, so "he's still good enough to be called a Jewish writer and not an Israeli writer."
In the case of Appelfeld, a world-class writer and Shoah survivor, Kashua says, "He still doesn't know that he made an aliya. He still also lives in the Diaspora, in his writing."
***
Sayed Kashua will appear at the Minneapolis Jewish Film Festival 7 p.m. Thursday, March 7 at the Sabes JCC, 4330 S. Cedar Lake Rd., St. Louis Park. Episodes of the Israel sitcom Arab Labor (Hebrew and Arabic, with English subtitles) will be screened. Tickets are $12 general, $10 Sabes JCC members, students and seniors. Recommended for ages 16 and up.
This event is co-sponsored by the Israel Center of the Minneapolis Jewish Federation, as part of the Culture Blvd – Israeli Author Series.
(American Jewish World, 3.1.13)