By ELANA WARREN / Assistant Editor
Hadar Pe'er is in the Twin Cities to educate and spread a message. As the St. Paul Jewish Federation's shaliach, or Israel emissary, he brings Israel to Minnesota, and he hopes to create a community of inclusion.
Pe'er, 26, grew up in Lod, Israel; most recently he lived in Rehovot. He enjoys music and playing violin, cooking vegetarian food, and animals, especially his two dogs back home.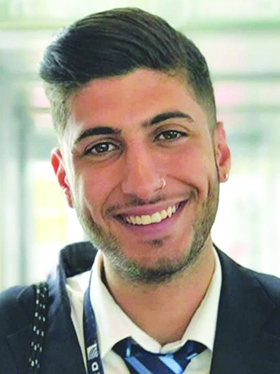 "I think he's going to make an imprint in St. Paul, and I think he's going to be hard to forget," Stacy Dockman, the Federation's community program director and Pe'er's supervisor, said. "He will bring a lot of compassion and his voice to help teach us and bring us together so that we are all one for Israel."
In his two years here, Pe'er will create programs and teach about Israel in three St. Paul synagogues, the St. Paul JCC and the Talmud Torah of St. Paul. So far, he has led activities that represent Israel at the JCC's Camp Butwin: He taught Hebrew slang, helped campers create their own Tel Aviv graffiti, prepared chocolate balls and baked challa with campers.
With summer coming to an end, Pe'er will soon do more in the synagogues: He did a challa bake at Beth Jacob Congregation, where he got to introduce himself and a recipe he brought from Israel, and next he will invite people into the sukka during Sukkot for an exhibition about Israeli society.
Pe'er is well prepared for the job, having spent his time in the Israel Defense Forces as a teacher soldier, helping high schoolers decide which unit of the army to join, and having taken a gap year in Jerusalem to counsel teens about racism, equal rights and social justice as part of Habonim Dror, a Zionist youth movement in Israel and the Diaspora.
"I heard that the Jewish Agency [for Israel] was searching for shlichim, for people that come and be kind of a bridge between these communities, and I really want to be part of it because I think this relationship is very important for the Jewish of America and also for the Jewish of Israel," Pe'er said. He is here "to bring Israel to Minnesota and also to bring Minnesota to Israel."
Pe'er said he thinks the relationship between Israel and the U.S. is becoming tenuous, and he wants to remedy that and clear up misinformation about Israel. He said he is here to share his Israeli story.
That story includes learning to defend himself in high school and hiding in a shield room from missiles. He said Israeli and Palestinian people want peace.
He mentioned the tendency of people to identify with the underdog but pointed out: "Israel [looks like a] very strong place — strong country, strong military — but … civilians are suffering on both sides."
Pe'er went through a long interview process and fought to be here to bridge Israel and Minnesota. "What I'm doing is important, and I do it because … I love Israel, and I want to bring Israel to all of the Jewish community and all of the non-Jewish [community, too]."
Dockman said, "He has tons of passion about where he's from, about his background and about what he wants to bring to the St. Paul community. He is going to do a great job because he loves to teach people about Israel and Israeli traditions, and he's just infectious."
One of Pe'er's messages to the Twin Cities Jewish community is that all Jewish people are accepted, loved and welcomed in Israel.
"We are am echad. Am echad means 'one people.' And we have a lot of colors in our Jewish community in the world, and it's important to accept each color," he said. "LGBTQ who are Jewish like me and Ethiopia Jewish, Russian Jewish — every single kind of Jewish — are one people, are am echad, and we should and we want to accept all."
"I'm here for that: to make it am echad. One people. I want it; I believe."
***
Shaliach Hadar Pe'er can be reached at 651-353-2670 or via email: shlichut@stpaulfed.org.
(American Jewish World, Sept. 2021)