By ELANA WARREN / Assistant Editor
The Polish girl who narrowly escaped death multiple times during the Shoah went on to become an ophthalmologist, mother (and grandmother and great-grandmother), writer, speaker and world traveler. Sabina Szwarc Zimering, who lived in St. Louis Park, died peacefully on the morning of Erev Rosh Hashana, Sept. 6, confirming her status as a righteous person according to Jewish tradition. She was 98.
"For someone who at the age of 16 didn't know if she was going to live another day or not, to live to almost 99 is a real blessing," Zimering's daughter Bonnie Bottoms told the Jewish World.
Remembrance
Though Zimering had dementia in the final years of her life, Bottoms said Zimering's personality was fully intact — through memory loss and speech loss, she was sociable and communicative and joking.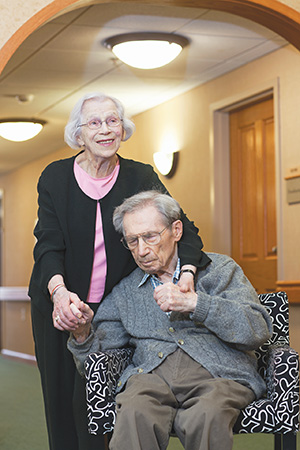 Zimering was a hard-working professional, intuitive, compassionate, generous and devoted to family, said daughter Rose Zimering. "She was gentle and comfortable, and she made you feel that way too," she said.
Bottoms said, "She was just a real treasure, like a very unusual, remarkable woman. She just exuded love and kindness and humor. She had an incredible understanding of people, social and emotional intelligence. Everybody loved her."
Bottoms said she thinks this savviness with people helped Zimering and her sister, Helen Bigos, survive the Holocaust. The girls were able to escape their ghetto on the night it was to be liquidated, with false IDs provided by friends in the Polish underground resistance, the Home Army. Having lived outside of the Jewish district of Piotrków Trybunalski and gone to a Catholic school, they used the false papers and their knowledge of catechism and accent-free Polish to pose within society as Catholic girls.
They ended up as factory workers and then as maids in Regensburg, Germany, in a hotel housing high-ranking Gestapo officers. They lived and worked among Germans.
Once as Zimering was vacuuming, an officer said something like, "I studied the Jewish facial structure, are you sure you're not Jewish?" She said, "Me, Jewish? Of course not! What's the matter with you?" and pretended to be insulted and walked away in a huff thinking that would be the end of her. According to Bottoms, she had many such close calls.
More than survival, Zimering's attributes supported her in her passions: education, work and family. All her life she disliked sewing because she feared she would have to become a seamstress if she could not continue her education. But following the Holocaust, Zimering got her medical degree in Munich, where she met her husband, Ruben Zimering.
Bottoms said Zimering always told her children what her mother told her: "Don't ever depend on a man, and you never know what will happen to you in your life. The most important thing is an education."
As a doctor, Zimering was able to save the very family friends who saved her: She sent hard-to-get medication with food and warm clothes to one sister with tuberculosis and vouched for the other to free her from jail for serving in the Home Army. The younger generations of the two families are still friends to this day.
Zimering worked at Boynton Health at the University of Minnesota before going into a private ophthalmology practice. "They kind of did force her to retire around age 76," Bottoms said. "She wanted to keep going, and her patients just adored her."
Upon retirement, Zimering wrote a memoir about her survival, Hiding in the Open: A Holocaust Memoir, and traveled the country speaking about it. According to Bottoms, Zimering said it was not healing to write the book but that it was an important story to tell. Her story reached even more audiences when it was adapted as a play and staged at St. Paul History Theatre in 2010, among other theaters.
"She was kind of a magnetic person because she was so authentic and so unpretentious and also, I think, quite brave for being able to revisit the terrible pain and loss from her early life," said Bottoms.
Bottoms said Zimering was a natural storyteller and knew how to tailor her talk to her audience. For children, especially, she knew how to intersperse some hope and humor into her story. She'd tell about her first kiss in the ghetto. Even though they had nothing and were starving, they were still people who got crushes.
Her story wasn't irredeemably depressing. Rather than being cut off from the world in a concentration camp, she was mixed into the general population in Poland and Germany. Bottoms commented that her mother saw a mixture of good and bad in people. Her book and her story show what it was like living in the non-Jewish civilization during the Holocaust, and she came out of that without being filled with hatred.
After visiting her homeland with her daughters, Zimering said to them, "I always just wanted to keep moving forward." Rose Zimering said her mom did just that, continually living with optimism, hope and forgiveness.
"We were looking at pictures for the shiva, and Rose turned to me and said, 'Mom was happy in every single one of these pictures,'" Bottoms remarked.
"My mother was a very good role model," said Mark Zimering. He and his sister Rose Zimering are doctors. "Now my two grown children, Yvette and Jeff [Zimering], are both doctors, and Yvette's six-year-old daughter, my mother's great-granddaughter Raya, likes to wear a stethoscope around her neck and call herself Dr. Raya Polan."
With doctors and storytellers and comedians among her children and grandchildren, it is clear that they took after Zimering. They, along with her memoir, will carry on her legacy for a long time to come, with a great-grandson born just 16 days after her death and a great-granddaughter due about a month after that.
Zimering is preceded in death by her husband, Ruben; sister, Helen; and brother, Nate. She is survived by her three children, Dr. Rose Zimering, Dr. Mark Zimering (Laurie), and Bonnie Zimering Bottoms (Richard Erickson), as well as six grandchildren and soon to be four great-grandchildren. Services were held, and donations can be made in Zimering's honor to World Without Genocide (worldwithoutgenocide.org) or the History Theatre (historytheatre.com).
(American Jewish World, Oct. 2021)