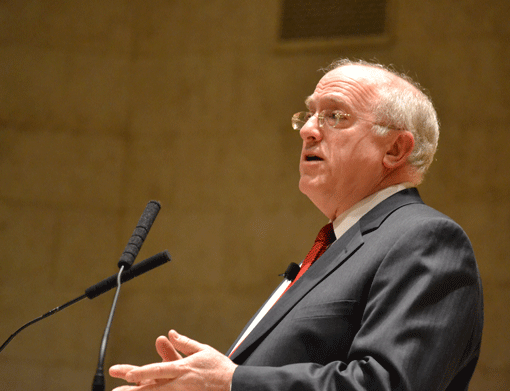 Ambassador Daniel C. Kurtzer spoke at Temple Israel on Wednesday evening, warning that time is running out on a peaceful resolution of the Israeli-Palestinian conflict.
In an event sponsored by J Street Minnesota and the Minneapolis synagogue's Israel Committee, Kurtzer, the former United States envoy to Egypt and Israel, also said that President Obama's upcoming visit to Israel, which is set to begin March 20, must be more than a photo op for the president; it must be an opportunity to strengthen the strategic position of the U.S. in the Middle East through the promotion of a peace deal.
Kurtzer, who also served as the commissioner of the short-lived Israel Baseball League in 2007, recently edited Pathways to Peace: America and the Arab-Israeli Conflict. He also is the author of The Peace Puzzle: America's Quest for Arab-Israeli Peace, 1989-2011.
Eric Schwartz, dean of the Hubert H. Humphrey School of Public Affairs at the University of Minnesota, introduced Kurtzer.