By MORDECAI SPECKTOR
Sandra Bernhard told actor Alec Baldwin that she enjoyed spending eight months on a kibbutz, after her high school graduation, vacuuming the lungs out of chickens.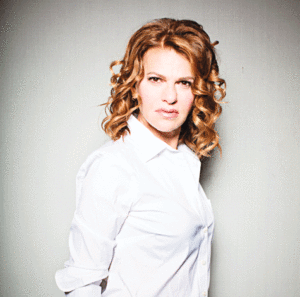 In an interview last year for Baldwin's Here's the Thing podcast, Bernhard, 62, recalled her fun time in Israel many years ago. Regarding her work on the kibbutz, she said, "I did several things; I worked picking grapefruits and oranges, and then my main job was working in the slaughterhouse… I was on the assembly line. Chickens come down, everybody took out different parts, my main thing was pulling out the lungs. I vacuumed lungs out of chickens."
Baldwin seemed nonplussed by her statement.
"I'm a worker, I like to work," she explained, about her love of manual labor, house cleaning, laundry and whatever.
When Bernhard comes to town Nov. 16, she likely won't eviscerate any chickens onstage at the Cedar Cultural Center in Minneapolis.
The star of stage, screen and TV will bring her show "Sandra Monica Blvd: Coast to Coast," a mix of songs and patter, to the renowned world music venue on the Minneapolis West Bank.
What will folks see when she takes the Cedar stage?
"It swings… from the very personal to pop culture to what's sort of slightly in the news — but I try to stay away from things that have been discussed ad nauseam," Bernhard explained, during a phone chat with the Jewish World last week.
"I always try to do my own ironic turn on everything, whether it's topical or personal," she added. "And it's all interwoven with music, 'cause I bring my band, the Sandyland Squad Band, then I sing… It's sort of a whole event."
She will be backed by Mitch Kaplan on piano, her musical director since 1985, and a local guitarist and drummer. "More than ever, it's cost-effective to use local musicians," she commented, "and I think it's kind of cool because there are so many talented people around the country, and it's fun to work with new people."
Prior to becoming a show business icon, Bernhard spent her early years in Flint, Mich., then moved with her family at the age of 10 to Scottsdale, Ariz. Then the kibbutz experience, followed by beauty school and more than five years toiling in a Los Angeles hair salon. In L.A., Bernhard started performing stand-up comedy in clubs.
Moving forward in the thumbnail bio, Bernhard caught a huge break when she was cast in The King of Comedy, the underrated 1982 film directed by Martin Scorsese. At the age of 25, she was acting opposite Robert DeNiro and Jerry Lewis.
In interviews, Bernhard has noted that Lewis, who died Aug. 20, was an intimidating person to work with. He also was one of her comedy role models.
Bernhard mentioned that the film has been re-released in a special edition. "It was the kickoff of a big part of my career. It was a great experience working with all of those people. Jerry was a man of my father's generation, a misogynist, not a particularly nice person, but certainly fascinating to work with."
Her breakout role as the lunatic Masha in The King of Comedy led to Bernhard's solo show I'm Your Woman, a not too successful record album, and then the 1988 off-Broadway show Without You I'm Nothing, a cult hit that was adapted for the 1990 film of the same name. The show also was recorded and released as a double album.
In 1991, Berhnard was cast as Nancy Bartlett on the popular sitcom Roseanne. She became one of the first actresses to play an openly lesbian character in a prime time TV series. In the course of a pretty amazing career, Bernhard has posed nude for Playboy magazine, and acted in a number of other TV shows and feature films. She continued to enjoy success with her solo theatrical shows, I'm Still Here… Damn It! (also filmed) and Sandra Bernhard: Everything Bad and Beautiful.
On the personal side, Bernhard's daughter, Cicely, has entered college. And the entertainer has been in a longtime relationship with Sara Switzer.
Bernhard announced that she had to wrap up the interview and get to her radio show. She has been hosting a daily show, Sandyland, on SiriusXM Radio's Radio Andy channel, which is headed up by Andy Cohen. (I don't subscribe to Sirius and have never heard her show.)
Also, Bernhard appeared in the comedy series Difficult People last year; she's friends with Julie Klausner, who co-stars with Billy Eichner in the show about two New Yorkers on the far fringes of show business. She also has had a small role in the new seasons of the Comedy Central series Broad City, which stars the Laurel and Hardy of the millennial generation, Abbi Jacobson and Elana Glazer.
"It's always great to come back to cities that I enjoy being in," said Bernhard in parting, regarding her upcoming return to the Twin Cities.
She mentioned that she has gained a new following through her radio show: "It's fun when people who haven't seen me perform live get to see me and are pleasantly surprised to see something they didn't know about or didn't expect. I'm just excited to come back and do a great performance there."
***
Sandra Bernhard performs 8 p.m. Thursday, Nov. 16 at the Cedar Cultural Center, 416 Cedar Ave., Minneapolis. For tickets, go to: thecedar.org or call 612-338-2674, Ext. 0, between 12 and 4 p.m. M-F ($2 fee per ticket).
(American Jewish World, 11.03.17)