Dance work is conceived and choreographed by Ranee Ramaswamy, of Ragamala Dance Company
AJW Staff Report
Tamara Nadel, a founding member of Minneapolis-based Ragamala Dance Company, will perform a solo dance concert titled "Haven't I Hidden Your Name" Nov. 16 at Beth El Synagogue in St. Louis Park.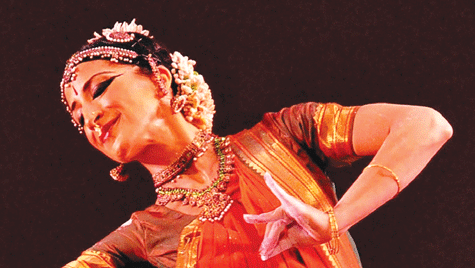 The concert is rooted in the writings of Sephardic poets of medieval southern Spain, a period of Jewish-Muslim comity known as the "Golden Age" of Jewish culture.
An original musical score — with compositions by Cantor Basya Schechter, Lalit Subramanian and Vinod Krishnan — was commissioned for this work, and weaves together Jewish and South Indian musical genres and instrumentation.
The dance concert was conceived and choreographed by Ranee Ramaswamy, founder and co-director of Ragamala. Nadel has been a student and disciple of Ramaswamy for some 20 years.
Nadel told the Jewish World that the upcoming performance "represents for me an exciting opportunity to explore themes of love, longing and devotion — which are so important to [the South Indian dance form of] Bharatanatyam — through the lens of my own Jewish background."
Regarding the poetry selections in the dance work, Nadel said, "In a larger sense, these poets' legacy — and their roots in a period of Islamic rule known for innovations in art and thought that emerged from the intermingling of Jewish, Christian and Islamic communities and traditions — embodies important lessons for us in the modern world."
The musical ensemble for the Nov. 16 concert will feature vocalists Cantor Audrey Abrams and Vinod Krishnan; Rohan Krishnamurthy, percussion; Krishna Parthasarathy, violin, and Pat O'Keefe, clarinet.
Cantor Abrams and Prof. Shana Sippy were consultants for the dance work.
"Haven't I Hidden Your Name" will take place 7:30 p.m. Thursday, Nov. 16 at Beth El Synagogue, 5225 Barry St. W., St. Louis Park. For information and tickets ($10 in advance, $15 at door), call 952-873-7300, or go to: bit.ly/dance-at-beth-el.
This event is sponsored by Beth El.
***
In a related event, Prof. Stacy Beckwith, of Carleton College, will speak on "Your Name in My Heart: An Introduction to Medieval Spanish Jewish Poetry" 10 a.m. Sunday, Nov. 5 at Beth El Synagogue. Admission is free.
(American Jewish World, 11.03.17)