Randy Harmsen received advice from Zingerman's in Ann Arbor, Mich., and sent his general manager to train there for two weeks
By ANTHONY WEISS
SALT LAKE CITY (JTA) — Going back to his very first bite of a Reuben more than 50 years ago, Randy Harmsen has always loved deli food. So when he decided to open his own restaurant, the Salt Lake City native followed in the footsteps of his heroes, who founded establishments like Katz's in New York, Langer's in Los Angeles and Zingerman's in Ann Arbor, Mich.
But although Harmsen's 9th South Deli is stocked with deli classics like succulent pastrami and crunchy pickles, it differs from the predecessors who inspired it in at least one key regard: Unlike the Jewish founders of Katz's, Langer's or Zingerman's, Randy Harmsen is Mormon and a former bishop in the Church of Jesus Christ of Latter-day Saints.
Harmsen first sampled deli food as a teenager in 1963 at the delicatessen of Lu Dornbush, a Dutch-born Holocaust survivor who maintained a shop in downtown Salt Lake City, and was immediately taken with the cuisine. As he subsequently traveled for work — he ran an engineering firm — Harmsen always made a point to seek out delis in whatever city he happened to be in and try their offerings.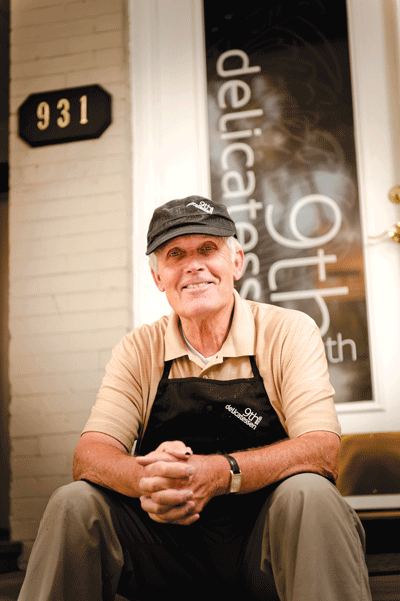 Part of the appeal, of course, was the taste. In addition, as Harmsen learned more about the history of Jewish immigrants and their foods, he came to see a parallel between deli food and the fare of the early Mormon pioneers.
"It was a low-priced soul food for the Jewish population," Harmsen told JTA. "When it first came they were quite a poor population, so they learned to make delicious food out of very simple things. We did the same thing with very basic foods and try to make them savory by using some spices."
However, Harmsen says, Mormon food — famously heavy on casseroles and Jell-O molds, along with starches and boiled meats — wasn't always as much to his liking.
Like many Mormons, Harmsen also sees deeper connections between the Mormon experience and that of the Jews. Harmsen's great-great-grandfather, William Clayton, was part of the original Mormon settlement of Navuoo, Ill. Clayton accompanied Brigham Young in the wagon train of Mormon pioneers who fled persecution and ultimately founded Salt Lake City. ("If I were in Israel, I'd be a sabra," Harmsen quipped.) That migration is known as the Mormon Exodus.
Harmsen and his wife are also deeply involved in the Mormon church. He has twice served as a bishop, a volunteer position overseeing approximately 500 people. They lead the music for a Mormon children's group for ages 3 to 11, with Harmsen playing piano and his wife leading the singing.
Harmsen has eaten his way through delis across the country, and he rates the original kosher Second Avenue Deli, which was on New York's Lower East Side, as the best he's tried. But the most important deli he visited on his journey to restauranteur was Zingerman's. He was introduced to its fare by his son, who attended the nearby University of Michigan. Harmsen tried the Reuben and was floored. He became a devotee, and when he decided to sell his engineering business a few years later and thought about opening his own Jewish-inspired deli, he returned to Zingerman's for advice.
"They said, 'You want to make a million dollars in a delicatessen?' and I said, 'Well, that would be nice.' They said, 'Start with 2 million,'" Harmsen recalled.
But they agreed to help Harmsen launch his dream. He studied the deli business at Zingerman's for about 30 days over the course of a year, then hired a general manager and sent her to train there for two weeks.
Harmsen also took research trips to New York and Los Angeles to find the best source of pastrami, and ultimately found his favorite at Langer's Deli, which directed him to its supplier, RC Provision Inc. He then leased a space in a renovated Victorian house in the eclectic shopping district of this city's hip 9th and 9th neighborhood, across the street from a yoga studio, and decorated with assistance from his wife. The 9th South Deli opened in February 2011 and promptly earned positive reviews from local publications (albeit with complaints about the "New York prices").
Sustaining a deli in Salt Lake City is no simple task, especially given that the Jewish population in all of Utah is under 6,000. Dornbush retired in 1978, shutting down his place. The city had trouble maintaining a deli afterward. The Chicago Deli, which opened in 1994, lasted only a few years before closing.
The market became even more crowded when Feldman's Deli opened in late 2012. (A third Jewish deli, Kosher on the Go, largely caters to observant Jewish customers.) Feldman's owner, Mike Feldman, who is Jewish and grew up in Newark, N.J., said that a visit to 9th South left him convinced that there was still an opening in the city for a truly traditional deli.
"The difference is that we grew up with deli, so we do all the traditional things the old-fashioned way," Feldman said. "There's a couple times when I've been in his deli, and I could tell he didn't grow up with it."
Feldman cited the rye bread and the mustard, in particular, as not meeting his standard for authenticity. (9th South offers a choice of dijon, yellow or whole grain mustard, while Feldman's uses a spicy brown deli-style mustard.)
Harmsen acknowledges that the opening of Feldman's has likely cut into his business.
"I think Salt Lake is a little small to have two Jewish delis, but our doors are still open," he said.
Harmsen also argues that some of his choices, such as offering pumpernickel as the standard bread for a pastrami sandwich rather than rye — it's available upon request — is rooted in his own sense of authenticity.
"In our research, pumpernickel was the original pastrami bread," Harmsen said. "Pastrami is out of Romania, which is a pumpernickel area."
In addition to pastrami and corned beef, 9th South does also have a few less Jewishly traditional sandwiches on its menu, including ham and cheese, turkey and bacon, and pastrami with cream cheese and scallions.
But certainly some of Harmsen's customers are satisfied.
"I loved it — ate every bit of it," said Roger Hancock of his just-consumed pastrami sandwich. "And I'm from New York originally, so I know Jewish delis."