Early in my career at the Jewish World, likely while writing an obituary for a member of our local community, the thought occurred to me that perhaps one day I would be writing about one of my parents. That day has come.
On Tuesday, Nov. 2, my father, Harold Specktor, died at United Hospital in St. Paul. He was born Oct. 6, 1923, in St. Paul, to Ben and Dora Specktor, immigrants from Russia. He was known to many by his Yiddish nickname, Hersh.
His funeral was last Friday at Temple of Aaron Synagogue. My mother, Anna (née Waller), asked me to speak at the service. I wanted to honor her wish, in her time of great grief; and I dreaded the prospect of delivering the eulogy before friends, family and congregants. I wondered whether or not I would be able to get through it without breaking down emotionally. Somehow I managed to get up on the bima and read the words on the pages in front of me.
The following is a version of my eulogy, with some editing and additions:
When my eldest son, Jonas, was born, my father was a few years older than I am now. I recently turned 60. So, my children and nieces and nephews knew my dad as an older man; but I remember a vigorous man, who was in his late 20s and 30s as I was growing up.
He was a hardworking guy, a carpenter. Doing that job in Minnesota often involved days of rigorous labor in the sweltering heat of summer and winter's subzero cold. Our dad was handy; he fixed and built things with his hands. As a building contractor, he built many houses and apartment buildings across the Twin Cities.
Our dad shared his passions for fishing and sports with his children. As a teenager he played basketball and football. He was raised on the old West Side of St. Paul. Displayed in the family room is a photo of his Neighborhood House football team — National Intermediate National Football League Champions in 1940. He was a graduate of Humboldt High School, class of 1941, and played clarinet in the band.
As an adult he played softball, basketball, bowled, coached our Little League baseball teams, and football teams at Hillcrest Playground in Highland Park.
And when he imparted his knowledge — about fixing a gadget, solving a homework problem or casting a fishing lure — or offered his solution to a social issue, he was always infinitely patient and soft-spoken. (Note: This line was included to elicit laughter from my family and friends, and to lighten the somber mood. My father was not "infinitely patient and soft-spoken.")
Our dad fought with the U.S. Army in World War II, rising to the rank of corporal with Company C of the 263rd Engineer Battalion, 63rd Infantry Division. He served more than 15 months in France and Germany, and was awarded two battle stars. He often regaled his family, and anyone he met in any kind of social encounter, with stories from his army days. He contributed photos from the European Theater that are on display in the Minnesota Historical Society's Greatest Generation exhibit. Hersh also is one of the vets whose testimony is featured in Our Jewish Veterans Remember Word War II, a book edited by Judy Brier and Linda Mack Schloff for the Jewish Historical Society of the Upper Midwest.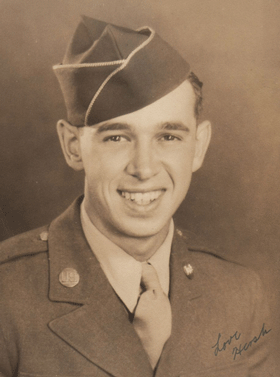 According to his military separation papers, our dad managed a crew of "prisoners of war and a Polish Guard Company," and supervised these workers "in doing all types of manual labor."
He was involved for many years with the Jewish War Veterans of the U.S.A., St. Paul's Abrahamson-Biglow-Spector Post 354. He served as president of the 63rd Infantry Division Association, when the organization held its 50-year anniversary gathering in 1998, in Denver. He also was a life member of the VFW.
After returning from the war in Europe, our dad met a girl from the North Side of Minneapolis, Anna Waller. They courted and were married on Dec. 7, 1947, at the old Temple of Aaron Synagogue. Our folks' union produced me, Murray, Stacy and Jonathan.
When he wasn't working or fishing, our dad cherished his time with his family, especially precious moments with his grandchildren: Jonas, Max and Isaac, Robb, Eli and Zoe, who are all here in the sanctuary; and Ariel and Oliver, who are at home in Dublin, Ireland, with their mom. For his grandchildren's sporting contests, music and dance recitals, and jazz band concerts, Grandpa was there. Dad loved his daughters-in-law, Maj-Britt and Alessia. He tolerated his son-in-law, Steve. (Note: This is another attempt at levity; my father was fond of his son-in-law, Steve Finkelstein.)
Last month, on his 87th birthday, our dad celebrated at home surrounded by his children and grandchildren. He mentioned this week how much he enjoyed that warm, wonderful evening.
Our dad encouraged his children to apply themselves in their studies, and in Hebrew and religious school. His children all celebrated their B'nai Mitzva at Temple of Aaron. My family belongs to this congregation; and, somehow, I became the editor and publisher of the American Jewish World, the newspaper of Minnesota's Jewish community. In his way, our dad encouraged Yiddishkeit; he supported liberal causes as a reflection of his understanding of the Jewish experience of repression over the ages. On Monday, he voted; I was his absentee ballot agent and helped him fill in the ovals.
Our dad was opposed to bigotry. And he supported his grandson, Max, over the more than two years of a felony conspiracy prosecution in Ramsey County court, which ended last month.
In recent weeks, my father was suffering complications from congestive heart disease. His kidneys were failing, his blood pressure was too low. My dad was lucid to the end, and emphatically expressed his belief that his quality of life had deteriorated to an unbearable extent. He was ready for the onset of what he called "the inevitable"; mercifully, on Tuesday night, he dozed off and entered Olam Ha'Ba, the world to come.
He had his doubts about the afterlife, which he aired during a medical conference Monday at United Hospital; but we all hope that he was wrong on this point. We hope that he is sitting in a fishing boat with his buddies, on a lovely woodland lake, under a warm sun, catching heavenly crappies and sunfish, eating salami sandwiches and halvah; and telling his war stories to eager listeners.
Hersh has gone fishing, for eternity.
***
That's more or less what I said in memory of my dad last Friday at Temple of Aaron. Shiva, the seven days of intense mourning, is coming to an end; and then we go through shloshim, the 30-day period of Jewish mourning, with its rituals and restrictions intended to protect the soul of the departed, and to ease those who are still here back to mundane life.
I offered a sentimental vision of heaven in my eulogy; but Judaism, while allowing for a life after this one, and hoping for the appearance of the messiah and the redemption of the world, emphasizes the importance of what we do in this life. Our prophetic tradition inspires us to repair the frayed social fabric and lift up one another.
And our sources tell us that these sad days are part of the give and take of life: "To everything there is a season/And a time to every purpose under heaven./A time to be born and a time to die… A time to weep and a time to laugh…"
Or, in the words of the African-American spiritual, "I know that trouble don't last always."
— Mordecai Specktor / editor@ajwnews.com
(American Jewish World, 11.12.10)