If you grill or poach some fish and serve it right on top with a squeeze of fresh lemon juice, you have yourself a dinner that is healthy and delicious
By SHANNON SARNA
(The Nosher via JTA) — Quinoa is not one of my go-to foods. In fact it's one of my least favorite foods right up there with frisee lettuce and tomato sauce baked fish. Generally I find quinoa pretty tasteless, boring and far too healthy to actually enjoy.
That is until I dined recently at an Israeli restaurant in Montclair, N.J., called Mish Mish. That evening they had a special: red quinoa tabbouleh with grilled fish and labne that I could not stop shoveling into my face.
Almost everything else I ate there was equally delicious: perfectly creamy hummus, spicy shakshuka and braised lamb. But I couldn't stop raving about the quinoa salad, and so I needed to go home and try to recreate it.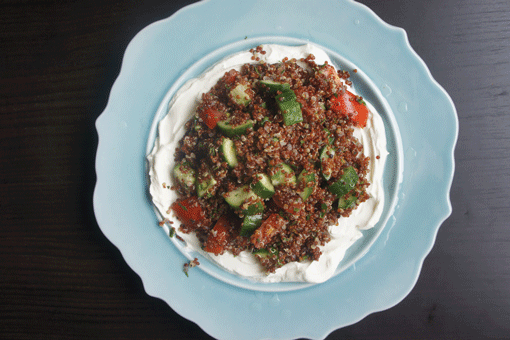 One trip to Whole Foods later to procure some red quinoa, and we were in business. This salad is surprisingly hearty and makes a great lunch. But if you grill or poach some salmon (or another fish of choice) and serve it right on top with a squeeze of fresh lemon juice, you have yourself a dinner that is healthy and delicious. Ugh, I can't believe I just wrote that, but really it's true.
Red Quinoa Tabbouleh with Labne
Yield: 4 Servings
Ingredients:
1 cup red quinoa
1 tsp. olive oil
Water
8 oz labne
1 large English cucumber or 2 Persian cucumbers, cut into 1/4 inch pieces
1 large beefsteak or Jersey tomato (diced), or pint cherry tomatoes (halved)
Juice of 1/2 lemon plus 2 tsp. zest
1/4 cup chopped flat leaf parsley
1/4 cup chopped fresh mint
Salt and pepper to taste
Additional extra virgin olive oil
Directions:
Rinse quinoa well.
Place quinoa and 1-1/4 cups water, 1 tsp. olive oil, 1/2 tsp. salt and 1/4 tsp. pepper into a small pot. Bring to a boil and then reduce heat to low for 10 minutes. Remove from heat, fluff with a fork and cover again for another 5-10 minutes.
Mix quinoa with cucumbers, tomatoes, lemon juice and zest, mint, parsley and salt and pepper to taste.
Spread labne all over large plate. Top labne with quinoa tabbouleh. Drizzle with additional good-quality olive oil and extra squeeze of lemon juice. Serve immediately.
***
Shannon Sarna is editor of The Nosher.
The Nosher food blog offers a dazzling array of new and classic Jewish recipes and food news, from Europe to Yemen, from challa to shakshuka and beyond. Check it out at: www.TheNosher.com.