A live taping of the unpredictable Not So Kosher podcast will take place Jan. 26 at the St. Paul JCC
By ERIN ELLIOTT BRYAN / Community News Editor
Becca Kvasnik and Bobby Schnitzer, also known as Bexy and Bobby, have ventured into new territory with their unpredictable podcast Not So Kosher. Each week, Kvasnik, a "self-proclaimed domestic engineer," and Schnitzer, a writer, producer and percussionist, give listeners their unique take on all things Jewish and funny going on in the Twin Cities.
Twin Cities Jewish Humor Festival
"There is no Jewish content of this nature in the Midwest area as a podcast," Kvasnik told the AJW in a recent phone interview. "I am part of the Jewish community, always since I was born and raised in Highland (Park) and still live there, and I just wanted there to be something out there for us to listen to."
Kvasnik and Schnitzer will host a live taping of the podcast on Jan. 26 at the St. Paul JCC, as part of the seventh annual Twin Cities Jewish Humor Festival, a partnership of the St. Paul JCC and the Sabes JCC. The event is for ages 18 and older, for language and content.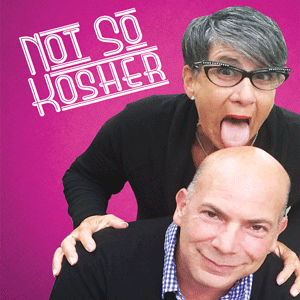 In the Not So Kosher podcast, Kvasnik and Schnitzer offer their own "Jewy" rants and weekly shtick, such as "Kvetch of the Week," "Jewcy News," "Jewpardy" and "Jewth or Dare." They also play games, such as Cards Against Humanity, though Kvasnik said the content is different each week.
"Most of our shows are just shooting the sh–," Kvasnik said. "It's like, 'This is what I did this week' and then we bitch about a Comcast bill or something. I prefer it when we're just doing our thing and saying whatever we want to say."
The Not So Kosher podcast is available on Thursdays at 7 p.m., and can be downloaded on iTunes or Spreaker.com. The majority of the podcasts are labeled as "explicit" for crude language.
Kvasnik says that the nature of podcasting works well for her, as the granddaughter of Cecil Glickman, who opened Cecil's Deli in St. Paul.
"I've always been known as having Cecil's filthy mouth," Kvasnik said.
But the podcast also offers a variety of interesting guests, such as musicians Peter Himmelman, Adam Levy and Dan Israel; psychic Jodi Livon; Marley Richman, the Jewish arts and culture coordinator at the St. Paul JCC; and Shark Tank winner Neal Hoffman, the creator of "Mensch on a Bench" (the Jewish version of "Elf on the Shelf").
Prior to the podcast, Kvasnik was creating a series of videos to promote new businesses in the community, titled "Bex UnleaSHEd." When she approached Schnitzer to do a video about him, they got to talking and came up with the idea for a podcast.
"He said, 'I don't want to do a video, but do you do any of the podcast stuff?'" Kvasnik said.
The Not So Kosher podcast is part of Kvasnik's newly created Back Room Stewdios network, which is open to podcasts created by other people. The network will also be available for new projects from Kvasnik, such as the upcoming Jewbilations podcast that will feature her interviews with Orthodox women in the community.
For the live taping at the St. Paul JCC, Kvasnik plans to put herself and Schnitzer on a round platform on the floor with the audience seated around them, "like the community, like we're all one." Nothing specific is planned and it's up for grabs what will be said.
"I want the audience to feel like they can be a part of the podcast," Kvasnik said. "I'm going to come around with a microphone and they can tell whatever story they want to tell."
***
As part of the Twin Cities Jewish Humor Festival, a live taping of the Not So Kosher podcast will take place 7:30 p.m. Tuesday, Jan. 26 at the St. Paul JCC, 1375 St. Paul Ave. Tickets are $12 in advance or $14 at the door; for information, visit: www.sabesjcc.org.
For information on the podcast, visit: www.notsokosher.net or find it on Facebook.
(American Jewish World, 1.15.16)