German restaurant will no longer cater to group of World War II re-enactors dressed in Nazi garb
By MORDECAI SPECKTOR
Photos from a Nazi-themed party at a northeast Minneapolis restaurant spurred a local controversy last week, and then the news spread around the world.
Both Haaretz and The Times of Israel, an online news outlet, reported on the Jan. 20 party at Gasthof zur Gemütlichkeit, 2300 University Ave. N.E., with participants dressed in Nazi SS (Schutzstaffel) uniforms, and décor featuring Nazi flags and battle ensigns on the walls.
The Web site of City Pages, the local free weekly, broke the story on March 17, with photos of the private party taken by a Gasthof waiter. More photos were subsequently posted of the party, which was described as an annual Christmas party of World War II re-enactors.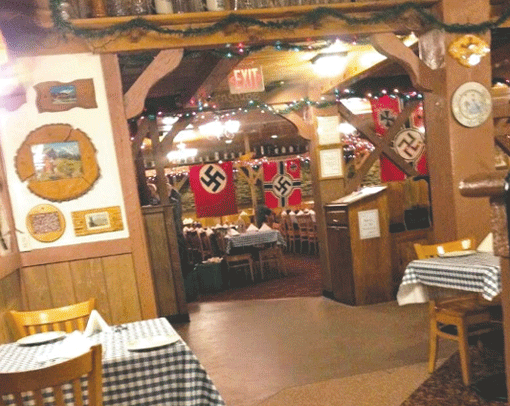 Jon Boorom, a member of WWII Historical Re-enactment Society Inc. and owner of the Lakeville Barbers, told City Pages that the event was like "a Star Trek convention but for WWII enthusiasts."
"All of the German [re-enactment] groups in Minnesota have a Christmas party, because we don't typically have events going on in the winter," Boorom told the newspaper. "It's just like any club that has a party. Because they dress up like Germans from World War II, it's cool to go to a German restaurant, eat German food, and drink German beer."
Gasthof owner Mario Pierzchalski, a native of Poland who has operated the restaurant for 20 years, told the AJW this week that he was blindsided by the controversy.
Remarking on the press attention recently garnered by Gasthof, Pierzchalski said, "I don't want to be famous for this."
"I thought it's legal," commented the restaurant owner, regarding the party for the World War II re-enactment group. "It's legal to have a party. I let them do it [for the past] six years…. They came with their wives here."
The photos of the Nazi-themed party were taken by a Gasthof waiter, who passed them on to a friend, who in turn gave them to City Pages, according to Pierzchalski, who recently fired the waiter.
"I fired the employee, because it was a private party," he said.
Last week, the Jewish Community Relations Council of Minnesota and the Dakotas (JCRC) and the Minnesota Rabbinical Association (MRA) expressed concern about the party with Nazi paraphernalia.
In a letter sent to Pierzchalski, JCRC Executive Director Steve Hunegs said: "Glorification and/or celebration of Nazi Germany and its military would appear to be incongruous with the nature of a family restaurant and its surrounding neighborhood."
A press release sent to the AJW today stated that the JCRC, "in conjunction with the MRA, is looking to assist the restaurant in finding a way forward and honoring Minnesota's World War II veterans and Holocaust survivors by not associating with German military re-enactors. As leaders in the Jewish community, we must convey the horror that this re-enactment conjures for Holocaust survivors and veterans alike, to the owner of the restaurant."
Pierzchalski told the AJW that he had tried to call Hunegs three times, and missed a return call. As the AJW was going to press this week, the JCRC said that Hunegs, who is out of town, talked briefly this week with Pierzchalski, and a face-to-face meeting is being planned.
"I never thought people would be so angry," commented Pierzchalski, regarding the lingering controversy. He allowed that it was his decision to host the party, or to reject the group's business.
He said that he would not host the group's gathering again. "After something like this? I mean, come on. I almost had a heart attack," he remarked, regarding the far-flung controversy.
And Pierzchalski mentioned that he has no animus against Jews, has had Jewish employees, and hired popular local accordionist Mark Stillman to perform at Gasthof.
In a Star Tribune letter to the editor published last week, Aaron Liebo, of Minneapolis, said that he worked as a server at Gasthof for six years, and that Pierzchalski and his wife, Ella, "are extremely intolerant of all bias and prejudice…. I cannot speak for the re-enactment group, but I can wholly support and defend these two generous and loving individuals, and the welcoming establishment."
Another letter published in the Star Tribune was from Dr. Robert O. Fisch, a Shoah survivor from Minneapolis. "I take no offense at the much-discussed photos of men dressed as Nazis," said Fisch. "The individuals were participating in a private party, and their freedom of expression is more important than someone's opinion of their activity."
The news coverage of the party in the Star Tribune quoted Scott Steben, "who characterized himself as a history buff who has landed movie parts as a German soldier."
"I understand the sensitivity of the subject matter and everything but it did occur and it is history," Steben told the newspaper. Steben said that the World War II re-enactors group screens out neo-Nazis or anyone with a criminal record. However, City Pages posted a photo last week lifted from Steben's Facebook page, which show him on a motorcycle with "SS" lightning bolt and death head tattoos on his right arm.
Steben, who dressed up as an SS officer at the Gasthof party, issued an apology of sorts last week, which acknowledged "that some of the items we displayed at the dinner have made people feel uncomfortable. That was not our intent. We are a historical reenactment and professional actor society dedicated to promoting understanding of World War II. In no way are we or any of our members affiliated with groups that promote the subjugation of anyone…. We are currently reviewing our practices so that in the future our members will be more mindful of the unintended effects of the materials we display."
In addition to taking heat from the organized Jewish community, Pierzchalski told the AJW that concerned members of the local Polish community came by the restaurant to talk to him. "I had to explain to them what's up," he said. "I'm Polish, the Germans killed six million Polish people, too."
On the eve of the Nazi occupation, 3.3 million Jews lived in Poland, according to Yad Vashem. Poland had the largest Jewish population of any country in Europe; 10 percent of the Polish population was Jewish, which was also the highest in Europe. At the end of the war, 380,000 Polish Jews were still alive in Poland, the Soviet Union and in concentration camps.
Pierzchalski is from Kozienice, Poland, which the Germans captured on Sept. 9, 1939. Yad Vashem states that a Judenrat (Jewish council under the Nazi occupation) "was soon established and a regime of forced labor instituted. The Jewish population numbered 4,208 in Jan. 1940. In August 1942, refugees doubled the ghetto population and on Sept. 2, 1942, 8,000 Jews were deported to the Treblinka death camp."
The restaurant owner said that he's aware of the history of the Holocaust in his hometown.
Pierzchalski looks forward to the controversy and rancor about the party subsiding; but in the short term that's not in the cards.
The General Defense Committee of the Industrial Workers of the World (IWW) has organized a protest at Gasthof for 7 p.m. Saturday, March 29. An event page on Facebook this week proclaims: "No Nazis in Northeast! No Fascists in Minneapolis / Union & Community Solidarity Against Racism!"
(American Jewish World, 3.28.14)