By BRANDON KLUGMAN
While many people are content to "go green" by turning off unneeded lights and carpooling once in a while, Mike and Marguerite Krause take their efforts a step further, and their passion for sustainability is apparent with a quick look at the roof of the couple's St. Louis Park home.
Champlin-based Powerfully Green installed 15 Silicon Energy 195-watt modules — capable of producing 2,925 total watts of electricity — on the roof of the Krauses' house and garage last fall. The solar panels, which went live Jan. 5, supply energy for the entire house and, at times, send energy back to the grid.
Mike Krause said he and his wife have been interested in environmental issues and conservation since high school. They had been exploring opportunities regarding solar panel installation for a while and, after considering the option to lease solar panels, decided to purchase the system.
"The cost for solar panels had been coming down over the past few years and there were some tax incentive and rebate programs that became available just in the last year or two, so we thought this seemed like a good time to try it," he said.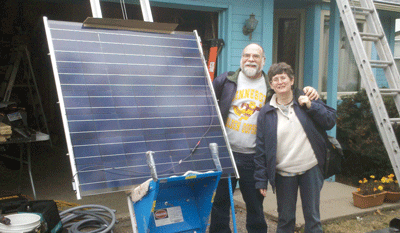 Once the couple decided to work with Powerfully Green to install the panels, the process of applying for rebates from Xcel Energy and the state of Minnesota, as well as applying for city building permits, took more than a month; the physical installation took only three days.
Powerfully Green handled the paperwork and rebate applications, which Vice President Dan Williams said must be done before proceeding with an installation.
"You apply for the rebates first to secure the funding, then you start spending money, meaning then you apply for the building permit and the electrical permit, and move forward with purchasing materials," he said. "That way the customer isn't out money before they're approved for the funds."
Xcel Energy offers homeowners a one-time incentive payment for installing solar panels, which is based on the size of the system installed. Minnesota offers an additional payment for installing panels manufactured in the state. The panels on the Krauses' home were manufactured in Mountain Iron, Minn.
At times of peak production, when the Krauses' system produces enough energy to power their house as well as feed energy back to the grid, their meter spins backwards and banks up a credit with Xcel Energy — known as "net metering" — and Xcel compensates them for that extra energy they supply.
While the solar panels on their roof put the Krauses at the forefront of renewable energy, their commitment to sustainability goes even further. After owning and riding motorcycles for much of their lives, the couple purchased a Zero DS electric motorcycle from Hitching Post Motorsports in Hopkins last fall, which Mike rides.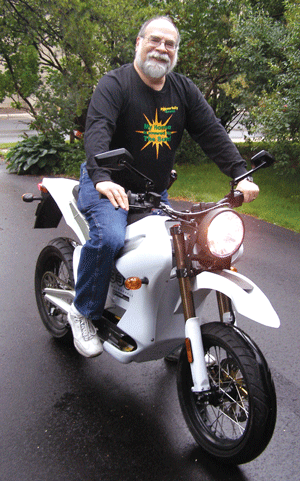 The motorcycle plugs into a standard household outlet to charge. It is capable of traveling up to 15 miles at highway speeds, and 30 to 40 miles at city street speeds on a single charge. The motorcycle takes about eight hours to go from an empty battery to a full charge.
Krause said he uses the electric motorcycle to run errands such as grocery shopping and to travel to his office in Minnetonka. He keeps the motorcycle plugged in when it's in the garage.
The couple had been considering giving up motorcycle riding when they found the electric model at last year's state fair.
"The motorcycle we had been riding didn't get as good gas mileage as our [Toyota Prius] so it was like it's fun to ride a motorcycle but if you're going shopping or whatever, it doesn't make sense economically to get worse mileage," he said.
In addition to the electric motorcycle, the couple is in the process of converting their 2000 Chevrolet S10 pickup truck, which will charge in the same manner as the motorcycle. A company near St. Cloud is installing an electric engine and batteries.
Krause said he looks forward to the truck's extended range compared to that of the motorcycle, which will allow the couple to drive it to Beth Jacob Congregation in Mendota Heights, where they are members.
"If we've got a pickup that'll drive 40 miles at highway speeds we can do that round trip and not use any gas at all, not pollute the atmosphere at all," Krause said.
Krause summed up the couple's commitment to renewable energy and sustainability as an understanding that the earth's resources are limited.
"We want to have as little impact as we can in those areas we can control," he said. "We're not obsessive about it in some ways. There are things that we will do if we can reasonably afford them, if it's not going to cause us to have to downgrade our standard of living significantly. If we can make adjustments that have a lower impact, why not do it?"
***
Brandon Klugman is an editorial intern at the American Jewish World.
(American Jewish World, 6.22.12)