By NATALIE ROSINSKY
My husband and I walked through Jewish history last summer in Montreal.
Thanks to guides from the local Museum of Jewish Montreal, we along with a handful of other curious visitors explored neighborhoods once vital to the Jewish residents of this French-Canadian city. The Plateau neighborhood, the "lower East Side" of Montreal, bustled with tens of thousands of Jewish immigrants until the 1950s saw them disperse into the suburbs. On a two-hour walking tour called "Making Their Mark," we heard their stories as our 20-something guide, Magdalen, pointed out buildings that once housed synagogues, schools and cultural organizations.
The basement windows of an apartment building revealed its past as a YMHA (Young Men's Hebrew Association); we could just glimpse the tiled remains of its popular swimming pool. Next, seeing the timeworn tablets embossed on a former synagogue, now a Pentacostal church, was a moving experience.
It was comforting to know that financial success rather than pogroms or political persecution had led that congregation to leave, taking their Torah scrolls with them. And it was fascinating to see and hear about buildings that had served as small, unofficial shuls and community centers for immigrants from the same shtetls.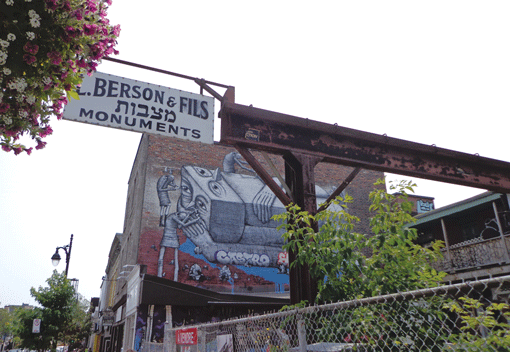 Other Jewish tourists from Boston and Atlanta had no trouble following Magdalen's explanations, but some of our Quebecois companions had questions — not only about Yiddish words, but about the meanings of "cantor" and "kosher."
The next day, we visited the Mile End neighborhood on the "Rabbis, Writers and Radicals" tour. We saw buildings that once housed day schools run by the socially active Workmen's Circle. We learned about Yiddish-speaking young firebrands and the middle-aged rebbetzin who had made hospitals more accessible for Jewish patients. A sign in three languages — Yiddish, French and English — advertised a different kind of important community business: gravesite monuments.
We also saw the boyhood home of renowned writer Mordechai Richler, as well as the still thriving Wilensky's diner he wrote about in his 1959 novel, The Adventures of Duddy Kravitz. Later, we returned to sample some bagels — sweeter and less chewy than New York-style bagels — at the Fairmont Bagels shop just down the block.
Both businesses are part of another, longer walking tour called "Beyond the Bagel — The Food Tour" offered by the museum. If our appetites had been hearty enough for that tour, we might have encountered more of Montreal's large Hassidic community, centered these days in the adjoining Outrement and Mount Place neighborhoods. A fourth walking tour, "Work Upon Arrival," explores the Centre Ville area, which once housed Montreal's extensive garment trade, filled with factories, sweatshops — and union organizers.
One place we could not visit in person was the Museum of Jewish Montreal itself. Founded in 2010, it is not a "bricks and mortar" building but a virtual museum — an online presence maintained by the dedicated staff who oversee and organize these warm-weather walking tours. That staff continues to develop and expand the museum's Web site, which "houses" three virtual tours as well as an ongoing oral history collection.
Watching and listening to its virtual tour of Montreal's cantors and cantorial music, titled "Between These Walls," is a treat you do not need to travel to enjoy. Its narration, photographs, and stirring music are all available at: imjm.ca/hazzanut, while other exhibits and information can be found at the main museum Web site: imjm.ca.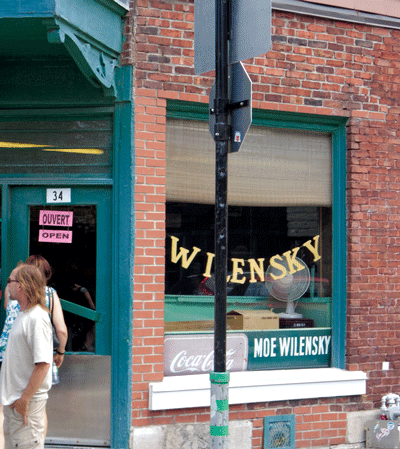 You can also visit Jewish Montreal through the rich literature it continues to inspire. The Mile End neighborhood has even lent its name to two recent works, Michel Hellman's graphic memoir Mile End and Sigal Samuel's brand-new novel, The Mystics of Mile End, which was recently reviewed in these pages (12-4-15 AJW).
Hellman's memoir opens with cartoonish figures sitting outside the landmark Wilensky's diner, but it really focuses on the many "hipsters" — students, artists and young professionals of diverse backgrounds — who have moved into this area in the last 15 years. They have replaced much of the earlier Jewish population, including Hassidim, who used to live there.
Today's Mile End is a somewhat grittier version of New York City's Williamsburg, with its own upscale hipster community abutting the remaining Hassidic population.
Samuel's novel, on the other hand, is steeped in her own upbringing in an Orthodox Mile End household. It depicts one family's complex relationships and halachically forbidden pursuit of Kabbalistic knowledge. The novel ends on a hopeful note, with "L'chaim" echoing in the ears of a character just about to speak. Rooted in Jewish Montreal, The Mystics of Mile End branches out to touch readers who may never walk its streets.
***
Natalie Rosinsky, a member of Congregation Or Emet and the National Book Critics Circle, blogs about books and related matters at: www.natalierosinsky.com.
(American Jewish World, 12.18.15)