Jewish Luck: A True Story of Friendship, Deception, and Risky Business, by Leslie Levine Adler and Meryll Levine Page, Salt Mine Books trade paperback, 371 pages, $18
Reviewed by NEAL GENDLER
For Vera of Leningrad, "Jewish luck" was a sarcastic explanation for her troubles — and in Soviet Russia, being Jewish was indeed a frequent cause of educational, social and professional disappointments.
Our elders might have said Yiddishe Mazel, and attributed the eventual success of Vera and fellow Leningrader Alla to Yiddishe Kopf — the "Jewish head" with which they could see, seize and build on opportunity.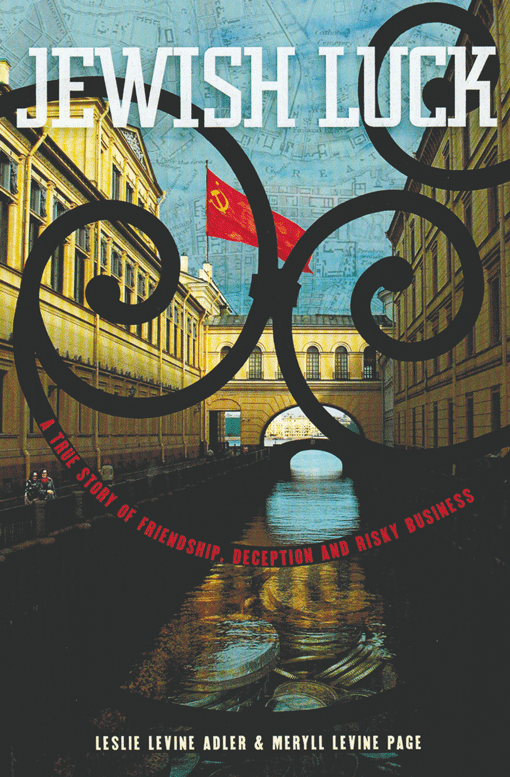 Vera and Alla, about whom we come to care, were academically high-achieving daughters of Soviet professionals, educated through twelfth grade in progressive English-language schools. They met while registering at the prestigious Leningrad Institute of Finance and Economics, second choice to Leningrad State University, which their Jewishness would deny them. Both were determined somehow to be happy and to be free.
The remarkable stories of these women, who became like sisters, are told engagingly by two Minneapolis-area sisters: psychologist Leslie Levine Adler and retired teacher Meryll Levine Page. As memoir, Jewish Luck combines recollection, researched fact, Page's diary and some reconstructed conversations. Clearly written in easy language, it's packed with details, some — including names — changed for safety. The expense of indexing would have helped readers.
At first a bit disconcerting is the authors' involvement with their subjects; the book alternates between first person — mostly Adler — and third, describing Alla and Vera's lives and thoughts.
Adler met Vera on a Leningrad corner in summer 1976, while trying to find the right bus during a study trip. Vera, in perfect English, offered to help.
"Suddenly, her attention shifted to the necklace I was wearing," Adler says. "As if we were already intimate friends, she reached over and lifted the [Jewish star], saying Svoi chelovek ('one of us'). Of course. Vera was Jewish. That accounted for the familiarity of her appearance to me. She looked like family." Risking trouble, Vera gave Adler her telephone number and asked her to call.
They became intimate friends in a relationship including Vera, Alla and families, giving us an inside look at Jewish lives in the USSR and the deprivations its citizens endured.
"My knowledge of Russian was key to understanding the subtleties of conversation," Alder says. Vera's father, whose work jamming Voice of America gave him access to its forbidden information, taught Leslie that "nothing is as it appears to be." It soon was clear that Vera, Alla and their families saw through Soviet lies, incompetence, stagnation and anti-Semitism.
Alla's parents were a dentist and dental technician who illegally made extra money by seeing patients in their apartment. Her family appreciated Judaism, and she would become intensely interested. Vera would not.
The twists and turns in these women's lives defy a reviewer's description; even their parents had a life worthy of soap opera.
Rebellious Alla had tried to emigrate in 1983, but was denied. "Now what?" the authors say. "She had to escape this life of constraints. She could not remain in this prison of a country," where you could think one day that you were living well, and "the next day, the hammer and sickle could fall on your head. Bribes and connections were the currency."
By book's end, each achieves happiness and freedom. Alla — now Alisa — used a sham marriage to get to Sweden. Starting from debt and at entry level, she became a corporate executive and married a dentist, a Swedish Jew named Rolf.
Vera and gentile husband Alexei prospered during Russia's relaxed Gorbachev and Yeltsin years thanks to Vera's business acumen, hard work and some advice and financial help, primarily from two Minnesotans. Eventually, their businesses and lives were threatened and attacked, and they left Russia to enjoy their millions in the Cayman Islands.
Amid these dramatic stories, little things speak loudest. For example, Vera seeing Leslie's Star of David. "Later, "Adler says, "I understood that it was my brazenness in displaying my Judaism on the outside of my clothing that amazed her. At the end of the summer, the Star of David graced Vera's neck, but it was tucked carefully beneath her blouse."
***
Neal Gendler is a Minneapolis writer and editor.
Jewish Luck is available through www.morejewishluck.com and amazon.com
(American Jewish World, 1.3.14)